Chuck Schumer Calls on Intelligence 'Intervention' Into Donald Trump's Iran Comments
Chuck Schumer has called on U.S. intelligence chiefs to challenge President Donald Trump's constant criticism of them, adding that a disregard for the intelligence community is putting the country at risk.
On Wednesday, Trump dismissed the Worldwide Threat Assessment report, which contradicted what the president has previously said about North Korea, Iran and the militant group Islamic State (ISIS).
"The intelligence people seem to be extremely passive and naive when it comes to the dangers of Iran. They are wrong! They are testing Rockets (last week) and more, and are coming very close to the edge. There economy is now crashing, which is the only thing holding them back. Be careful of Iran," Trump tweeted.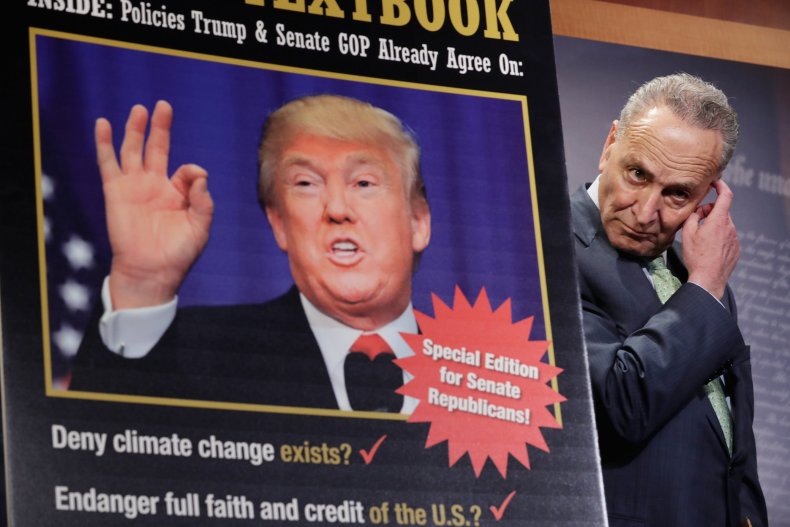 "Perhaps Intelligence should go back to school!" he added.
In a letter to Director of National Intelligence Dan Coats, Schumer went on the attack regarding the president's comments.
He said that Trump's words were "extraordinarily inappropriate" and undermined confidence in the government's ability to protect national security.
He told Coats to demand a meeting with Trump and "educate him about the facts and raw intelligence" the assessments were based on.
"You cannot allow the President's ill-advised and unwarranted comments today to stand. He is putting you and your colleagues in an untenable position and hurting the national interest in the process. You must find a way to make that clear to him," he wrote in the letter.
In Tuesday's report to Congress, Coats said that Iran is committed to the Joint Comprehensive Plan of Action (JCPOA) struck under former president Barack Obama but abandoned by Trump.
"Iran's implementation of the JCPOA has extended the amount of time Iran would need to produce enough fissile material for a nuclear weapon from a few months to about one year, provided Iran continues to adhere to the deal's major provisions," the report reads.
Trump has also dismissed the threat of North Korea after meeting the country's leader, Kim Jong-un, in a historic summit in Singapore last July. But Coats told the Senate Intelligence Committee is "unlikely to completely give up its nuclear weapons and production capabilities."
Also on Wednesday, Trump tweeted that the relationship with Pyongyang is the "best it has ever been."
On Wednesday, former CIA Director John Brennan told MSNBC that Trump's comments allowed foreign leaders to play him "like a fiddle."
In a tweet, Brennan addressed the president directly, saying: "Your refusal to accept the unanimous assessment of U.S. Intelligence on Iran, No. Korea, ISIS, Russia, & so much more shows the extent of your intellectual bankruptcy."
"All Americans, especially members of Congress, need to understand the danger you pose to our national security," he added.