Democratic leaders have continued to call for a "fair" trial of President Donald Trump in the Senate, which they argue would necessarily include key witnesses who disregarded House subpoenas as well as documents that the administration refused to handover.
Senate Minority Leader Chuck Schumer, a Democrat from New York, and House Intelligence Committee Chair Adam Schiff, a Democrat from California, appeared on the Sunday morning talk shows to continue to push their demands, as House Majority Leader Nancy Pelosi, a Democrat from California, has thus far declined to transfer the articles of impeachment against Trump to the Senate.
"I don't think it's going to be indefinitely," Schiff told CNN host Jake Tapper on State of the Union, after he was asked how long Pelosi planned to hold the articles.
The representative argued that the Democratic leaders decision to hold the articles had already had an impact, as Senate Majority Leader Mitch McConnell, a Republican from Kentucky, has revealed his strategy to work closely with the White House throughout a potential trial. McConnell's statements have drawn substantial criticism, including from two Republican senators.
"I think withholding the articles has thus far flushed out where Mitch McConnell's coming from," Schiff said. "It's my hope that, that pressure will result in a real trial fair to the American people, as well as fair to the president."
Schumer strongly criticized the suggestion that a trial could move forward fairly without calling additional witnesses, such as Trump's former national security adviser John Bolton and acting Chief of Staff Mick Mulvaney who did not testify in the House impeachment inquiry due to orders from the White House.
"Where but in Alice in Wonderland do we hear all the arguments, and then maybe have the evidence, the witnesses and the trial?" Schumer told ABC News host George Stephanopoulos on This Week. When Stephanopoulos noted that no witnesses had been called in the Senate trial of former President Bill Clinton after his impeachment, Schumer argued this was different because all the potential witnesses had already testified in the House inquiry.
"I am hopeful that our Republican colleagues will come forward," he said, pointing out that such a move didn't amount to voting to convict the president. He argued that it simply meant the Senate would "hear all the evidence," and that it could even potentially uncover "exculpatory" evidence to clear Trump of any alleged wrongdoing.
Trump became the third president in U.S. history to be impeached by the Democrat-controlled House of Representatives in December. However, the vote largely passed along party lines, with no Republican voting in favor of the articles of impeachment. The next step in the process, according to the Constitution, is for the House to transfer the case to the Senate for trial.
McConnell has stated that he plans to take his "cues" from White House counsel, and has criticized Pelosi for holding the articles of impeachment. He has argued that this is because the case is too "weak" to convict the president. Pelosi has said that she will release the articles after she has a better understanding of the process the Senate will follow in the trial, while Schumer and other Democrats have demanded that additional witnesses, with direct knowledge of Trump's actions toward Ukraine, be called to testify.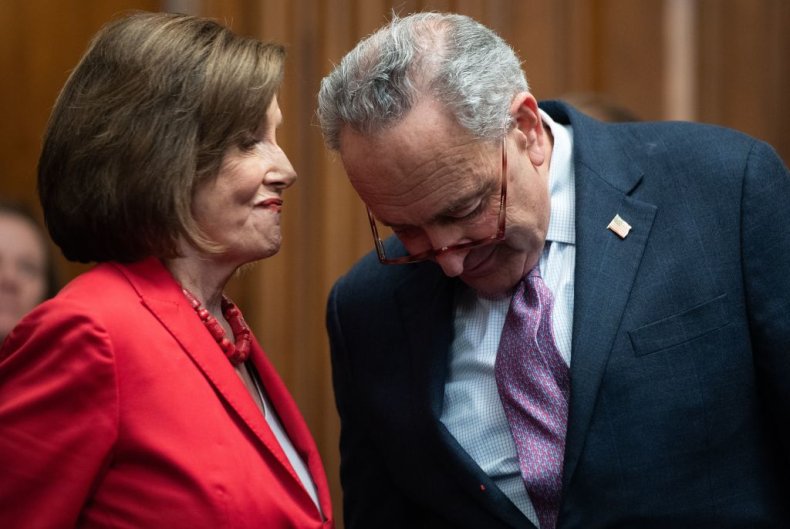 "McConnell made clear that he will feebly comply with President Trump's cover-up of his abuses of power and be an accomplice to that cover-up," Pelosi tweeted on Friday. "The American people deserve the truth."
GOP Senators Lisa Murkowsi of Alaska and Susan Collins of Maine have voiced their concern with McConnell's position, and expressed a willingness to call witnesses. If four Senate Republicans support calling additional witnesses, and no Democrats or independents are against such a decision, rules that Democrats want to govern the trial could be approved by a simple majority.
Trump was impeached due to his actions toward Ukraine, through which Democrats alleged he abused power and then obstructed Congress' investigation into the matter. The White House barred all administration officials from cooperating with the inquiry, dismissing it as "partisan" and a "witch hunt."
Multiple current and former administration officials disregarded the White House order, testifying that the president had pressured UkrainianPresident Volodymyr Zelensky to announce investigations into dubious claims that Democratic presidential candidate Joe Biden acted corruptly toward Ukraine during his tenure as vice president, as well as into a debunked conspiracy theory that Democrats and Ukraine, not Russia, interfered in the 2016 presidential election. Witnesses also testified that the president withheld nearly $400 million in military assistance-- which had been approved by Congress--to Ukraine, in addition to a White House meeting, to pressure Zelensky to announce the probes.
Several other individuals, who Democrats argue should testify before the Senate, are believed to have significant insight into what transpired, as they worked closely with the president throughout the pressure campaign.