Chuck Schumer Says Angry Donald Trump Stormed Out of Shutdown Meeting, President Calls It 'Total Waste of Time'
Emerging from a White House meeting with President Donald Trump over the ongoing partial government shutdown—now on its 19th day—that Democratic leaders described as contentious, Senate Minority Leader Chuck Schumer claimed the president "slammed the table" and "just walked out."
Schumer told reporters the president said that if he opened up the government, Democrats would no longer "do what I want" and provide more than $5 billion in border wall funding.
"That's cruel, that's callous and that's using millions of innocent people as sort of pawns, and it was wrong," Schumer said of Trump. "And then, a few minutes later, he sort of slammed the table and when Leader Pelosi she said she didn't agree with a wall, he just walked out and said, 'We have nothing to discuss.' He said it was a waste of his time."
The president later confirmed most of Schumer's claims in a tweet, in which he called the meeting a "total waste of time."
"I asked what is going to happen in 30 days if I quickly open things up, are you going to approve Border Security which includes a Wall or Steel Barrier?" he tweeted. "Nancy said, NO. I said bye-bye, nothing else works!"
Schumer described the incident with the president as a "temper tantrum because he couldn't get his way."
Speaking after Democrats, Republican leaders described the meeting very differently, with House Minority Whip Steve Scalise saying Trump was "very calm."
House Minority Leader Kevin McCarthy described the Democrats' behavior as "embarrassing."
"What he described the meeting to be was totally different than what took place," he said.
The president entered the room, and he "even brought a little bit of candy for everybody," McCarthy said. Trump asked where both sides stood on negotiations to fund the government and end the shutdown. Negotiations broke down soon thereafter, according to McCarthy, when Democrats objected to Trump's request for border wall funding if Trump quickly reopened the government.
Democrats have long said they would provide funding for other measures of border security, but not the wall.
McCarthy described the president's reaction as calm, and found what he believed to be Democrats' mischaracterization of the meeting as "disturbing."
"When Pelosi said, 'No,' the president said, 'Goodbye,'" Vice President Mike Pence said. "What the president made clear today is he is going to stand firm to achieve his priorities to build a wall—a steel barrier on the southern border, add additional personnel, additional resources and additional reforms to stem the crisis that we face on our southern border."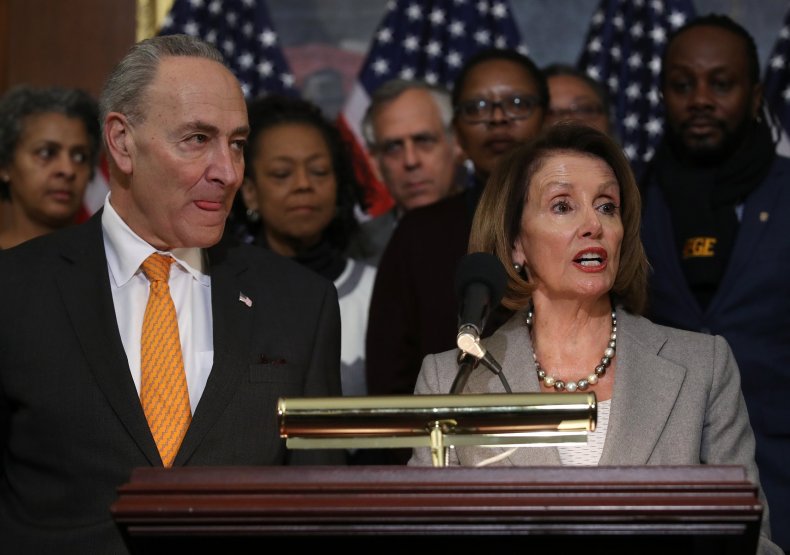 Pelosi pointed to the hundreds of thousands of federal workers being forced to go without pay for nearly three weeks.
"He thinks maybe they can just ask their father for more money, but they can't," Pelosi said. "If you don't understand financial insecurity, then you would have a policy that takes pride in saying, 'I'm going to keep government shut down for months or years unless you totally agree to my position.'"
After a White House meeting last week, Trump confirmed Schumer's claim that he threatened to keep the government shut down for "months or years," until he received border wall funding.
On Sunday, Trump told reporters he could "relate" to the roughly 800,000 federal workers going without pay, but Trump said they "will make adjustments." Those claims caused federal worker unions to go on the offensive earlier on Wednesday, blasting the president as someone who's "bringing whole government departments to their knees."
Trump made an unusual Capitol Hill visit Wednesday morning to have lunch with GOP senators, trying to convince more morderate Republicans, like Lisa Murkowski of Alaska, from defecting.
The message that Trump gave members was "hang together," according to GOP Senator John Cornyn.
"Well, there were more words," Cornyn told Newsweek. "But that was the thrust of it."