Chuck Schumer, Stacey Abrams Weigh in on Biden's Voting Rights Speech, Push 'Swift' Action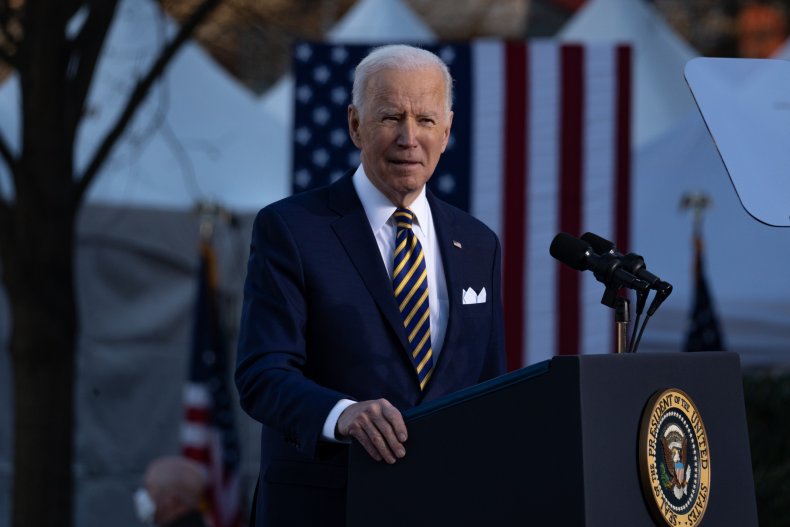 President Joe Biden urged the Senate to change filibuster rules to pass voting rights legislation during a speech in Georgia on Tuesday, prompting a raft of reactions from the political world, including a push for urgency relayed by Georgia gubernatorial candidate Stacey Abrams and Senate Majority Leader Chuck Schumer.
Biden and Vice President Kamala Harris traveled to Atlanta as part of a renewed effort to push for federal Democratic voting rights bills that have stalled in the sharply divided upper chamber without any Republican support. The president said that he supported "changing the Senate rules" during his speech, including altering or eliminating the filibuster, to "prevent a minority of senators from blocking action on voting rights."
The speech was delivered in the notable absence of voting rights activist Abrams. While both Abrams and Biden said that her non-attendance was due to scheduling conflicts, former President Donald Trump insisted that she "won't even share a stage with Joe" because "he's been so terrible she now wants nothing to do with him." However, Abrams praised both Biden and Harris a short time after the president's speech.
"I thank @POTUS and @VP for returning to Georgia to continue their steadfast advocacy for passage of federal legislation to protect the freedom to vote," Abrams said in a statement posted to Twitter. "They made clear again today that they are committed to restoring the Senate to safeguard our democracy."
"We must pave the way for swift Senate passage, because as President Biden declared today, if Republicans continue to prevent passage of legislation to protect the freedom to vote, 'we have no option but to change the Senate rules, including getting rid of the filibuster,'" she added.
Schumer, a New York Democrat, vowed to act on Biden's call for Senate rules reform "as soon as tomorrow," as part of an effort "to protect democracy." He also conceded that passing a rules change could be difficult due to opposition from figures like Senators Joe Manchin (D-W.Va.) and Kyrsten Sinema (D-Ariz.).
"As we speak, there are meetings going on with these senators. And I've been meeting constantly," Schumer said during an interview with the Center for American Progress Action Fund after the speech. "So far, they have not come on board. I don't want to delude your listeners: this is an uphill fight because both Manchin and Sinema do not believe in changing the rules."
Neither Manchin nor Sinema had publicly reacted to Biden's speech as of Tuesday evening. Newsweek reached out to the offices of both senators for comment.
Senator Lindsey Graham (R-S.C.) praised the moderate Democrats for blocking the push for voting rights legislation during a Newsmax appearance while Biden and Harris were speaking in Georgia.
"God bless Sinema, God bless Senator Manchin," Graham said. "I hope they hold. I believe they will."
Republican Georgia Governor Brian Kemp accused Biden and Harris of coming to Atlanta to promote "falsehoods about our Election Integrity Act," referring to the restrictive voting bill that passed in the state last year. He also said that the speech was part of a "push for the federalization of our election system" and insisted that Biden and Harris were attempting "to use Georgia as a steppingstone for their radical agenda."
Former Georgia Senator David Perdue, currently running a Trump-endorsed GOP primary challenge to Kemp, said in a statement to Newsweek that "Joe Biden's incoherent rambling isn't going to convince Georgians to buy into his voter suppression lies." He argued that the speech was "just another example of how we would be better off if Trump was still President."
Speaker of the House Nancy Pelosi (D-Calif.) praised Biden's speech as a defense of "the bedrock of our democracy. Pelosi called on the Senate to pass both the For the People Act and the John Lewis Voting Rights Act—bills that have previously passed in the filibuster-free House.
"Today in Georgia, President Biden made it crystal clear: the Senate must find a path forward to enshrine critical voting rights legislation into law," Pelosi said in a statement. "The President is to be commended for his clarion voice and strong leadership in this fight as we strive to protect the sacred right to vote, which is the bedrock of our democracy.
"The President forcefully declared that the time has come for the Senate to heed the call of John Lewis and do its part to protect the vote and end the Republican nullification of elections," she added. "Nothing less than our democracy is at stake."