CIA Director Gina Haspel 'Should Be Fired' for Ignoring Election Software Warnings, Trump Lawyer Says
Sidney Powell, an attorney representing President Donald Trump, said that CIA director Gina Haspel "should be fired" for not objecting to the use of election software the president and his supporters claim—without providing evidence—allowed President-elect Joe Biden to win through "fraud."
Biden and Vice President-elect Kamala Harris were declared winners of the presidential election on November 7, after the Associated Press, Fox News and other television networks called Nevada and Pennsylvania in their favor to push them past the 270 electoral votes needed to claim victory. Trump has refused to concede, baselessly claiming they won through widespread voter fraud.
Powell attempted to add credibility to Trump's assertions in an interview with Fox News on Sunday, pointing to issues with Dominion Voting Systems software used in several of the key battleground states. Such claims have been widely debunked by independent fact-checkers, but Powell said she has "whistleblowers" who will bring forward allegations that the software was used to delete "millions" of votes in favor of Trump.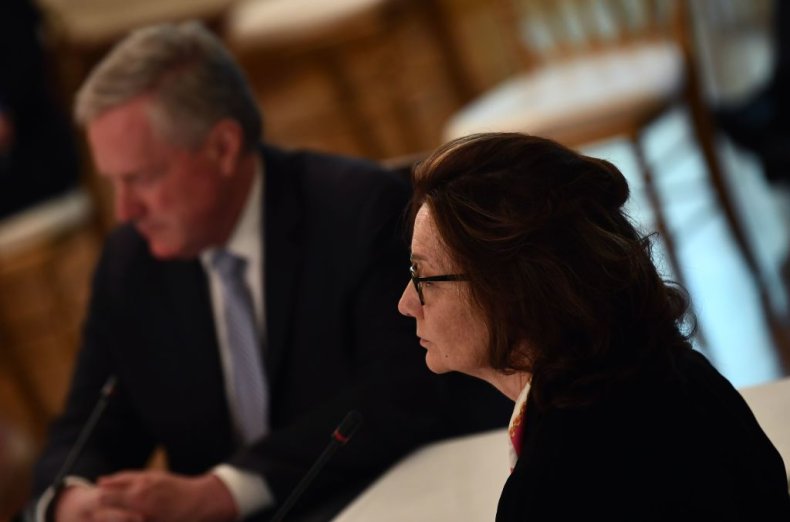 "Why Gina Haspel is still there in the CIA is beyond my comprehension," Powell said, claiming that the CIA director had disregarded warnings about the software. "She should be fired immediately." When pressed for evidence to support her claims, Powell said she was not going to reveal this information on television.
Haspel was appointed by Trump in 2018, becoming the first woman to lead the CIA.
Powell said that there were many "irregularities" with Dominion software and asserted that when her legal challenges were complete, the results of the election would be overturned. She pointed to issues with the software in other countries. The lawyer alleged, without identifying anyone or providing evidence, that there were officials in multiple states who had received financial compensation in exchange for using the software.
Although Dominion software did experience some glitches during the election, these were quickly caught and corrected. The problems were largely due to human error. The Department of Homeland Security's Cybersecurity and Infrastructure Security Agency has dismissed the claims about the voting software and described the election as "the most secure in American history."
"There is no evidence that any voting system deleted or lost votes, changed votes, or was in any way compromised," the agency said last week in conjunction with a coalition of security experts and the National Association of State Election Directors.
Dominion has pushed back against the claims, while also debunking a series of widely circulated conspiracy theories that the company is controlled by prominent Democrats. "Dominion Voting Systems categorically denies false assertions about vote switching issues with our voting system," the company says on its website. Newsweek reached out to Dominion for further comment, but it did not immediately reply.
Edward Perez, an election-technology expert at the OSET Institute, which studies voting infrastructure, told The New York Times that allegations against Dominion are "misinformation at best and, in many cases, they're outright disinformation."
"I'm not aware of any evidence of specific things or defects in Dominion software that would lead one to believe that votes had been recorded or counted incorrectly," Perez said.
Powell's call to fire Haspel comes amid reports that Trump might do just that. CNN and other media outlets have reported that the president is considering firing the CIA director in the wake of his abrupt decision to remove Defense Secretary Mark Esper on Monday.
In order for the election to be "rigged" as the president and his supporters claim, it would have required significant coordination between Democratic, Republican and nonpartisan election officials in multiple states. Vote tabulations are also audited by bipartisan groups, and election observers from both political parties are allowed to monitor the ballot counting process.