Ex-CIA Director John Brennan Says Sue Gordon Resignation Shows Trump Administration Only Interested in 'Personal Loyalty'
Former CIA Director John Brennan described his disappointment at the departure of Sue Gordon from the Trump administration, and said the loss of both her and Dan Coats is "basically decapitating the intelligence community."
President Donald Trump announced on Thursday that Gordon will leave her post as principal deputy Director of National Intelligence (DNI) on August 15, the same day as the current DNI Coats will also depart the administration.
Trump also revealed that Joseph Maguire, the current director of the National Counterterrorism Center, will replace Coats as acting DNI. Many had anticipated that Gordon, who had spent years working in the CIA, would step up as acting DNI.
In a handwritten note to President Trump alongside her resignation letter, Gordon appeared to suggest she was pushed out. The note said: "I offer this letter as an act of respect: Patriotism, not preference. You should have your team."
Speaking on MSNBC's The 11th Hour With Brian Williams, John Brennan described Gordon, who he knows well and has worked with, as an "exceptionally experienced intelligence official" and said he is "very disappointed" that she and Coats are leaving.
"When you lose the DNI and the principal deputy DNI at the same time, you're basically decapitating the intelligence community," Brennan said, adding that though he knows and respects Maguire, he lacks the breadth and depth of experience that Gordon has.
"So I think it is very discouraging to a lot of individuals right now in the intelligence community that Sue Gordon will not be serving in an acting capacity at a very challenging time over national security," Brennan said.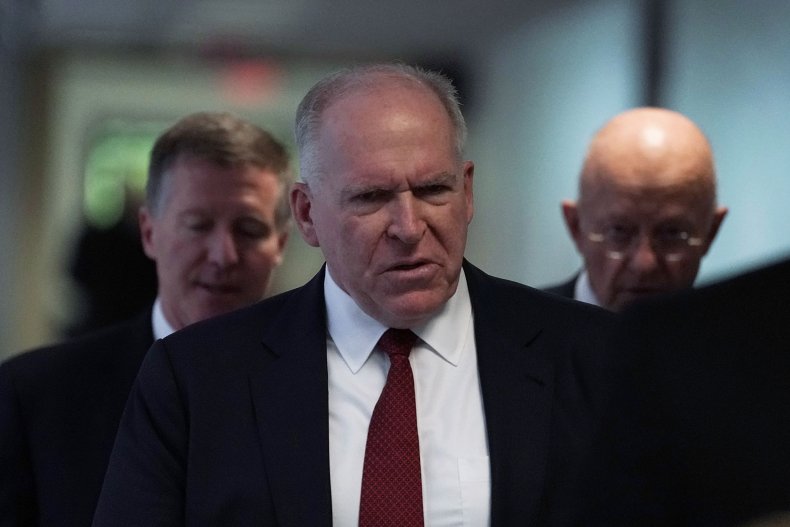 MSNBC host Williams asked Brennan if he believed that a recent tweet by the president's eldest son Donald Trump Jr., in which he described Gordon as "besties with Brennan," may have played a part in her not getting the acting DNI role.
Brennan left the administration in 2017 as Trump took over the presidency. He has since clashed repeatedly and fiercely with Trump over the issue of Russian interference in American democracy, even accusing the president at one point of treasonous behavior.
"I don't take anything that Don Jr. says seriously," Brennan told MSNBC.
"I knew Sue Gordon, worked very closely with her. She worked with thousands of intelligence professionals throughout the course of her career. She has the utmost respect and admiration of those individuals that she worked for.
"And if he time working with me at the CIA was disqualifying for this position, well, that's probably disqualifying of thousands of dedicated women and men at the CIA and throughout the intelligence community that I worked with over the years.
"I think this just reflects an interest on the part of the Trump administration to have an individual that's going to show personal loyalty to Donald Trump as opposed to dedication to mission, loyalty to the constitution and to the country."