Cicely Tyson Tributes Pour in from Michelle Obama, Mariah Carey and Others
Tributes have been pouring in for Cicely Tyson who has died at the age of 96.
The pioneering, award-winning actress is today being remembered for her illustrious career that spanned seven decades.
Tyson's death was announced by her family, through her manager Larry Thompson.
"With heavy heart, the family of Miss Cicely Tyson announces her peaceful transition this afternoon. At this time, please allow the family their privacy," according to a statement issued by Thompson. No cause of death was given.
Tyson was the first black woman to star in a main role, in the TV drama East Side/West Side in the 1960s. She also won two Emmys for her performance in the 1974 civil rights-era film The Autobiography of Miss Jane Pittman.
Her memoir, "Just As I Am," was published this week.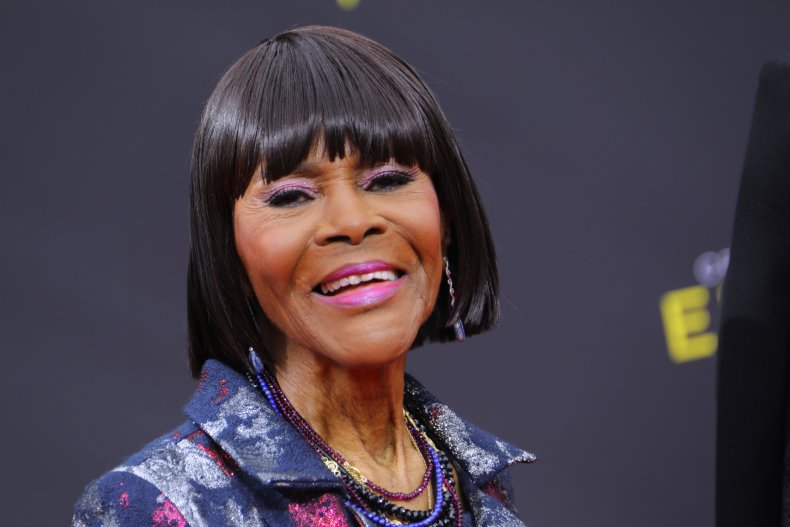 Prominent voices from all across the entertainment industry and more have been paying tribute to the acting legend.
"What struck me every time I spent time with Cicely Tyson was not necessarily her star power—though that was evident enough—it was her humanity," tweeted Michelle Obama. "Just by walking into a room, she had this way of elevating everyone around her."
She added on Twitter: "She was the personification of beauty, grace, wisdom, and strength, carrying forward a flame that not only guided her for 96 pathbreaking years but lit the way for so many of us.
"I'll miss her dearly, but I smile knowing how many people she inspired, just like me, to walk a little taller, speak a little more freely, and live a little bit more like God intended."
Mariah Carey echoed Obama's sentiments, honoring the "legendary" actress.
"Honoring the life of the legendary Ms. Cicely Tyson, a queen who graced the world with her beauty, strength and talent. Grateful for her legacy and for the chance to read her unvarnished truth. Rest In Power," she tweeted.
"Cicely Tyson may you rest in power and dance with the angels," added actress Rosanna Arquette.
Tyson was presented with the Presidential Medal of Freedom in 2016 by then-president Barack Obama who also had words of praise for the late actress.
"In her extraordinary career, Cicely Tyson was one of the rare award-winning actors whose work on the screen was surpassed only by what she was able to accomplish off of it," Obama tweeted along with a photo from the event. "She had a heart unlike any other—and for 96 years, she left a mark on the world that few will ever match."
Rihanna also had kind words for Tyson, tweeting: "A true legend!! Rest in power Cicely Tyson."
"I will cherish you always, Lady Cicely," wrote activist Bernice King. "Thank you so much."
The daughter of civil rights leader Dr. Martin Luther King Jr. added: "An elder...now an ancestor. What a vessel."
Meanwhile, the Martin Luther King Jr. Center said that "trailblazer" was not a "sufficient description" of the iconic actress.
"The King Center joins the world in remembering the life and legacy of #CicelyTyson," reads the tweet. "Trailblazer is not a sufficient description. What a legendary artist, sage and matriarch. We salute her. Rest in power, Lady Cicely."
Euphoria actress Zendaya expressed grief at the loss, tweeting: "This one hurts, today we honor and celebrate the life of one of the greatest to ever do it. Thank you Cicely Tyson. Rest in great power."
Nicola Coughlan of Bridgerton fame wrote: "Last year I was privileged to visit the set of How to Get Away With Murder in LA. I was lucky enough to watch Cicely Tyson film a scene and she was truly spellbinding. RIP to a true star."
CBS' Gayle King shared a recent interview with the late actress and said: "Thank you Cicely Tyson... for everything..."