Jensen Karp, comedian and producer, has the internet enthralled in a mystery that began with him finding what appear to be shrimp tails in his box of Cinnamon Toast Crunch cereal.
The cereal brand told him it believes the tails are "an accumulation of the cinnamon sugar," but Karp is waiting on a carcinologist for confirmation on whether or not what he found was in fact shrimp. Karp also said he found what appeared to be dental floss as well as black marks baked into the cereal.
But in the latest twist of the bizarre story, Twitter users were shocked to find out that Karp is married to Danielle Fishel, or as she is known to many, Topanga Lawrence from Boy Meets World.
Fishel played Topanga Lawrence in Boy Meets World from 1993 until 2000 and reprised the role in Girl Meets World, from 2014 until 2017. Karp and Fishel married in 2018, and have a son named Adler.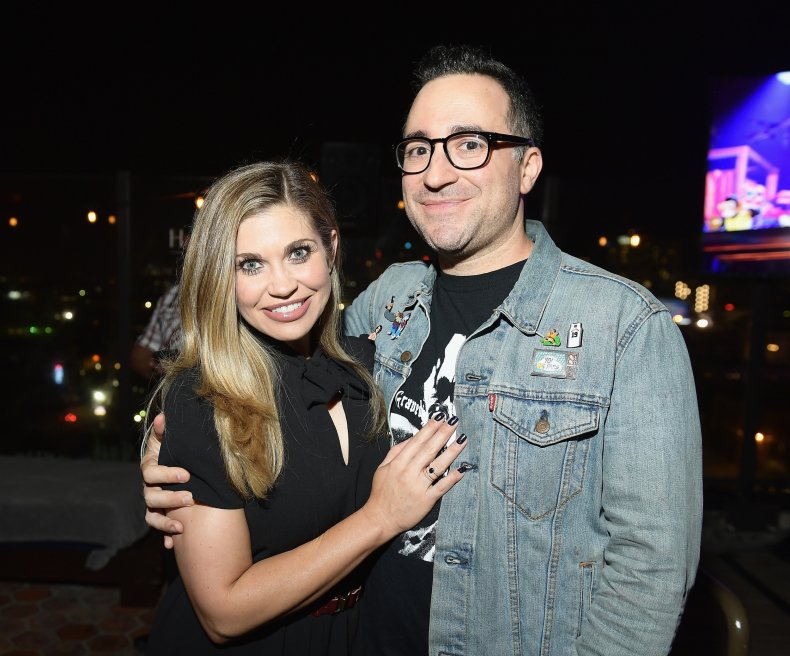 Filmmaker Chris Branch said: "Imagine saying 'wow the shrimp cinnamon toast guy is married to Topanga' to any normal person."
Programmer and podcast host, Scott Hanselman, said: "Cinnamon Toast Crunch shrimp tail guy is married to Topanga and that completes 2021 bingo for me."
Comedian Abby Govindan said: "finding out the cinnamon toast shrimp guy is married to Topanga from Boy Meets World is breaking me."
Tony X said: "THE DUDE THAT FOUND THE CINNAMON TOAST SHRIMP IS MARRIED TO TOPANGA?????????"
Writer Ash Parrish said: "'Cinnamon Toast Shrimp guy is married to Topanga.' Is 10000 percent a Russian asset activation code. Somewhere Black Widow just woke the f*** up."
With the new knowledge that Karp is "Topanga's husband" some Twitter users have come up with theories about who they think is responsible for the shrimp ending up in his cereal.
Blake Hammond shared a picture of Stuart Minkus from Boy Meets World and said: "I think I found out who put the shrimp in Topanga's husband's Cinnamon Toast Crunch."
Twitter user @DrGrayfang said: "150 percent chance that Sean put the shrimp in Topanga's husbands Cinnamon Toast Crunch"
Karp himself responded to Twitter's reaction to finding out he is married to Topanga by sharing a meme of a grandma saying: "Topanga's husband found shrimp in his cereal," and her granddaughter saying: "Sure grandma let's get you to bed."
Jenna Golden pointed out a fishy irony in the shrimp saga, saying: "Guys. I just learned that shrimp tail Cinnamon Toast Crunch guy Jensen KARP is married to Topanga from Boy Meets World whose maiden name is FISHEL."
Twitter user @HarveyBar22 explained further coincidences and said: "A man named Karp married to a woman named Fishel found shrimp tails in a box of Cinnamon Toast Crunch.
"The cereal was purchased from the Costco on Topanga Canyon Blvd, and his wife played Topanga in Boy Meets World. Meanwhile, Karp used to be a guest on Pistol Shrimp Podcast."
The bizarre nature of this story and all its coincidences are not lost on Karp, who retweeted the post and said: "I can't believe this is all factually correct."