The Citizen app has officially launched its Protect service, connecting users to paid agents which it billed as the "future of personal safety."
The "new, on-demand, personalized mobile protection service" was rolled out last week, after being tested by 100,000 beta users in select cities. Now anyone who has the app can access the new feature for just $19.99 a month. The app is thought to have 7 million users across 30 U.S. cities.
The service's main features include 24/7 access to agents, who users can communicate with via text, audio or video. The agents can dial 911 or summon emergency responders to your location, while it suggests one of its USPs is it can dispatch help "without you having to call 911."
And if your situation meets certain criteria, such as a missing pet, an "incident creation" can be set-up, connecting you with users nearby, dubbed the "Citizen community." The agents can also call loved ones for you, if you're unable to, and guide you to "safe places."
It's not designed to simply be utilized in an emergency, but to give people "peace of mind" in their daily lives. A solo walk home at night and a disastrous first date were just two examples cited by the app's CEO, Andrew Frame, on Citizen's Medium blog, where the service could step in.
The website stresses the paid feature connects users "in real-time with real people," claiming their protect agents are "highly trained safety experts whose background ranges from former 911 operators to EMTs," the website states.
Along with straight-forward safety features, there's also a "protect mode," which could potentially raise privacy concerns. The enhanced features include "Shake for Agent" and "Distress Detection," designed to be used when the user is unable to talk. With the former, you simply shake your phone twice to be connected to an agent, while the latter monitors your device's audio.
Frame, writing on Medium, explained: "When Distress Detection is enabled, your audio is monitored by our AI-powered technology which identifies sounds that indicate trouble, like a scream for example.
"When a distress signal is identified, you will be asked if you'd like to be connected with a Protect Agent. And if you don't respond within 10 seconds, you'll be automatically connected just in case you're experiencing an emergency."
Listening to devices could be problematic, but Citizen stressed the audio data is "private," as it reassured it's "only used to keep you safe." The website states distress detection is "entirely opt-in." Similarly, location information used for live tracking is only available to the user and the agent, the website added.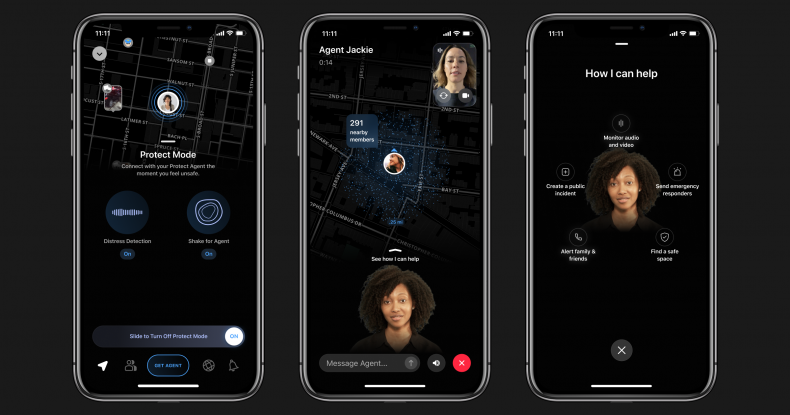 Frame released a statement coinciding with the launch, saying: "Citizen has been a one-way system to date. We provide real-time situational awareness and our users can decide what to do with it. Starting today, Citizen is now a two-way system where users can request help from Citizen.
"Following extensive testing, we are unveiling an on-demand, personalized mobile protection subscription which uses location tracking to send emergency responders to your exact location or navigate you to a safe space; live texting so you can discreetly trigger help; and Protect Mode to connect you with a highly trained agent the moment you feel unsafe.
"You can also request help from the nearby Citizen user network. While in testing, this capability has already found missing people, pets and more. Protect brings personal safety into the 21st century and gives our users the tools they need to keep themselves safe, no matter where they are."
Protect Mode is currently only available on iOS, with plans to roll it out for Android users as well. The Protect service is available on both iOS and Android devices.
The website carries "real stories" claiming disoriented hikers, partygoers, an old man going for a nightly walk and a dog owner are all people who have benefited from the service.
The happy endings mirror the app's "magic moments," which highlights Citizen's claimed successes, such as reuniting missing people with their family members. One such moment was shared in April after a 76-year-old man, named Fred Kiah, went missing. In a Twitter clip his daughter, Bridgett, praises the platform for their help.
But other such successes have come under scrutiny in recent months, after the disappearance of a 12-year-old boy, Jeremiah Jones, in New York, utilized the app's OnAir feature, introduced in April and used at least 16 times. The rescue mission in May was the subject of one of these broadcasts, which follows the format of a live news broadcast, with a presenter, live footage and interviews with family members.
Numerous red flags were raised about the event, notably how the autistic teenager got into a car with two strangers, after being found at Target, who appeared to be Citizen users. But a report by Vice claims they were in fact part of Citizen's "Street Team," who are on-the-ground workers rather than members of the public using the app. The identity of the pair wasn't made clear to viewers, Vice stated.
The existence of these "Street Teams" was confirmed to Newsweek, after a man, named Landon, popped up in two livestreams on the same day. Landon appears to be someone who's downloaded Citizen, and is providing on-the-ground details. He spoke from the scene of a man wielding a sword at around 9 a.m., and later in the hunt for a man accused of shooting someone, around 4 p.m.
A separate Newsweek article covering Landon's position carried this statement from the app: "Citizen has teams in place in some of the cities where the app is available to demonstrate how the platform works, and to model responsible broadcasting practices in situations when events are unfolding in real time. We believe these teams will ultimately help guide our users on how to broadcast in an effective, helpful and safe way. Landon is a part of this team."
But perhaps the most grievous error made by the app was the $30,000 bounty they put on the head of an innocent man back in May.
Citizen was forced to apologize after naming a man as a prime arson suspect, and sharing his image, with hundreds of thousands of Los Angeles users, after a fire at Pacific Palisades.
The OnAir feature was used again, as well as push notifications, but Citizen was left red-faced after the man was questioned and released by the authorities.
A spokesperson for Citizen said: "Once we realized this error, we immediately retracted the photo and reward offer. We are actively working to improve our internal processes to ensure this does not occur again. This was a mistake we are taking very seriously," The New York Times quoted.
Lt. Jim Braden, of the Los Angeles County Sheriff's Department, was quoted by a local journalist, Kate Cagle of Spectrum News, calling the app's actions potentially "disastrous."
It's not the only public backtrack the app has made, after it mistook a training drill at Los Angeles International Airport (LAX) as a plane crash.
In June, the app notified its users of an "unoccupied airplane crashed into terminal at Los Angeles," in screenshots user, Wade Armstrong, shared on Twitter.
The app later sent a correction, saying: "LAFD training drill. Correction: Updated information indicates a training drill is being conducted until noon today. There are no injuries or crashed aircrafts at LAX."
The app was initially created in 2016 under the name "Vigilante," but it was soon pulled from the Apple store, Vice reported.
In October that year, Citizen posted an article to Medium explaining more about the app, saying: "Vigilante is a new technology that opens up the 911 system... With Vigilante, vital information is unlocked and everyone can do their part."
It attracted controversy, including from the New York City Police Department (NYPD), who said: "Crimes in progress should be handled by the NYPD and not a vigilante with a cell phone," CNN quoted.
It returned the following year under the name Citizen.
Update 8/11/21, 3:30 a.m. ET: This article was updated with comment from Citizen, photos and video.
Correction 8/13/21, 1:45 p.m. ET: This article was updated to clarify that Protect is available on both iOS and Android devices, while Protect Mode is only available on iOS.