The City of Boston Approves Application For 'Straight Pride Parade' Hosted By Controversial Group
After facing threats of legal action, Boston officials on Wednesday approved an application to host a "straight pride parade" next month.
Hosted by Super Happy Fun America, the parade is likely to take place from noon to 3 p.m on August 31. The group, which has reported ties to the far-right, still needs to acquire a parade permit and entertainment license, and the local police department must also issue an approval, Boston.com first reported.
The application was filed by the group's president, John Hugo. The Boston man listed "dancing," "live music" and "amplified sound" as some of the event's official activities on the permit application and indicated that 20 security personnel would be required.
The decision to move forward with the parade came after weeks of tumult for city officials, who denied the group's request to host an event at City Hall Plaza and a "straight pride" flag-raising. Super Happy Fun America, which claims to advocate "on behalf of the straight community," also filed a discrimination complaint against the city, according to one of the group's organizers.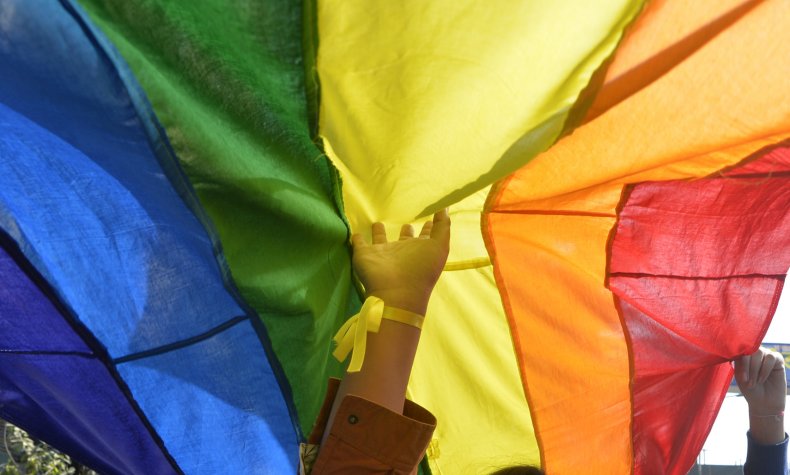 As Newsweek previously reported, news of the parade stretched outside of the Boston community in early June, roiling social media users who decried hosting the event during Pride Month. Undeterred, and perhaps encouraged by the online fracas, the group continued to spread word about the event, appointing right-wing provocateur Milo Yiannopoulos (who is gay) as grand marshal and using unapproved images Brad Pitt in advertising materials.
"Straight people are an oppressed majority," Hugo claimed on the group's website. "We will fight for the right of straights everywhere to express pride in themselves without fear of judgement and hate."
Hugo and fellow organizers Mark Sahady and Chris Bartley have ties to the group Resist Marxism, The Independent reported earlier this month. The group was founded by Kyle Chapman, who made headlines for his presence at violent alt-right rallies in the San Francisco Bay Area in 2017.
In a statement earlier this month, Boston Mayor Marty Walsh said the city could not deny a permit based on a group's values and said he was a proud supporter of the LGBTQ+ community.
"As Mayor, I'm proud to host our annual Pride Week, where our city comes together to celebrate the diversity, strength and acceptance of our LGBTQ community," Walsh said in the June 6 statement. "Second, permits to host a public event are granted based on operational feasibility, not based on values or endorsements of beliefs. The City of Boston cannot deny a permit based on an organization's values."
"Whatever outside groups may try do, our values won't change," Walsh added.