The city of Miami has taken strides to positively react to climate change, though money earmarked towards solar lighting has drawn attention.
According to the city, improvements at Alice Wainwright Park began in May 2021 with the installation of approximately 1,125 linear feet of new sheet pile and concrete, creating a "resilient structure" to withstand storm surges and rising tides resulting from heightened sea levels.
Other aspects of phase one of the Alice Wainwright Park Seawall and Baywalk Improvement project included a new, approximate 33,000-square-foot baywalk; drainage improvements; new seating areas and trash receptacles; the planting of 115 native trees and over 3,500 shrubs; the removal of invasive plants; new landscaping; and safety lighting.
The 53 new solar lights were cited by WLRN due to its approximate $350,000 price tag as part of a total $4.9 million project cost—including about $2.6 million paid through the Miami Forever Bond, approved by voters in 2017 to invest $400 million in sea-level rise and flood prevention, roadways, parks and cultural facilities, public safety and affordable housing.
The controversy on the lighting comes because city documents show that the park is open from 6 a.m. to 6 p.m., or from sunrise to sundown, leading some to wonder why they would spend so much on lighting up a closed park. Adding solar lighting in Miami isn't uncommon, though. The city said that as of June 2020, there were 4.7 megawatts of solar photovoltaic installed citywide.
WLRN quoted a man named Albert Gomez, a co-founder of the Miami Climate Alliance, who alleged that the park closes at sundown due to preventing homeless individuals from being in the park – as well as to assist law enforcement in patrolling the park in the dark.
"Police officers like to patrol and not get out of the car and not have to go through the park in the dark with flashlights," Gomez told the station. "They would prefer to have lights and be able to spot the homeless people and go and get them out."
A spokesperson for the Miami Climate Alliance told Newsweek that although Gomez is one of the original founders of the Miami Climate Alliance, he is not currently a member of the alliance's steering committee, which meets and approves statements to the media.
The alliance had no comment on the park at this time.
Redditors chimed in on the spending of money for solar lighting, with many saying the sunrise-to-sundown rules at parks are prevalent not only in the United States but internationally.
"Speaking as an ex-park ranger, we closed day-use only parks at night not due to homeless people, but because of vandalism, mayhem and destruction," one user said. "People would come into the bathrooms and smear s**t on the walls, do donuts in the parking lot, burn picnic tables, leave used condoms, underwear, needles, sofas, household garbage, you name it."
"I live in the UK and it's common for parks to 'close' between dusk and dawn for reasons of safety, both from trips/falls/whatever in the dark and crime safety," said another Redditor. "But most parks are basically open and closing them doesn't really mean anything except there definitely won't be any park staff there and the council won't have the same liability if you enter and injure yourself."
Another user said they see both sides of the argument.
"I'm not saying that it's kind to the homeless but this is a classic NIMBY ("Not in my backyard") problem," they said. "Everyone is up for letting the homeless into the parks until it's their park, and their child gets Hepatitis C from stepping on a dirty needle. There's two sides to the argument."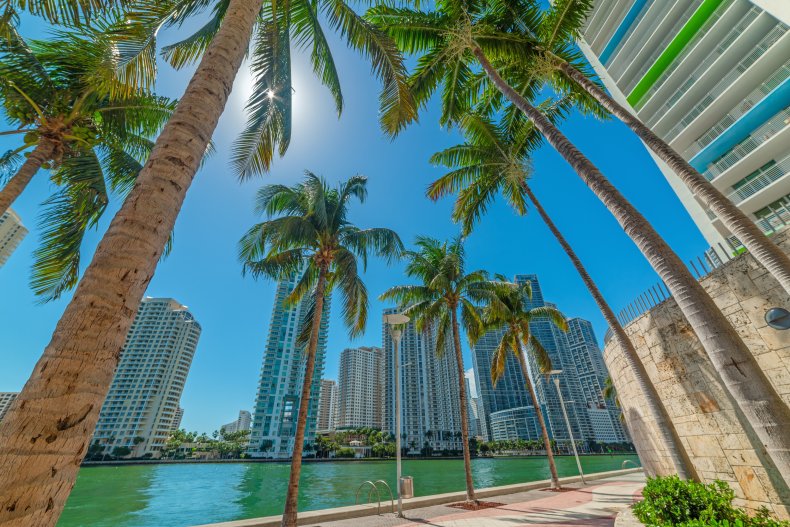 The city of Miami said the second phase of the Alice Wainwright Park project includes upland park landscaping, restroom and office facilities, gazebos, and ADA access to the waterfront.
Money for the Forever Bond is funded through a general obligation bond aimed to positively impact five key "guiding themes": modernization, safety, economic return, equity, and wellness and quality of life.
The rest of the $4.9 million price tag was reportedly funded through a grant from the Florida Inland Navigation District, with money going towards rebuilding the sea wall.
About $78 million of Miami Forever Bond cash is earmarked for parks and cultural facilities, and about $7 million goes towards public safety.
A Citizens' Oversight Board exists "to oversee the project management and progress" and "to ensure transparency and accountability." According to meeting records, the board met four times in 2021.
Climate change efforts have ramped in recent years as the Great Barrier Reef, for example, has reportedly suffered extensive damage caused by warming oceans. It caused consternation and blame against Australia for not better protecting the reef known worldwide.
Simultaneously, one of the country's most well-known and outspoken billionaires, Mike Cannon-Brookes, is working to reduce fossil fuel dependency.
Newsweek reached out for comment to Miami officials, including the city manager, parks and recreation department, capital improvements department, and the Miami Forever Bond Citizens' Oversight Board.