Civil Rights Leaders Urge Biden to Pick a Black Attorney General Nominee
Several prominent civil rights leaders are urging President-elect Joe Biden to nominate a Black person to be his attorney general, citing pressing issues like voting rights, police violence and prison concerns that disproportionately have affected the Black community.
"My preference is to have a Black attorney general," the Rev. Al Sharpton, president and founder of the National Action Network, told reporters Tuesday evening after he and other leaders held a virtual meeting with Biden and Vice President-elect Kamala Harris. "The least we can have is someone with a proven civil rights background."
Marc Morial, president of the National Urban League, said he also specifically voiced a preference for a Black attorney general who has a background in civil rights, similar to Eric Holder, who served as Barack Obama's attorney general from 2009 to 2015.
The outspoken comments come as Biden has been weighing several potential attorney general nominees with an eye on the top issues they will face in the new administration—priorities that will likely be a major reversal from the Trump administration's Department of Justice.
The civil rights leaders said they used their "friendly" meeting with Biden to stress that the Department of Justice should focus on issues of equality for the Black and Latino communities.
"It's a vast portfolio," Sherrilyn Ifill, president and director-counsel of the NAACP Legal Defense Fund, said of the Justice Department's authority. "We didn't provide names, but we tried to give a framework to give confidence to the Black community and civil rights organizations."
A wave of protests broke out across the country in May after the death of George Floyd during a police arrest in which one officer placed his knee on Floyd's neck for nearly nine minutes. Protesters also have highlighted the death of Breonna Taylor and other Black people who were killed in encounters with law enforcement.
Kristen Clarke, president and executive director of the Lawyers' Committee for Civil Rights Under Law, said she's also concerned that "voter suppression is alive and well" with rollbacks of the Voting Rights Act.
Others who took part in the meeting with Biden and Harris included Melanie Campbell, president and CEO of the National Coalition on Black Civic Participation; Vanita Gupta, president and CEO of The Leadership Conference on Civil & Human Rights; and NAACP President Derrick Johnson.
Biden, who has been steadily revealing his list of nominees to top cabinet posts, hasn't yet reached a final decision on attorney general. The civil rights leaders said they did not discuss any specific candidates, and Biden gave them no indication of who his leading pick is, they said.
"This was not a meeting to broker for anybody, but to stand up for our constituents," Sharpton said.
Biden's transition team said in a statement after the meeting that it likely would be the first in recurring meetings with the groups.
"They discussed their joint priorities including advancing racial equity across the board, enforcing civil rights, and assembling a diverse White House and Cabinet that represents America," the Biden statement read. "They expressed the need to make sure the public knows the historic nature of many of the president-elect's diverse nominees and the need to galvanize the community around making sure that the Senate confirms them."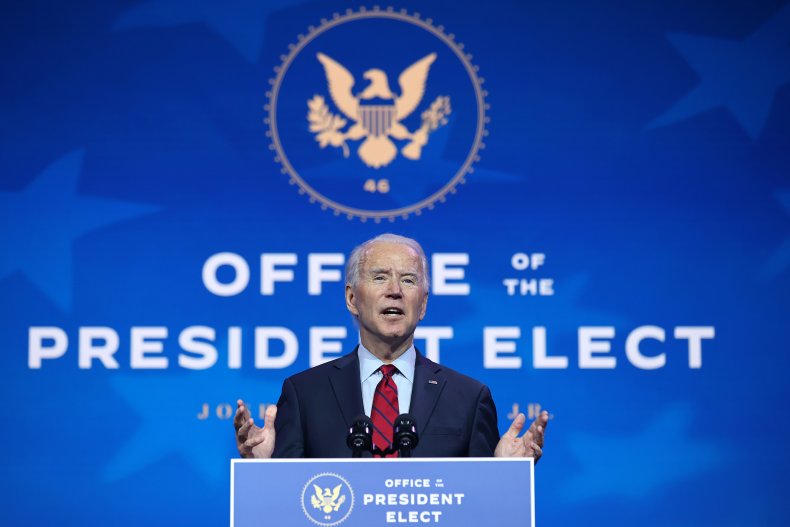 Some names that have been floated as potential attorney general nominees include Obama's former Homeland Security Secretary Jeh Johnson; outgoing U.S. Sen. Doug Jones of Alabama; former Massachusetts Gov. Deval Patrick; and Sally Yates, who was deputy attorney general in the Obama administration.
The group of civil rights leaders told Biden to resist the temptation to go with a "watered down" pick just to ensure the nominee could make it through a closely-split and combative U.S. Senate, Clarke said.
"The idea that Senate confirmability should serve as a measuring stick is deeply troubling and unacceptable," she said.
In a meeting with the same civil rights leaders in June, Biden promised his administration would be historically diverse. He's expected to formally introduce retired Army Gen. Lloyd Austin as his pick to become Defense Secretary during an event in Delaware on Wednesday. Austin would be the first Black secretary of defense if the Senate confirms his nomination.
Biden's also expected to name Ohio U.S. Rep. Marcia Fudge, a former chairwoman of the Congressional Black Caucus, to lead the U.S. Department of Housing and Urban Development.
"When we see the end of this process, it will be the most diverse cabinet, sub-cabinet and administration in history," Sharpton told reporters. "We will hold him by what he said."