Claim That Coronavirus Came from a Lab in China Completely Unfounded, Scientists Say
There is no evidence to back claims the coronavirus that has caused the COVID-19 pandemic emerged from a lab in China, scientists have told Newsweek.
This week, Fox News claimed the COVID-19 pandemic "likely originated in a Wuhan laboratory, though not as a bioweapon but as part of China's attempt to demonstrate that its efforts to identify and combat viruses are equal to or greater than the capabilities of the United States," citing "multiple sources."
On Wednesday, Fox News reporter John Roberts asked President Donald Trump at his daily White House coronavirus press briefing about claims that the coronavirus had emanated from a virology lab in the Chinese city of Wuhan, the original epicenter of the pandemic, because of "lax safety protocols."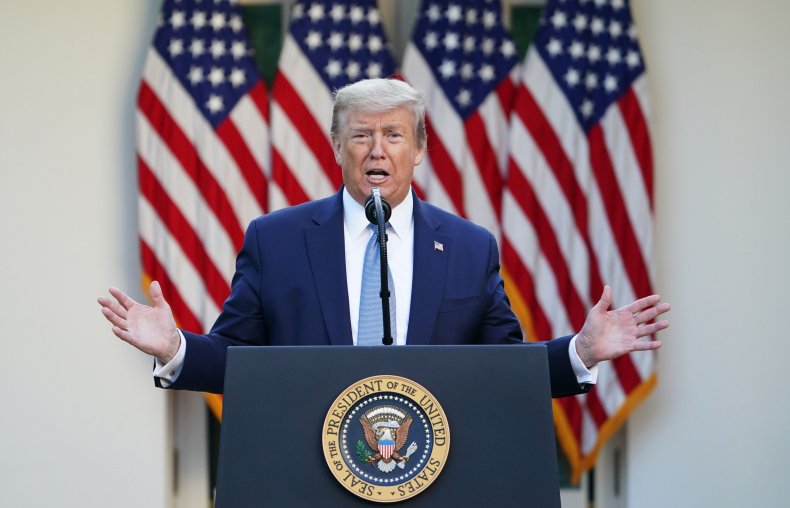 Roberts suggested an intern at the lab had infected her boyfriend, who went to a wet market in the city.
"Does that correspond with what you have heard?" Roberts asked.
The president replied: "Well I don't want to say that John but I will tell you more and more we're hearing the story."
He added: "We are doing a very thorough examination of this horrible situation that happened."
Adam Lauring, an associate professor at the University of Michigan Medical School and an expert in the evolution of viruses, told Newsweek: "This claim is a conspiracy theory and it is not supported at all by the available data."
Citing a study on the origins of the virus published in the journal Nature Medicine, Lauring said: "this analysis of coronavirus genome sequences from patients and from various animals suggests that the virus likely arose in an animal host and then may have undergone further changes once it transmitted and circulated in people.
SARS-CoV-2, the virus which causes COVID-19 (not to be confused with the bug which causes severe acute respiratory syndrome (SARS)) is a member of the large coronavirus family of pathogens. Fellow family members include the SARS virus, as well as Middle East Respiratory Syndrome (MERS) and some common colds.
"The SARS-CoV-2 virus has some key differences in specific genes relative to previously identified coronaviruses—the ones a laboratory would be working with," said Lauring. "This constellation of changes makes it unlikely that it is the result of a laboratory 'escape.'"
Alexandre Hassanin, a lecturer at France's Sorbonne University National Museum of Natural History department of origins and evolution, similarly highlighted to Newsweek: "Even if it is difficult to prove that a laboratory accident did not take place, you should know that SARS-CoV-2 is not closely related to any previous viruses; it was never sequenced (even partially) in previous studies, and the COVID-19 outbreak began in November/December, as in previous SARS epidemic events (2002 and 2003)."
Hassanin said: "These two points suggest therefore that the current outbreak was not the consequence of a laboratory accident."
He argued: "To close this controversy that is swelling on social networks, it is however important to provide new data (i.e. new viral genomes sequenced from bats, pangolins, and other possible candidates, such as carnivores) in order to better understand the origin of this epidemic.
"I have no doubt that Chinese researchers are actively working on it."
As shown by the Statista map below, since the pandemic was first identified in China late last year, the virus has spread to every continent except Antarctica. According to Johns Hopkins University, more than 2 million people have been diagnosed with COVID-19, more than 139,400 people have died from it, and 528,300 are known to have recovered.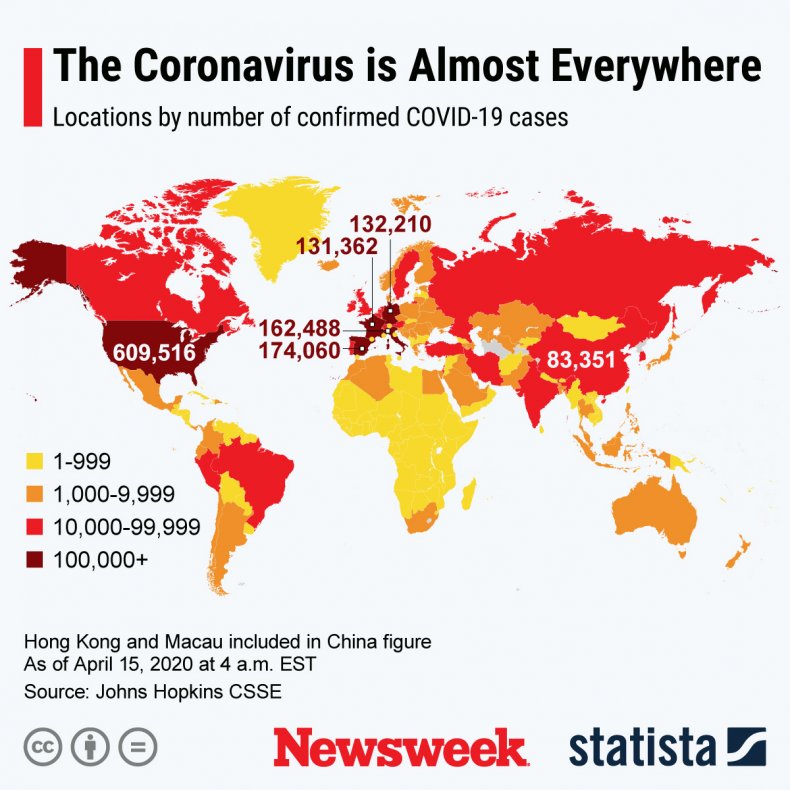 Centers for Disease Control and Prevention Advice on Using Face Coverings to Slow Spread of COVID-19
CDC recommends wearing a cloth face covering in public where social distancing measures are difficult to maintain.
A simple cloth face covering can help slow the spread of the virus by those infected and by those who do not exhibit symptoms.
Cloth face coverings can be fashioned from household items. Guides are offered by the CDC. (https://www.cdc.gov/coronavirus/2019-ncov/prevent-getting-sick/diy-cloth-face-coverings.html)
Cloth face coverings should be washed regularly. A washing machine will suffice.
Practice safe removal of face coverings by not touching eyes, nose, and mouth, and wash hands immediately after removing the covering.
World Health Organization advice for avoiding spread of coronavirus disease (COVID-19)
Hygiene advice
Clean hands frequently with soap and water, or alcohol-based hand rub.
Wash hands after coughing or sneezing; when caring for the sick; before, during and after food preparation; before eating; after using the toilet; when hands are visibly dirty; and after handling animals or waste.
Maintain at least 1 meter (3 feet) distance from anyone who is coughing or sneezing.
Avoid touching your hands, nose and mouth. Do not spit in public.
Cover your mouth and nose with a tissue or bent elbow when coughing or sneezing. Discard the tissue immediately and clean your hands.
Medical advice
Avoid close contact with others if you have any symptoms.
Stay at home if you feel unwell, even with mild symptoms such as headache and runny nose, to avoid potential spread of the disease to medical facilities and other people.
If you develop serious symptoms (fever, cough, difficulty breathing) seek medical care early and contact local health authorities in advance.
Note any recent contact with others and travel details to provide to authorities who can trace and prevent spread of the disease.
Stay up to date on COVID-19 developments issued by health authorities and follow their guidance.
Mask and glove usage
Healthy individuals only need to wear a mask if taking care of a sick person.
Wear a mask if you are coughing or sneezing.
Masks are effective when used in combination with frequent hand cleaning.
Do not touch the mask while wearing it. Clean hands if you touch the mask.
Learn how to properly put on, remove and dispose of masks. Clean hands after disposing of the mask.
Do not reuse single-use masks.
Regularly washing bare hands is more effective against catching COVID-19 than wearing rubber gloves.
The COVID-19 virus can still be picked up on rubber gloves and transmitted by touching your face.