Ex-Intelligence Director Warns GOP Calls to Reveal Whistleblower Will Have 'Chilling Effect' On Those Who 'Observe Wrongdoing' In Future
Former Director of National Intelligence James Clapper warned Thursday that calls from President Donald Trump and his Republican supporters to reveal the identity of the anonymous whistleblower at the center of a fast-moving impeachment inquiry could have a "chilling effect" and discourage others from coming forward in the future.
Trump has repeatedly questioned the whistleblower's credibility and motivations, suggesting his or her name should be revealed publicly. Earlier this week, GOP Senator Rand Paul of Kentucky urged the media to release the whistleblower's name. He also tweeted an article speculating as to the identity of the government official. The president's son, Donald Trump Jr., went a step further, tweeting out the name of an individual some right-wing news sites have suggested could be the anonymous source.
"I think it's really regrettable that now the president and his supporters and others are advocating his [or her] unmasking, which I think is a breach of faith and trust," Clapper said in an interview with CNN. "And it will have a chilling effect, clearly, on others who observe wrongdoing ... and have a mechanism now that they can be protected if it's reported, and if that's gonna be removed, that doesn't bode well for the future of the intelligence community."
CNN anchor Kate Bolduan followed up Clapper's remarks by pointing out that the impeachment investigation has now gone far beyond the whistleblower's initial complaint as well. She explained that a "slew of officials" have verified and corroborated the account put forward by the anonymous government employee.
The whistleblower was the first to formally raise official concerns about the president's conduct towards Ukraine. They alleged that Trump had improperly pressured the leaders of the Eastern European country to open investigations into debunked claims against his domestic political rivals. This pressure campaign came about as the Trump administration temporarily withheld nearly $400 million in military aid to Ukraine, despite the package's significant bipartisan backing in Congress.
Multiple witnesses, including high-level diplomats appointed by Trump, have corroborated the whistleblower's account. Furthermore, they have confirmed that the military aid was withheld as additional pressure on Ukrainian leaders to open the desired investigations.
Many others besides Clapper have criticized Republican calls to reveal the whistleblower, and warned of the potentially dangerous precedent that could be set.
"Some congressional Republicans have even threatened to out two federal employees among the witnesses whose identities are protected under the federal whistleblower statutes—statutes that these members of Congress have sworn to uphold," Fox News senior judicial analyst Andrew Napolitano pointed out in an op-ed published Wednesday.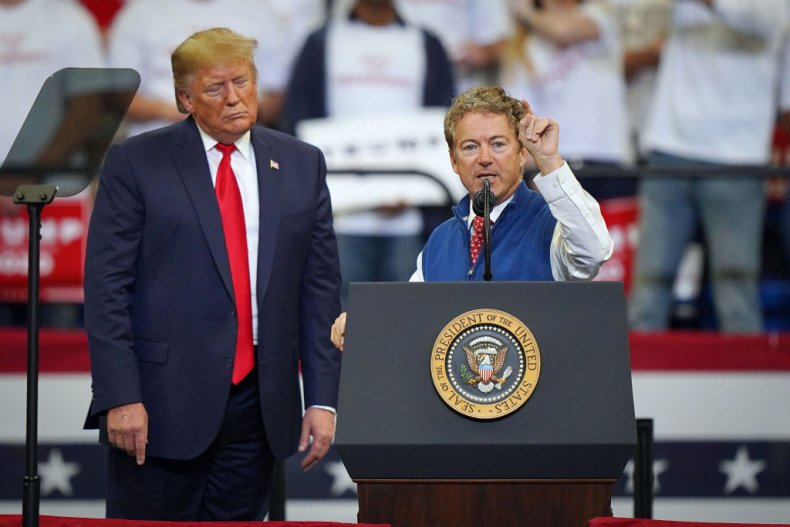 Independent Senator Angus King of Maine told CNN on Tuesday that it was "infuriating" to hear Paul and others call for the whistleblower to be identified. He argued that this is also a distraction by GOP lawmakers, as the individual's identity is irrelevant to the facts corroborated by multiple credible witnesses.
"All they [the whistleblower] did was report what they were hearing. And now we've been hearing from the very people who can confirm those charges," King said. "And more and more evidence is coming out to confirm it. That's what's relevant to this investigation, not who this person is."
Todd Dickey, an assistant professor at the Maxwell School of Public Policy at Syracuse University, told Newsweek via email that it was potentially legal for a president to out a whistleblower, although it would be highly questionable.
"While there is always a question of what the president can or cannot do while in office, this moment is a stress test on government institutions," Dickey explained. "It could be technically legal but we would never think that a president would engage in the behavior of outing a whistleblower."