Clapper Is Still the White House Favorite for Intelligence Czar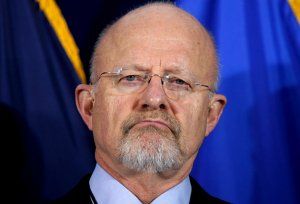 YThe Obama administration still seems to be seeking support for retired Lt. Gen. James Clapper, currently the Pentagon's intelligence chief, to become the new director of national intelligence. A former senior intelligence official and a Capitol Hill official familiar with intelligence issues have told Declassified there are signs that Clapper remains the White House's top candidate to replace departed intelligence czar Dennis Blair, even though three of the most influential legislators in that area have said they would find him an unacceptable nominee.
In an interview with Declassified last week, the House Intelligence Committee's senior Republican, Rep. Pete Hoekstra, said Clapper is a bad choice for the top intelligence job. Subsequently, the two leaders of the Senate Intelligence Committee, Democratic chairwoman Sen. Dianne Feinstein and GOP vice chair Sen. Kit Bond, both publicly voiced opposition to Clapper's possible nomination, with Bond suggesting cryptically that the general had tried to block his committee's "efforts to give more authority to the DNI." Any nominee for the job must be confirmed by the Senate Intelligence Committee before going before the full Senate for a final vote.
As promised a week ago, a Pentagon spokeswoman has finally e-mailed Declassified a detailed defense of Clapper's dealings with Congress as the Pentagon's intelligence chief. "Since becoming the Under Secretary of Defense for Intelligence in 2007, General Clapper has consistently demonstrated active support for congressional oversight," Lt. Col. Rene White wrote. "He has been and continues to be absolutely forthcoming, open and transparent."
"He and his staff have interacted with all congressional oversight committees in hundreds of different ways–literally–via the entire spectrum of traditional venues, including but not limited to hearings, briefings, congressional notifications, correspondence," White continued. "General Clapper has personally briefed or testified before the two intelligence committees on more than thirty occasions to inform them about topics as varied as the annual budget, regional concerns (e.g., Yemen and Somalia), and security clearance reform. Moreover, Secretary Gates personally selected General Clapper to be the department lead on interagency briefings to Congress about the Fort Hood [mass shooting] incident because he had complete faith in General Clapper's ability to convey critical information in a manner that would facilitate congressional oversight of that extremely sensitive matter."
White defended the general's staff, too, saying its members had "been involved in more than one hundred hearings or briefings for the intelligence committees" and "provided several hundred congressional notifications and responses to congressional letters and post-hearing questions. General Clapper's staff has also continued to provide reports to the intelligence committees that were requested in their annual Intelligence Authorization bills, despite not being required to do so by law because the bills have not been enacted in prior years."
In particular, White wrote, Clapper "categorically" denies Hoekstra's claim that the general, or people working for him, told U.S. Embassy personnel in Yemen not to cooperate with the congressman during a visit there after the Christmas Day underpants bombing incident. "Secretary Clapper notes that neither he nor his staff was even aware of Mr. Hoekstra's planned visit to Yemen until days after the visit occurred. The presumption that a Defense official could or would cause or attempt to cause a senior State Department official (the U. S. ambassador to Yemen) to allegedly ill-treat a member of Congress is simply a bridge too far." Moreover, White said, "To claim that Clapper is disrespectful or contemptuous of Congress is disingenuous and a disservice to the president and our great nation at a time when experience and ability should be in the forefront, not a personal political agenda or malattribution of an alleged less-than-warm New Year's greeting in Yemen."
All the same, Pentagon efforts to defend Clapper aren't likely to sway his critics on Capitol Hill, according to a congressional official. Requesting anonymity when discussing a politically charged matter, the official says people with the intelligence committees think Clapper has sometimes sought to undermine them in favor of the congressional Armed Services committees, which hold joint jurisdiction with the intelligence committees over high-spending Pentagon intelligence agencies like the National Security Agency, the Defense Intelligence Agency, and the National Reconnaissance Office. Such maneuvers, the official says, have scarcely endeared Clapper to Intelligence Committee members who will get first crack at vetting any nominee for intelligence czar.
On that score, a Defense official familiar with the controversy, also requesting anonymity, contends that Clapper's political problems seem rooted more in internecine turf battles among Congressional committees rather than in anything Clapper himself did wrong. Although Clapper has not been notified so far that he will be nominated, he has not sought to withdraw his name from consideration despite the congressional attacks, the Defense official indicates.
More than a dozen possible candidates for the job have been suggested, but Clapper has been the favorite of most intelligence insiders from the start. Despite his evident political problems, he is one of the few candidates with wide experience both in managing individual agencies and in handling the often fierce rivalries between them. His congressional opponents say he lacks the political clout to be an effective DNI; in their view, only CIA chief Leon Panetta and John Brennan, currently White House terrorism adviser, have both the necessary experience and political stature, out of all the names that have been mentioned for the job. But Panetta has indicated through associates that he's not at all interested in a promotion, and Brennan arguably is more powerful in his current White House position than he would be as intelligence czar.