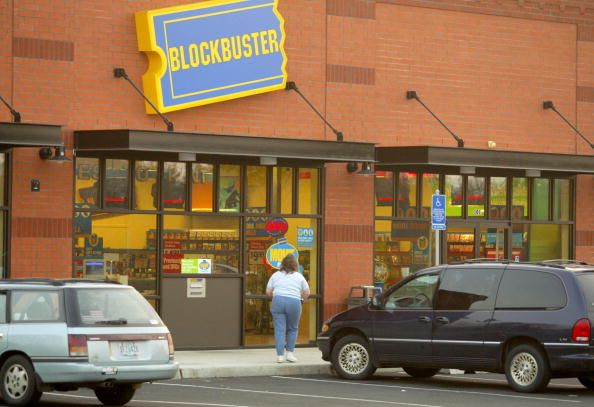 Jeff Fath watched a homeless man on his television set telling a news reporter how he was on the hook to cough up $260 in overdue fees or get served a warrant for his arrest—all for forgetting to return the rental of the flick Ted four years ago from a local northeast Oklahoma supermarket.
"I thought it was a joke," Fath told Newsweek in an interview.
Fath, a 49-year-old residential contractor, decided to step in and pay the homeless man's outstanding debt.
"I didn't want something that small from continuing to ruin his life," he said. "I'm in a position to help out at this point in my life and I went forward and took care of the $260."
Stuart Hamilton also said he took a financial hit a couple of years ago when he offered to front a woman's rental payment at a local Claremore, Oklahoma, video vendor.
"She asked me to help her with the movie rental, and I just charged my credit card," the 55-year-old trailer mechanic said. "She came up to me with those shorty shorts and pretty blue eyes… I would have given her $100 if she asked me for it."
But years later he realized the woman he tried to woo with the video renting gesture failed to return it. That left Hamilton on the hook to square away the balance, plus late fees.
"It pissed me off," the Tulsa man said.
Fees like these are being aggressively pursued by an Oklahoma prosecutor who is championing an effort to use his law enforcement powers to recoup them.
When all is counted and collected, it could be as much as $150,000 in late fees from people who forgot to return their overdue movie rentals.
It seems the shame brought on by dreaded late fees on analog movie rentals from the local video shop has gone away with the advent of digital streaming tech.
After all, simply renting movies from a brick-and-mortar business in 2018 is almost like going to pick up ice from the local proprietor. There's only one lone Blockbuster left in the U.S. whose doors are still open for business.
But Rogers County D.A. Matt Ballard has gone forward to coax hundreds of video renting scofflaws and put them on notice to pay their late fee balances or be hit with an arrest warrant.
Recently, Ballard sent out a batch of letters to area residents who allegedly rented videos but failed to return them, and have racked up heavy sums as a result.
On Friday, a Ballard spokeswoman informed Newsweek the D.A. would be able to be interviewed on Monday.
A series of detailed questions were submitted to Ballard and his staff, but no answers were provided. And Ballard was no longer available.
In an email to Newsweek, his spokeswoman wrote that the effort to recoup over six-figures in late fees is part of the state's "Restitution and Diversion," or RAD, Program to oversee restitution payments in property crime complaints.
"Other than the basic fact the RAD program and fees are written in state law not invented by our office. It's the law across the state," the spokeswoman wrote.
In an interview last week with the Tulsa World, Ballard's First Assistant District Attorney Brian Surber said that video movie renters are causing local businesses to take financial hits.
"We have merchants that depend on those movies, and if we have hundreds of movies that people just kind of keep, then that is a huge loss to the people out there striving to make a living," Surber said.
He went on to stress that the office doesn't consider the policy of informing people of their movie rental late fees "a serious crime." The goal is to avoid clogging up the courts, and people can enroll in payment plans versus being forced to pay off them off in one lump sum.
The estimated 600 scofflaws by Rogers County residents in arrears could add up to around $140,000. Those payments are broken down by the DVD's value, the late fee and a fee that is divvied out to the Rogers County DA's office, a Law Library Fund and the local sheriff's office, the publication reported.
"I understand the video place having to do what they've got to do," Lonnie Perry told the local station KTUL. "There's other means of trying to get a hold of people without a warrant."
Fath, who swooped in and cleared out Perry's late fees, said that he received a call from him expressing gratitude for the handyman's help.
"He called me a few days later and thanked me," Fath said, of the Super Video store merchant inside of the Claremore-based grocery store where Perry rented Ted.
"This is their big thing right now," said a frustrated Fath, who has called the county where approximately 19,000 people reside his home for 25 years. "They do have other stuff to do.
"Claremore is a small town, but it's not that small."
Chris Keele, 35, an office manager at Boomer Auto Repair, told Newsweek that he has rented movies from the same shop as Perry.
The price is cheap for a two- to three-day rental, he said.
However, Keele takes umbrage against local movie rental businesses teaming up with authorities to pursue such an aggressive posture and chase down movie-renting patrons years after they rented.
"It's one of the last video stores, and I think they should be grateful in today's society with Red Box and Netflix that people still rent there," he said. "Holding onto these accounts for so many years and not doing anything about it isn't right."