Clarence Thomas Failing to Note Wife Ginni's $680k Side Income Resurfaces
U.S. Supreme Court Associate Justice Clarence Thomas' failure to disclose more than $680,000 of his wife's income in filings over a decade ago has re-emerged as she is set to meet with the House of Representatives January 6 committee.
Lawyer and conservative activist Virginia "Ginni" Thomas was paid $686,589 by the conservative Heritage Foundation from 2003 to 2007 but Justice Thomas did not report that income in financial disclosures for those years.
As The Los Angeles Times reported in 2011, Thomas had checked a box saying "none" in a section of his disclosure that asked for information about "spousal noninvestment income."
Federal judges are legally required to disclose their spouses' income sources.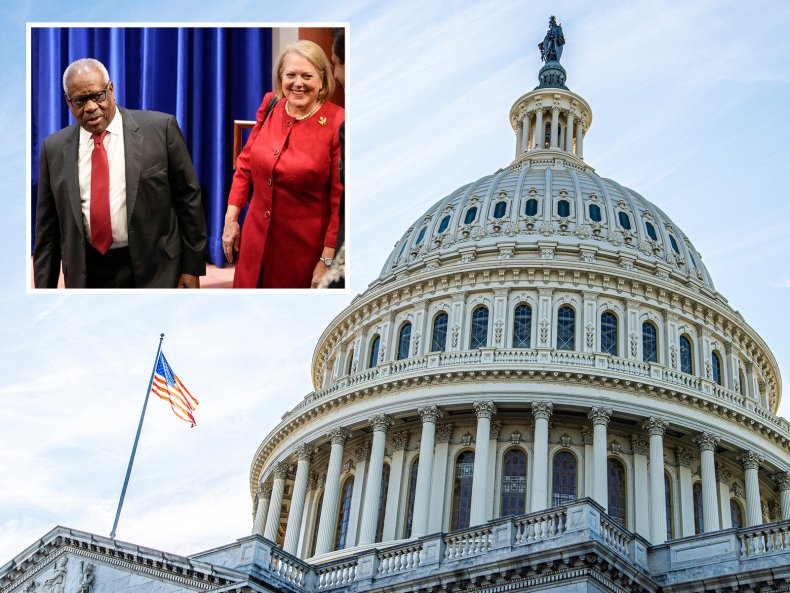 The issue has resurfaced on social media as Thomas is due to speak to the House of Representatives Select Committee investigating the events of January 6, 2021, this week.
"Ginni Thomas made almost $700,000 from the far-right Heritage Foundation from 2003 to 2007," tweeted attorney Tristan Snell on Tuesday. "Clarence Thomas had to fill out a standard form listing his 'spouse noninvestment income.' He put zero."
Law professor Michele Goodwin shared the 2011 article from The Los Angeles Times on Twitter on Monday and tagged Common Cause, the watchdog group that initially reported on Thomas' failure to disclose his wife's income from the Heritage Foundation.
Retweeting Goodwin, Common Cause wrote: "We reviewed Justice Thomas' financial disclosure filings years ago and found that he failed to disclose his wife's income ($686,589) from the Heritage Foundation. We'll keep calling out Ginni Thomas until we have an ethical Supreme Court."
In 2011, Justice Thomas amended 13 years' worth of disclosure reports to include details of Ginni Thomas' sources of income. The amended documents showed that she had worked for the Heritage Foundation as well as Hillsdale College in Michigan and the House Republican leadership, among others.
Newsweek reached out to the Supreme Court for comment.
Ginni Thomas' lawyer Mark Paoletta said in a statement last week that she had agreed to a "voluntary meeting" with the House Select Committee.
"As she has said from the outset, Mrs. Thomas is eager to answer the Committee's questions to clear up any misconceptions about her work relating to the 2020 election," Paoletta said.
The committee wanted to speak to Thomas after it emerged that she had corresponded with lawyer John Eastman, who has been accused of playing a key role in formulating a legal strategy that would have seen then-Vice President Mike Pence reject Electoral College votes in an effort to re-elect former President Donald Trump.
Thomas also sent messages to former White House Chief of Staff Mark Meadows about overturning the 2020 election and corresponded with two Republican legislators in Wisconsin, urging them to name alternative slates of electors.
It's unclear whether Thomas will speak to the committee on Thursday or Friday.