'Clash of Clans' Electro Dragon Troop Revealed for Town Hall 12 Update
Clash of Clans is finally getting a new Home Village Troop after a two-year drought. As teased in Sneak Peeks on Thursday, a recent blog post proves the Electro Dragon is real. The Troop is available at Town Hall 11 and above, but it arrives alongside June's Town Hall 12 update.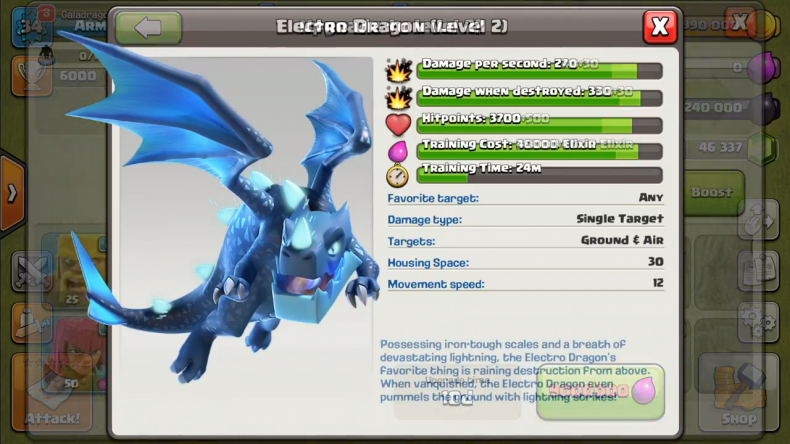 Here's a quick recap of everything we know about the Electro Dragon so far:
It hits its target, then uses its Lightning Breath weapon to chain destruction on up to five additional targets.
When it dies, it releases a final burst of lightning bolts on nearby opponents.
Town Hall 11, Barracks level 13
Favorite Target: Any
Targets: Ground and Air
Housing Space: 30
Here are the finer stats of the Electro Dragon:
Level 1 : 36,000 DE Cost / 24-minute Training / 2,200 HP / 240 DPS / 300 Death Damage
Level 2 : 40,000 DE Cost / 24-minute Training / 9,000,000 Upgrade Cost / 10-day upgrade / 3,700 HP / 270 DPS / 330 Death Damage
Level 3 : 44,000 DE Cost / 24-minute Training / 11,000,000 Upgrade Cost / 14-day upgrade / 4,200 HP / 300 DPS / 360 Death Damage
Given the stats listed in today's Sneak Peek, the Electro Dragon stands to be one of the most powerful Troops Clash of Clans has ever seen. It's unclear how this massive beast might upset the PvP meta as we know it, but we imagine there will be a pretty rough penalty for those who don't defend the Electro Dragon properly. It's going to put lots of pressure on players to upgrade their towers as quickly as possible. The astronomical training time and housing costs of the Electro Dragon make it a very rare Troop, but you definitely want to be prepared if one enters your base.
Supercell has been teasing the Town Hall 12 update for the past week or so, and everything revealed in Sneak Peeks has gone over well with fans. Balance changes end engineered bases for good, new Troop levels make the roster stronger and this Electro Dragon is the ultimate reward for high-level players who put in the time and dedication necessary to unlock it. Some additional balancing may be required to get everything exactly where it needs to be, but the Town Hall 12 feature set adds lots of content without necessarily disrupting the flow that currently exists. On the surface, it would seem Supercell has learned a lot since the 2015 fiasco that was Town Hall 11.
Clash of Clans is available now on Android and iOS. The Town Hall 12 update is expected to release later this month.
What are your thoughts on the new Electro Dragon coming to Clash of Clans? Which Town Hall 12 feature are you most excited about? Tell us in the comments section!