'Clash of Clans' Town Hall 12 Sneak Peek Reveals Siege Machines & Workshop
Clash of Clans ' Town Hall 12 update has nearly arrived, and with it comes the addition of the Siege Workshop and Siege Machines. According to an official Supercell blog post, these mobile Clan Castles push troops into the heart of battle.
True to their name, Siege Machines are built at the Siege Workshop and carry large amounts of Clan Castle troops toward an opponent's Town Hall. When it reaches the Town hall, Siege Machines explode to reveal the troops inside. In the Town Hall 12 update, players will be able to select from two types of Siege Machines: the Wall Wrecker and the Battle Blimp. Here's a quick recap of what each one does:
Wall Wrecker
Plows through wall pieces with 10x damage
Destroys buildings in its path
Shields Clan Castle from assaults
Can be used to funnel your army through a specific location
Battle Blimp
Soars over defenses and goes directly for the opposing Town Hall
Can drop bombs
Faster than the Wall Wrecker, but it takes less damage
Siege Machines are deployed just like other troops, and they require Town Hall 12 to construct. That being said, players at Town Hall 6 and above can accept donated Siege Machines from other players.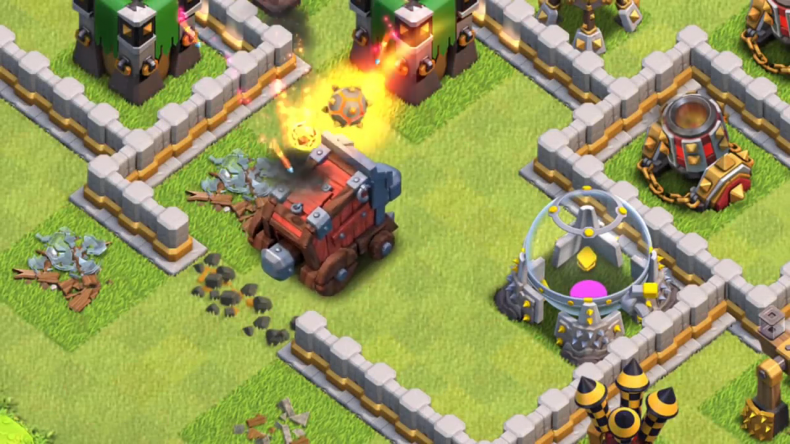 This sneak peek arrives shortly after the reveal of Town Hall 12 and its associated balance changes. So far we've learned that Town Hall 12 is Clash of Clans' first weaponized base, and it stores electrical power. The new feature is just one of many measures Supercell has taken to reduce the occurrence of engineered bases in matchmaking. When the Town Hall 12 update arrives later this month, players must place all available buildings to upgrade their Town Hall level.
This change is augmented with a substantial increase in loot rewards, treasury space and Star Bonus across the board. Underused troops like the Miner, Giant and P.E.K.K.A. also receive noticeable buffs.
While we don't know precisely when the Town Hall 12 update will release, Supercell has partnered with ESL to host a special YouTube Town Hall 12 event June 10 at 11:30 a.m. EDT, so we imagine the update will be live by then or shortly thereafter.
Clash of Clans is available now on Android and iOS.
What are your thoughts on the Town Hall 12 update based on this new troop? Are Siege Machines and the Siege Workshop exactly what you expected them to be? Tell us in the comments section!