'Clash Royale' Next Update Removes Clan Chest, Adds Clan Wars, Balance Changes and More
Clash Royale just revealed that Clan Chest is getting removed in the next update. Find out everything we know so far about the delayed April 2018 update included what Clan Wars will be like, balance changes and more.
Supercell has been fairly cryptic about what players can expect in the April update, but this week we're finally getting a few hints about what's ahead. After informing players that Clash Royale's mid-April update release would be delayed, the company dropped a surprising piece of news: Clan Chests are going to be removed.
"We just wanted to give you a heads up about our plans for the Clan Chest, so it doesn't take you by surprise when the update arrives … we're removing the Clan Chest from Clash Royale in the next update," Supercell wrote in a blog post Tuesday morning.
Though the Clan Chest feature is going away, the company assured Clashers the rewards from the Clan Chest aren't going anywhere. They're just be part of a different rewards feature coming in the next update.
"We built the new feature in a way that allows its rewards to grow bigger. Which means you'll initially see less rewards, but through playing well and actively, you can get a lot more than what the biggest Clan Chest offered," wrote Supercell.
In the nearly two and a half years Clash Royale has been around, we've seen tons of changes come to the game, and while new features are great, too many of them can become confusing, which is what Supercell is hoping to avoid with the removal of the Clan Chest.
"Before we add more features to the game, we always like to sanity check our current feature list to make sure everything is still as good as it should be. We know we can't simply keep adding and adding, because the UI alone will become cluttered at some point, so we like to trim back when/where it makes sense to do so, while we add new and better features to replace or improve upon what we're removing."
Whether or not the community will appreciate the removal of the Clan Chest will largely depend on what the new rewards feature will be and how it is implemented. It certainly has our interest piqued. Once we know more about the new rewards feature, we'll be sure to update this post. In the meantime, here's everything else we know so far about the next update coming to the Clash Royale Arena
Clash Royale Update News: Everything We Know About The Delayed April 2018 Update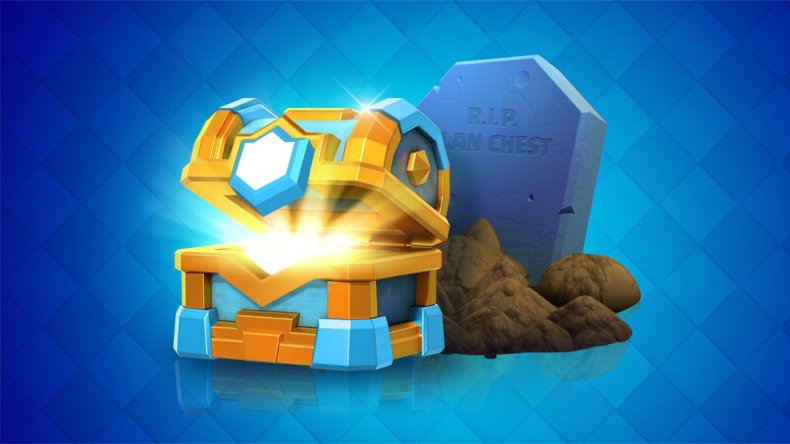 UPDATE 04/16/18: Our latest roundup of April update features and expected release date can be found, here.
Update Hint #1: There Will Be No Sneak Peeks
In a brief conversation on the official Clash Royale Discord server, Community Manager Tim Smith let players know that not only has this month's update been delayed, there will also be no sneak peeks ahead of its release. With no new release date and no sneak peeks, the next update will truly come as a surprise.
Update Hint #2: Balance Changes Are Coming
In the past, Supercell usually releases a monthly set of balance changes, but last month they skipped it. According to Tim, Balance Changes will be part of the delayed April update. While there were no hints about which cards will be be receiving balances, newer cards are usually the ones most in need of balances, so we expect to see changes made to the new Barbarian Barrel.
Update Hint #2: Clan Wars But No Hero Cards
While we haven't gotten a solid confirmation that Clan Wars are coming in the next update, it seems likely they are, especially considering the delay. Discussion of a Clan Wars feature has been talked about since the beginning of the year. In a February Reddit Q & A, the team did say Clan Wars were the development team's main focus right now.
In terms of what Clan Wars will be like, both Tim on Discord and the official Clash Royale Twitter page have confirmed that Clan Wars will initially be "head-to-head" but that direct Clan vs. Clan Wars is the cards for later updates. Additionally, Clash Royale noted that Clan Wars has been carefully planned and won't just be a "race for crowns." It's rumored that Clan Wars will take place on their own separate island in the game. We look forward to seeing how that feature plays out.
While talk of Clan Wars and Hero Cards have often coincided, with many assuming the two will work together somehow, Tim confirmed Hero Cards wouldn't be part of a Hero Wars update. Our guess is that this means we can shelve those for later in the year.
Update Hint #3: Permanent Mute Button, Supercell ID and Other Minor Changes
Orange Juice released a video at the end of last month that did an awesome job of summing up other new changes that should be coming in the next Clash Royale update. They are as follows:
Permanent mute button in a battle
No Tournament Revamp - additionally, the company confirmed it is not working on a Cancel button and Battle confirmation
Golden Chest Fix - this is on the docket for the next update along with a Cannon Cart bug fix.
Supercell ID
What do you think of the features coming in the next Clash Royale update? Share your thoughts in the comments below.