Cleaner Asking for a 35 Percent Pay Rise Backed Online: 'Reasonable'
The internet has backed a cleaner after they raised their charges by 35 percent—despite the person who hires them complaining online.
In a post on discussion site Mumsnet on Monday, user PearlclutchersInc shared their upset after their cleaner announced she was raising her rate.
The poster explained: "My cleaner has just text me to say her charges are going up by 35 percent to £15 [around $19] an hour. I supply all the cleaning materials, it's a two-bed flat for which she cleans only one bed and the rest."
"There are two adults and one cat and we tidy up before she comes. She's not exactly overworked," said the poster. "I feel really quite peeved. [I] don't see my employer giving me a 30 percent rise any time soon."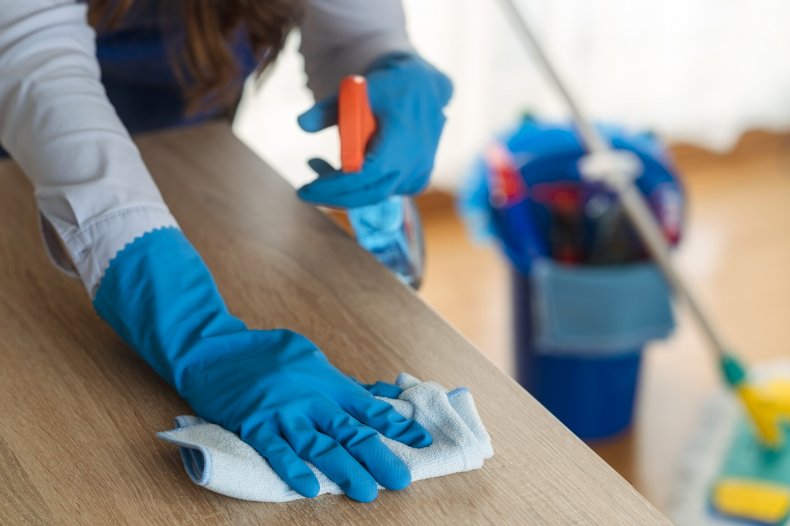 According to career information site Zippia, there are currently more than 1.5 million cleaners employed in the U.S., with more than 50 percent being women. The average age of a cleaner is 49 years old.
The average starting salary for a cleaner is $21,000, and the average annual salary worked out at around $26,466. Despite it being a majority-female industry, men were still paid more, with women earning 94 cents for every $1 earned by men in the same role.
Mumsnet users overwhelmingly sided with the cleaner, suggesting that her pay rise was more than reasonable.
"You don't respect cleaning as a job at all do you? Sounds like you think she's just some skivvy," said one commenter. "God forbid she'd earn a decent wage for doing what you don't want to."
Another Mumsnet user wrote: "Employing a cleaner is optional. If you are not happy with their rates then find a cheaper one, good luck with that."
"£15ph is entirely reasonable," said one comment.
"With the cost of living increases, it's not a surprise people are putting prices up," shared another commenter.
The rise in the cleaner's prices comes in the same week that a gallon of gas in the U.S. has tipped over to cost more than the federal minimum wage. Meanwhile, inflation in the U.S. was reported at 8.3 percent from last year at this time, and in the U.K., consumer prices rose 9 percent in annual terms in April—the biggest rise since 1982.
Other commenters noted that the cleaner seemed to be undercharging prior to the increase. One user said: "Fair play to her for asking for more money, you were underpaying her," while another wrote: "I think you were paying for very cheap labor before and you should feel embarrassed to query this now."
"Love the 'it's a small easy flat to clean' narrative," wrote another commenter. "Two adults no kids, clean your own home and save the money then!"
While another Mumsnet user took an even more straightforward approach, suggesting: "Get off your a** and do it yourself, then."