Climate Activists Dump Cow Poop Outside White House to Protest Joe Biden's Plan
Climate change activists have dumped cow dung outside the White House on Thursday in protest of President Joe Biden's plan to tackle the issue, which they say is insufficient.
Extinction Rebellion Washington D.C. announced their intention to mount the protest on Twitter on Wednesday, criticizing the president's approach to the climate change crisis.
April 22 is Earth Day and Biden is marking the occasion by holding a virtual climate summit. He issued a proclamation about the negative effects of climate change early on Thursday.
"You'll be happy to learn that Extinction Rebellion plans to dump a steaming pile of s*** in front of the White House on Earth Day," Extinction Rebellion Washington D.C. said on Wednesday.
"Biden's 2030 emissions plan is bulls***—we'll blast through 1.5C. Why can't we elect presidents who understand science?"
Extinction Rebellion is a global environmental movement committed to using nonviolent civil disobedience to bring about government action on climate change. The 2015 Paris Climate Agreement, which former President Donald Trump rejected and Biden rejoined, aims to limit global warming to 1.5°C above pre-industrial levels.
Extinction Rebellion activists say this target is unattainable under the administration's plan.
The group followed through with the plan on Thursday as footage and photos shared by Jane Recker of The Washingtonian showed activists pushing wheelbarrows full of cow dung through the streets and empty them in front of the White House.
"Climate activists are coming to dump over a dozen wheelbarrows of cow poop at the White House to protest Biden's 'bulls***' climate plan," Recker wrote.
The group held a protest outside the White House and some held signs saying "Declare a climate emergency" and "Biden's 2030 plan = mass death," according to WUSA9, a Washington-based TV station.
"Biden is punting the crisis to future generations with targets that rely on unproven technologies sucking carbon out of the atmosphere. This is a massive gamble to take when the well-being of the human species and the richness of life on earth is at stake. If he cared he'd set targets that expire while he's still in office. We can't keep waiting, we need change now," the group said in a statement to the station.
The graphic below, provided by Statista, illustrates how some countries consume vastly more resources than others.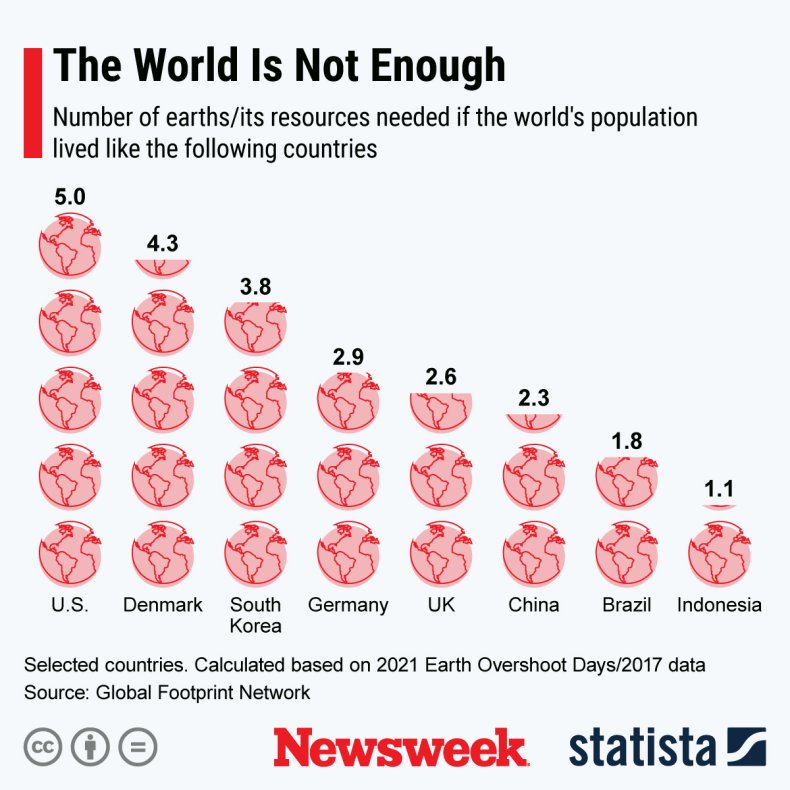 The protest came on the same day Biden spoke about the seriousness of climate change and how his administration will attempt to deal with it. He said the U.S. "has resolved to take action" on the issue.
"The signs are unmistakable, the science is undeniable and the cost of inaction keeps mounting," he said, adding that "[t]he countries that take decisive actions now" will be the ones "that reap the clean energy benefits of the boom that's coming."
In his Earth Day proclamation, Biden pointed to recent incidents like the massive power outage in Texas and hurricanes and storms in the Gulf of Mexico as examples of threats presented by climate change.
"That is why my administration is advancing the most ambitious climate agenda in our nation's history," Biden said. "Our clean energy plan will create millions of good-paying union jobs, ensure our economic competitiveness, and improve the health and security of communities across America.
"By making those investments and putting millions of Americans to work, the United States will be able to cut our greenhouse gas emissions in half by 2030."
Newsweek has asked Extinction Rebellion Washington D.C. and the White House for comment.