Climate Change Protest on D.C. Highway Stalls Hundreds of Running Vehicles
Climate change protesters demanding that the Biden administration not allow the drilling or mining of fossil fuels on government and Indigenous land blocked traffic on northbound Interstate 395 in Washington, D.C., on Monday, stalling traffic that can cause air pollutants.
Protesters from the organization Declare Emergency were yelling about "saving mother Earth" while holding banners in front of cars, according to the Washington Post. The demonstration lasted less than an hour and the road was reopened to traffic, a spokesperson with the Metropolitan Police Department (MPD) told Newsweek.
The protest comes as the United Nations Intergovernmental Panel on Climate Change released a report on Monday indicating that carbon emissions have never been higher in human history and the world is on a "fast track" to disaster. U.N. Secretary-General António Guterres said that unless governments reassess their energy policies, the world will be "uninhabitable."
About a dozen protestors from Declare Emergency were seen in videos posted on social media along I-395. They were dressed in yellow vests while sitting and standing in front of hundreds of idling cars, holding two large white banners with red lettering, although it's unclear what they said.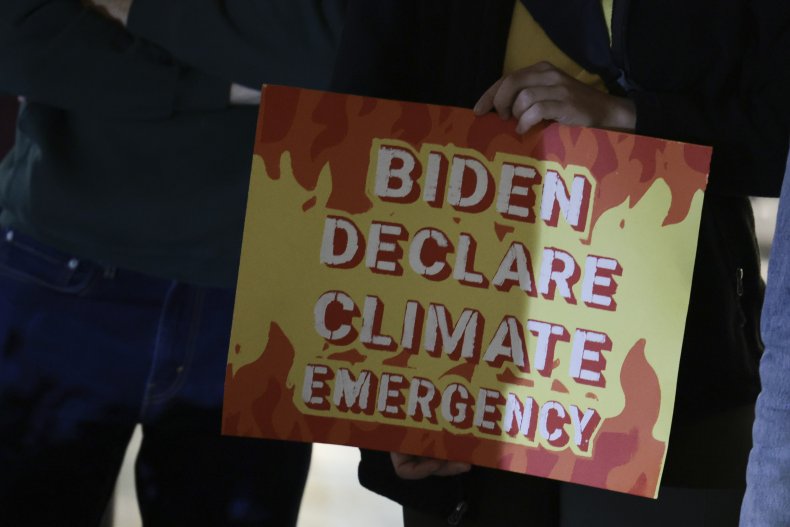 Police arrested seven people for allegedly crowding, obstructing or incommoding, the MPD spokesperson said.
The protests left hundreds of cars running for some time during their morning commute, releasing carbon dioxide, which makes up the vast majority of greenhouse gas emissions that traps heat, making the planet warmer. Levels of greenhouse gas emissions reached a record high in 2020.
In the U.S., transportation generates the largest portion of greenhouse gas emissions. In 2019, the transportation sector was responsible for 29 percent of the total greenhouse gas emission in the country, according to data from the Environmental Protection Agency (EPA).
Guterres said that unless action is taken soon, there will be "unprecedented heatwaves, terrifying storms, widespread water shortages and the extinction of a million species of plants and animals."
"This is not fiction or exaggeration. It is what science tells us will result from our current energy policies. We are on a pathway to global warming of more than double the 1.5-degree (Celsius, or 2.7-degrees Fahrenheit) limit," Guterres added.
Meanwhile, the White House's Office of Management and Budget on Sunday released its first risk assessment report, which said that climate change could cost the government $2 trillion a year by the end of the century.
The analysis found that climate change could cost an additional $25 billion to $128 billion per year, according to Reuters. Crop insurance covering production losses could rise anywhere from 3.5 percent to 22 percent annually. Frequent hurricanes could cost an additional $94 billion annually by the end of the century for spending on coastal disaster reliefs, the Hill reported.
Update 4/4/22, 1:58 p.m. ET: This article was updated with additional information.