Thousands of protesters filled the streets of downtown New York on Friday to call for climate action, joining millions of people across the world to issue an urgent call to treat global warming with more urgency.
Small children perched on their parents' shoulders, peering over hand-drawn signs and crowds of high school students who had been given permission to skip school. Many carried posters criticizing the political influence of the fossil fuel industry. Chants periodically broke out as the demonstrators, who gathered before the event's formal start at noon, milled around Manhattan's Foley Square, close to where climate activist Greta Thunberg would speak later in the day.
Young and old protesters alike told Newsweek that they wanted American politicians to listen to the concern being expressed at the climate rally and pay attention to the calls for action voiced at strikes across the world.
Andre, a freshman from Manhattan's Little Red School House and Elisabeth Irwin High School, told Newsweek, he was hoping the protests would "actually make some change."
"[Politicians' have] kind of just been ignoring it," he said, speaking about climate change. "And there's been a chant: 'climate over profit.' The fossil fuel [companies] have been focusing more on the money that they've been making than the safety of the Earth. I think if people actually just acknowledge what their actions are doing to the Earth, I think that could really make a difference."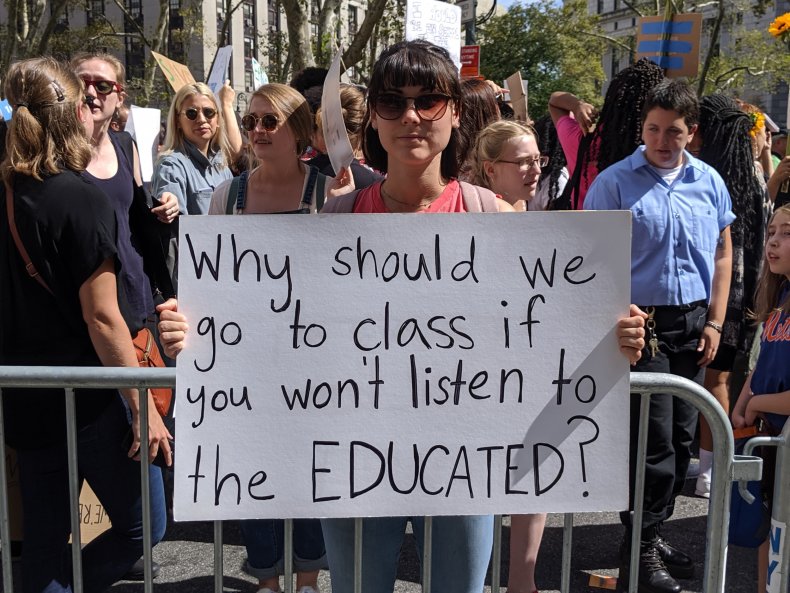 "We assume the more people who come out, the more awareness we can bring," Roita, a high school senior, told Newsweek. "We hope that through this protest, people will stop and think 'oh what is happening?'"
Maliha, another high school senior, agreed. "I'm aware that it might not go all the way to actually passing a bill, but I feel like this is a good way to get people talking."
Protesters held signs advocating the Green New Deal, Representative Alexandria Ocasio-Cortez's plan to address climate change and economic inequality while creating new jobs.
David Turner, a 27-year-old Brooklyn resident, told Newsweek that he hoped the country could pass such legislation and "actually start trying to help disenfranchised communities that have been affected by climate change."
Turner spoke about the disproportionate impacts that climate change will have on vulnerable populations in countries less wealthy than the U.S.
Even though the U.S. produces 15 percent of global greenhouse gas emissions, America will suffer less than its less developed counterparts.
"We're seeing this in the Bahamas right now," Turner said, also mentioning Southeast Asia. The International Union for Conservation of Nature has warned that cities in South and Southeast Asia are particularly at risk from climate change.
"Anything that happens," Turner continued, "hurts those who are most disenfranchised."