Pardoned War Criminal Tells Trump 'I Love You, Sir,' Demands President's Critics 'Go Home'
A former U.S. Army first lieutenant who was pardoned by Donald Trump after being convicted on two counts of second-degree murder offered loving praise for the president and railed against his critics.
Clint Lorance, 34, was given the opportunity to speak to Trump directly on Fox & Friends Monday morning, where he told all critics of the president to "go home" and not work in the government. Trump signed executive grants of clemency, or pardons, to Lorance and another Army officer who were accused of war crimes. Lorance was released from military prison at Fort Leavenworth on Friday six years after he was found guilty of second-degree murder for ordering soldiers to open fire and kill three men on a motorcycle in southern Afghanistan in July 2012.
"You know, I can't tell you how much I appreciate President Trump and Vice President Pence, I just, I love them, they're awesome," Lorance told the Monday morning Fox News crew.
"You were sentenced to 19 years, you were six years into your sentence when you got this pardon and the timing is perfect because next week is Thanksgiving. If the president is watching, what do you want to say to him?" Fox & Friends host Ainsley Earhardt asked Lorance.
"I love you, sir," Lorance said, turning to the camera and laughing. He used the direct line to the president to tell all of the Trump administration's critics to leave Washington and politics altogether.
"You're awesome and you know, I'll say this: I wish you had a better team around you. You need more people watching your back, and I think you don't have a lot of that and that's absolutely unfortunate and that infuriates me to no end. The American people elected you. My thing is, if you're working in the White House or if you're working in the United States government and you don't agree with something the president does- then go home."
The pardons were criticized by a wide range of government officials including Democratic candidates Pete Buttigieg, a military veteran himself, and former Vice President Joe Biden. Both said that Trump's pardon undermines the military justice system.
A White House statement last week laid out the reasons for the pardon, saying Lorance made the decision "under difficult circumstances and prioritizing the lives of American troops."
Biden rebuked the move on Twitter, saying that "Trump's intervention in the American military justice system to pardon service members accused or convicted of war crimes betrays the rule of law, the values that make our country exceptional & the men and women who wear the uniform honorably. He is not fit to command our troops."
Lorance responded to Biden's tweet directly on Fox & Friends Monday: "With all due to respect to the former vice president, that seems to be a partisan answer. That seems to be something that he's just toeing the party line on. I highly doubt the vice president, being the patriotic man with a son in the military like he had, I highly doubt that he really believes that. I think that's what he's doing is toeing the party line and he's doing what he thinks his donors and the people who are signing his paychecks want him to do."
Buttigieg also responded to the pardons with criticism last week: "There's nothing pro-military about overruling our military justice system to prevent it from delivering accountability for war crimes. The president has again dishonored our armed services."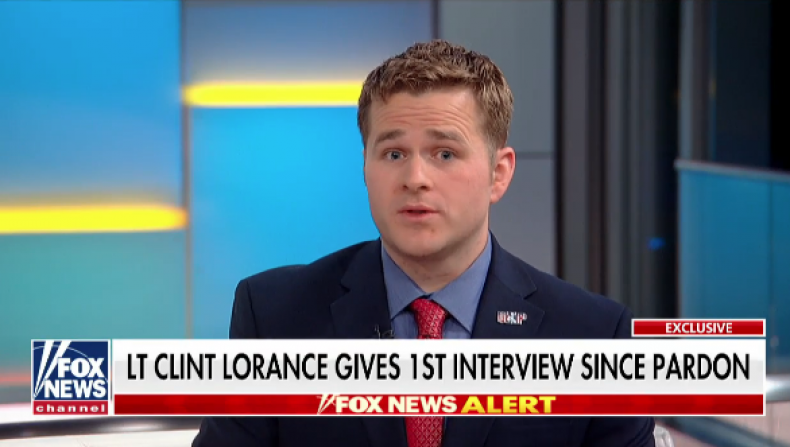 Former Republican Arkansas Governor Mike Huckabee also appeared on Fox & Friends Monday, telling viewers that Trump should be re-elected solely on the grounds he pardoned such war criminals. "He has the guts to do what's right, even if it's not popular. ... Thank God for this president," Huckabee said.