Clinton Campaign Wasn't Fully Confident About Trump's Connection to Russia
Hillary Clinton's former campaign manager for her 2016 presidential candidacy testified on Friday that campaign officials were not "totally confident" in the legitimacy of data in their possession that allegedly linked former President Donald Trump with a Russian bank.
Robby Mook made the statement during the trial of Clinton campaign lawyer Michael Sussmann. The trial for Sussmann began on May 16 following an investigation by special counsel John Durham into the potential criminality in the government investigations of Trump's alleged ties to Russia.
Sussmann is charged with lying to the FBI in 2016 when he allegedly denied that he was working for Clinton's campaign while turning over data to the agency that alleged Trump's organization had a secret back channel of communications with Russia's Alfa Bank. Sussmann has pleaded not guilty.
Mook testified that Clinton approved of her campaign sharing the data with the media, despite them not being "totally confident" in its accuracy, according to Fox News. He also explained the rationale behind giving the data to a reporter would be that they could "run it down" and decide if it was "accurate" before printing it.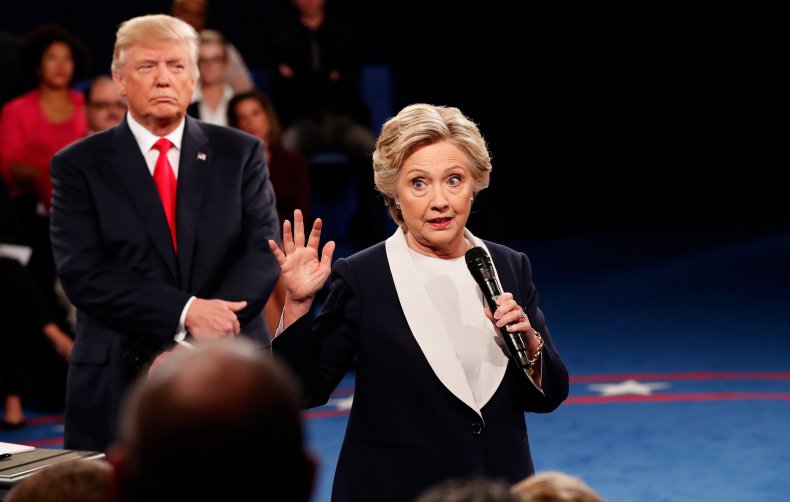 Mook, who appeared as a witness of the defense, was asked by government prosecutor Andrew DeFillippis during cross-examination about the campaign's plan to release the data. According to Fox News, Mook said Clinton personally "agreed with the decision" to give the information to a reporter.
The outlet also reported that Mook testified that he informed the data had come from "people that had expertise in this sort of matter."
On Thursday, former FBI general counsel James Baker testified he was "100 percent confident" that Sussmann told him he wasn't giving the information about Trump's alleged ties to Russia on the behalf of Clinton's campaign.
"He said he was not appearing before me on behalf of any particular client, and that he had some information that was of concern relating to an apparently surreptitious communications channel between something called Alfa Bank—which he described as being connected to the Kremlin in Russia—and some part of the Trump Organization in the United States," Baker said, according to CNN.
Baker added that the FBI had checked into the alleged link between Trump and Alfa, but had decided within weeks that "there was nothing there."
Durham was appointed special counsel in October 2020 by then-Attorney General William Barr. He was instructed to "investigate whether any federal official, employee, or any other person or entity violated the law in connection with the intelligence, counter-intelligence, or law-enforcement activities directed at the 2016 presidential campaigns, individuals associated with those campaigns, and individuals associated with the administration of President Donald J. Trump," according to Barr's order.
Newsweek reached out to Mook and Clinton for comment.