Hillary Clinton Suggests Russia Is Grooming Current Democratic Candidate To Run as a Third Party Nominee
Former presidential candidate Hillary Clinton was a guest on David Plouffe's Campaign HQ podcast Thursday where she weighed in on possible Russian interference in the 2020 election.
"They're also going to do third party again, and I'm not making any predictions but I think they've got their eye on somebody who is currently in the Democratic primary and are grooming her to be the third-party candidate. She's the favorite of the Russians. They have a bunch of sites and bots and other ways of supporting her so far," the former Secretary of State said.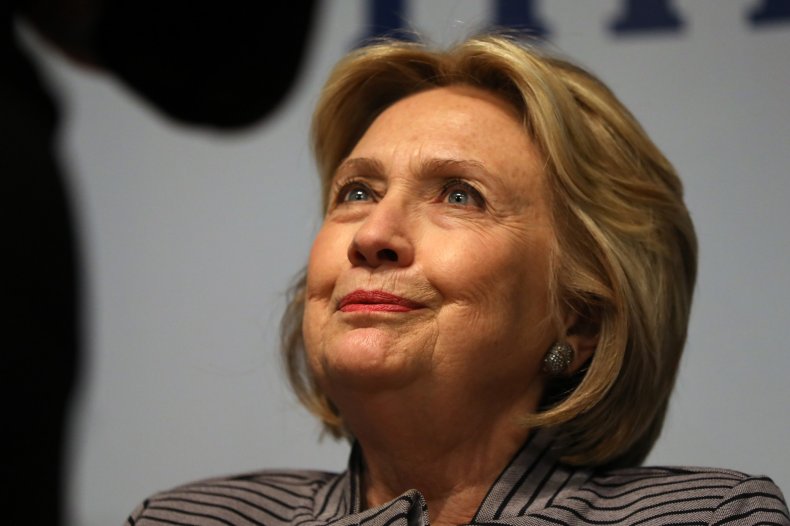 Clinton went on to state that her fellow 2016 candidate Jill Stein was also in the election due to Russian involvement. "That's assuming Jill Stein will give it up, which she might not, because she's also a Russian asset. She's a Russian asset, totally. They know they can't win without a third party candidate, and I don't know who it's going to be, but I will guarantee that they will have a vigorous third party candidate in the key states that they most need it." Stein denied receiving support from the Russian government in 2017.
Earlier in the interview, Clinton commented on Russian activity in the election and insisted that Russian interference is ongoing. "We know from Trump officials, Dan Coats, who used to be the director of National Intelligence, being the most prominent, who literally went to the briefing room of the White House and said, 'The Russians are still in our election system.'" She also remarked, "We know there still are contacts with the Russians. We know these things. We have to assume, since it worked for them, why would they quit? Donald Trump is Vladimir Putin's dream."
Clinton, whose husband former President Bill Clinton was impeached during his second term in office, also discussed the case for Trump's impeachment. She pointed to his connections with foreign leaders, including Russian President Vladimir Putin as further cause for concern, telling Plouffe, "The impeachment provision is meant for exactly the type of behavior that Trump is engaged in right now: abuse of power, obstruction of justice, contempt of Congress, but with the added twist of this alliance he has with these foreign leaders."
Earlier in the interview, Clinton told Plouffe that it's important to "alert the campaigns, try to protect them, work with people like Eric Holder and others who are trying to protect the voter registration and the actual voting process. Try to raise the alarm about the breaches of our election system."