Clip of Christians Singing on Plane Tops 32M Views After Ilhan Omar Comment
A video of Christians singing worship songs aboard an airplane amassed more than 32 million views after Representative Ilhan Omar questioned if Muslims would receive the same treatment.
The video shows a man playing guitar and walking through the plane's aisle while singing a Christian worship song on a crowded plane. Meanwhile, some passengers joined in, while others sat in silence. The video quickly divided the internet.
Omar, one of three Muslims currently serving in Congress, weighed in on the video, attempting to draw a comparison to the way Muslims would be treated if they disrupted a flight to worship.
"I think my family and I should have a prayer session next time I am on a plane. How do you think it will end?" the Minnesota Democrat wrote.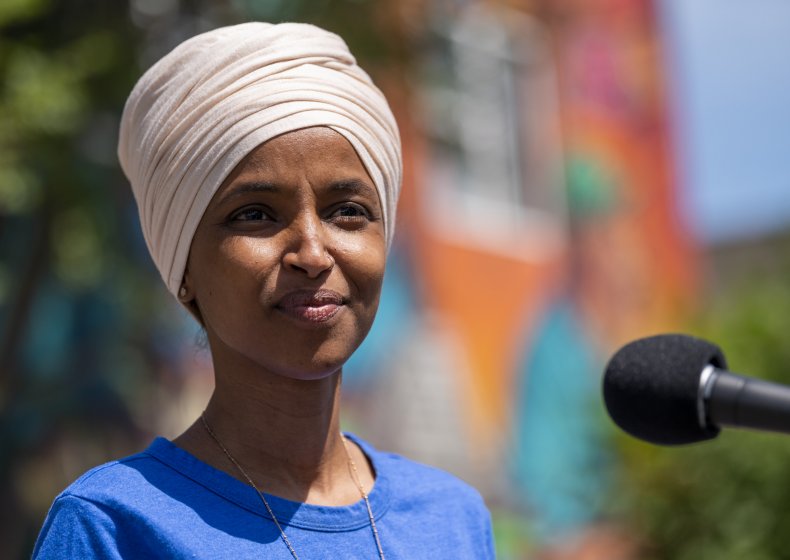 The tweet quickly divided the internet, drawing backlash from many on the right, while others came to her defense. The debate over the tweet caused the congresswoman to trend on Twitter Monday morning.
Some accused her of attacking Christians in the tweet.
"Ilhan Omar asks how people would react if her Muslim family sang their worship songs on a plane. I don't know, but it's gotta be better than the reaction to Christian worship in her home country of Somalia, where Christians are slaughtered for praying in public," wrote conservative commentator Allie Beth Stuckey.
She added in a follow-up tweet that "the situation might be a little more understandably tense."
Others, meanwhile, posted other videos that show Muslims praying on airplanes, noting that in parts of the world where Islam is a predominant religion, it's more common to see Muslims worshiping on planes.
"Depending on the circumstances. Live and let live," wrote @CarlGustavEmil.
Others, however, defended Omar, arguing that her point that Muslims would face scrutiny for worshiping on a plane carries some validity.
"Ilhan Omar isn't criticizing Christians. She's pointing out the hypocrisy. A Muslim could never dream to get up at 30,000 feet to recite verses of the Holy Quran—let alone openly express their faith," wrote Twitter user @mansoortshams.
Author Cliff Schecter wrote: "Don't care what ya think of Ilhan Omar's politics, she makes an undeniable point. Don't think any of us need prayer foisted on us while in a flying metal tube 30K feet in the sky w/out a parachute to escape & regain sanity."
Others wrote that regardless of the religious aspect, the experience could be annoying for some passengers.
"It doesn't matter if its religious or not, they are disturbing several passengers, this is an invasion of other people's space," wrote Youtube creator Peter Jordan.
Omar, one of the progressive lawmakers who make up the "Squad," has long been a target of Republican criticism. She took office in 2019 and has previously faced attacks based on her religion.
Newsweek reached out to Representative Omar's office for comment.