Trump Says Happy Easter to 'Radical Left Maniacs,' 'Racist' Letitia James
Former President Donald Trump attacked "radical left maniacs" and "racist" New York Attorney General Letitia James in a series of Easter statements Sunday morning.
"Happy Easter to all including the Radical Left Maniacs who are doing everything possible to destroy our Country," he wrote in a statement shared by his spokesperson Liz Harrington on Twitter. "May they not succeed, but let them, nevertheless, be happy, healthy, wealthy, and well!"
The former president attacked James, who has long been targeted by him for her investigations into his financial dealings in New York.
"Happy Easter to failed gubernatorial candidate and racist Attorney General Letitia James. May she remain healthy despite the fact that she will continue to drive business out of New York while at the same time keeping crime, death, and destruction in New York," he wrote in a second statement that was also shared by Harrington.
He referred to James' gubernatorial campaign that ended last year. In the wake of former New York Governor Andrew Cuomo's resignation, she initially planned to run for the state's highest office, but ultimately suspended her campaign to seek another term as attorney general, rather than challenge incumbent Democratic Governor Kathy Hochul.
During her time as attorney general, James has used her power to investigate Trump's financial dealings and subpoenaed him and two of his children earlier this year. In April, she filed a motion seeking a $10,000 fine for each day he does not turn over documents related to her investigation. Trump has denied any wrongdoing, criticized her investigations and accused her of "prosecutorial misconduct."
James' office hit back at Trump Monday afternoon, writing in a statement that she "will not be bullied or intimidated by the former president."
"The courts have ruled time and time again that the office's investigation into Mr. Trump and his financial dealings is legitimate and lawful, and Attorney General James will continue to follow the facts and the law wherever they may lead. Nothing will dissuade her from pursuing justice," the statement said.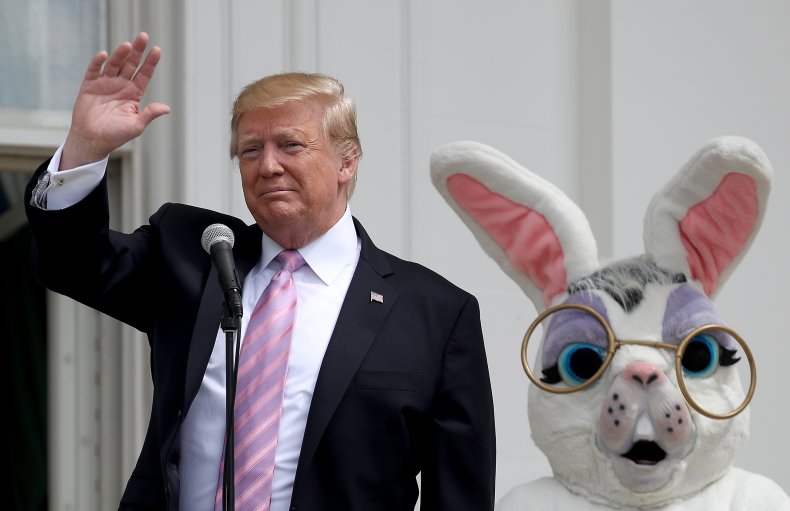 His Easter message was met with criticism on Twitter, where many users condemned him for using a religious holiday to attack his foes. "Radical left maniacs" trended Sunday afternoon.
"Imagine calling yourself a Christian and posting this on Easter," wrote Twitter user Dylan Kaiser.
Twitter user John Jeffrey wrote: "Hard to imagine a more bitter Easter greeting. This clown was the leader of the USA? Disgusting. Even the Easter Bunny is offended!"
"He really doesn't understand Easter. What an affront to the celebration of this holiday," wrote Twitter user Lucy Belle.
It's not the first time the former president has used a holiday to go after his political rivals.
On New Years' Eve in 2017, he wrote on Twitter: "As our Country rapidly grows stronger and smarter, I want to wish all of my friends, supporters, enemies, haters, and even the very dishonest Fake News Media, a Happy and Healthy New Year."
Update 4/18/22, 1:55 p.m. ET: This story has been updated with additional information and background.