Clip of Joe Biden Calling Inflation Temporary Resurfaces as Prices Surge
Republicans are recirculating a year-old clip of President Joe Biden calling inflation "temporary" following Wednesday's consumer price index (CPI) report, which showed that inflation hit 9.1 percent last month—the highest rate in nearly 41 years.
In a video from a July 19, 2021, speech, Biden marked the first six months of his administration by celebrating the nation's economy, which he hailed as experiencing "the fastest growth, I'm told, at this point in any administration's history."
"We also know that as our economy has come roaring back, we've seen some price increases," Biden said. "Some folks have raised worries that this could be a sign of persistent inflation. But that is not our view."
He continued, "Our experts believe, and the data shows, that most of the price increases we've seen are expected to be temporary."
On Wednesday, the House Republican Conference retweeted the video, captioning it "NEVER FORGET."
Wednesday's report from the Bureau of Labor Statistics was a troubling development for the Biden administration, which has struggled with the political impact of inflation as public concern has continued to grow and as the economy has topped the list of issues expected to drive most voters to the polls this November.
After May's 8.6 percent inflation rate, prices rose even faster in June, with the CPI increasing 1.3 percent in just one month. June's 9.1 percent year-over-year rate is the largest 12-month increase since December 1981.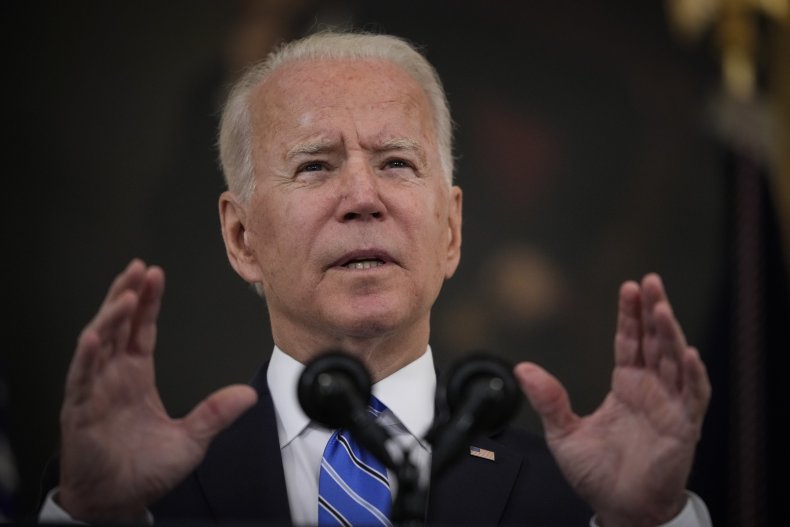 For the most part, Biden has blamed Russia's invasion of Ukraine for driving U.S. inflation, referring to the high prices at the gas pump and grocery stores as "Putin's price hike."
On Wednesday, the president doubled down on that message in his response to the CPI report, saying it "is a reminder that all major economies are battling this COVID-related challenge, made worse by Putin's unconscionable aggression."
In his statement, Biden called the new inflation rate "unacceptable" and vowed to make the issue his "top priority" by continuing to release a historic number of barrels from the nation's Strategic Petroleum Reserve, mounting pressure on the U.S. oil and gas industry to bring down prices and urging Congress to act on legislation to reduce consumers' everyday costs.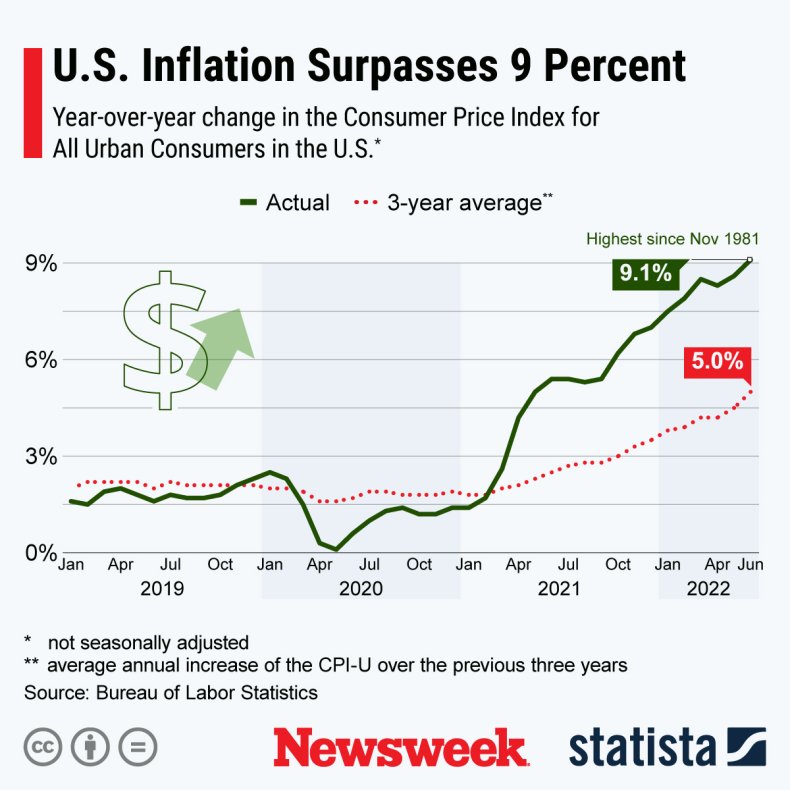 Statista chart shows the year-over-year change in the consumer price index, as of June.
He also took aim at the GOP, vowing to "oppose any efforts by Republicans—as they have proposed during this campaign year—to make things worse by raising taxes on working people, or putting Social Security and Medicare on the chopping block every five years."
Biden's "temporary" remark about inflation is among a series of statements the president made last July that have come back to haunt him.
In 2021, he also declared the nation's independence from the COVID pandemic, months before the Omicron variant would cause a winter surge, and spoke about withdrawing U.S. troops from Afghanistan, which would later draw heavy criticism for the way it was handled.
Update 7/13/22, 11:02 a.m. ET: This story has been updated with additional information and background.