Clip of Ken Jeong Walking Off 'Masked Singer' Over Rudy Giuliani Goes Viral
Controversy followed the revealing of Rudy Giuliani as one of the costumed contestants of The Masked Singer, with the most striking reaction being that of Ken Jeong, who walked off the set of the singing competition saying he felt "disrespected" and "livid."
News that 76-year-old Giuliani was taking part in the popular Fox singing show broke out in February.
But when the former mayor of New York and attorney to Donald Trump was unmasked in the episode of The Masked Singer aired on Wednesday night—and revealed to be the 'Jack in the Box'—judges on the show, as well as the public in studio, looked stunned.
Giuliani appeared smiling out of a bizarre-looking costume of a rainbow-feathered bird with a crested chicken head (which The Daily Beast's journalist Marlow Stern aptly described as "the face of the Jigsaw puppet").
"Is that Robert Duvall?" asked Nicole Scherzinger before Jeong simply replied, deadpan: "No, that's not Robert Duvall."
Questioned by host Nick Cannon about his decision to take part in the show despite the controversy surrounding him, Giuliani said that he wanted to show his newborn granddaughter Grace that "you should try anything."
He then sang "Bad to the Bone" for his final song, while Jeong walked off stage saying, "I'm done."
Fellow judge Robin Thicke, who was rumored in February to also walk off stage, reportedly only followed Jeong to check he was alright.
Scherzinger and Jenny McCarthy appeared to get on board with Giuliani's performance and could be seen enthusiastically applauding him and dancing to his tune.
Social media was stormed by the shocked reactions of viewers of the show, many who sided with Jeong and supported his walking off the set.
"Ken Jeong had the courage and the dignity to do the right thing. Giuliani deserves to be in prison along with his puppet master trump, not on a television show. This was a very poor decision even for the Fox network, who is notorious for their poor decisions," wrote a user on Twitter.
"Do not EVER pull this stunt ever again," wrote another.
There was also some arguing over the comedian's walk off, with users saying his unceremonious exit was "a lack of grace" and not appropriate for a family show.
But other users came to the rescue of Jeong, saying, "Ken Jeong owes NO ONE an apology," and "KEN WALKED OFF. LIKE HE SHOULD. Why are we normalizing these traitors."
Some users reported walking out of the room after hearing Giuliani's voice or turning away from the channel.
Trump's former right hand led the legal efforts to overturn the results of the 2020 election, unsuccessfully.
In the follow-up of the 2020 presidential election, Giuliani repeated conspiracy theories claiming the election had been stolen, and went as far as calling for a "trial by combat."
For these words and more, he has been accused of encouraging a coup on January 6. He is now expected to cooperate with the House select committee investigating the Capitol riots.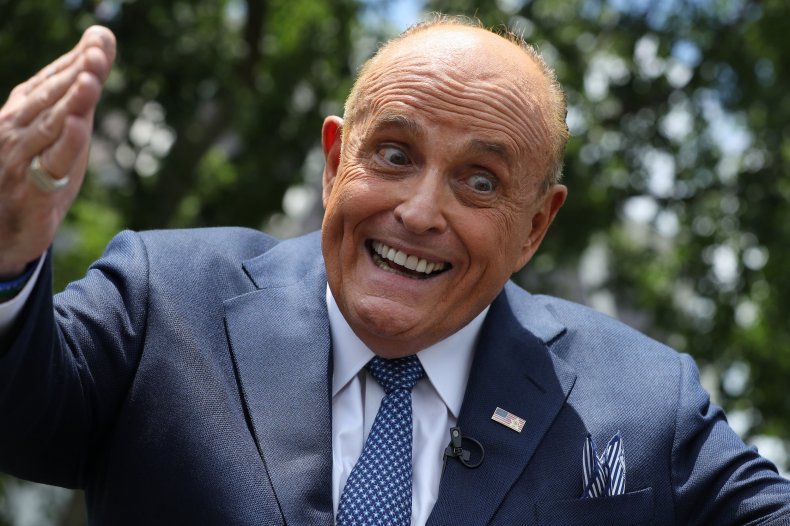 Giuliani also made a controversial appearance in 2020's Borat 2 film, where he was caught on camera reaching into his trousers and reclining into the bed of a hotel suite in New York after a fake interview with the actor playing Sacha Baron Cohen's character's daughter in the film.
The scene is then interrupted by Cohen walking in and telling Giuliani, "She's 15! She's too old for you."
Giuliani reported the incident to the police, and later, questioned by media about the controversial scene, claimed to only have been removing his microphone and tucking his shirt.
On Twitter, he wrote that the clip was "a complete fabrication," and called Cohen a "stone-cold liar" if implying his behavior was at any time inappropriate.
Giuliani was eliminated at the end of The Masked Singer's episode aired on Wednesday night.
Newsweek has contacted Jeong for comment.