Clip Shows Startling Moment Shark Jumps Into Boat, Crashing Into Fishermen
A stunning video went viral after it showed a large mako shark leaping into the air and onto the deck of a boat, nearly landing on top of two fishermen.
Posted to the TikTok account @careychenart, the video was viewed more than 530,000 times.
"Don't mess with makos Cameron Sinclair," read the caption of the video.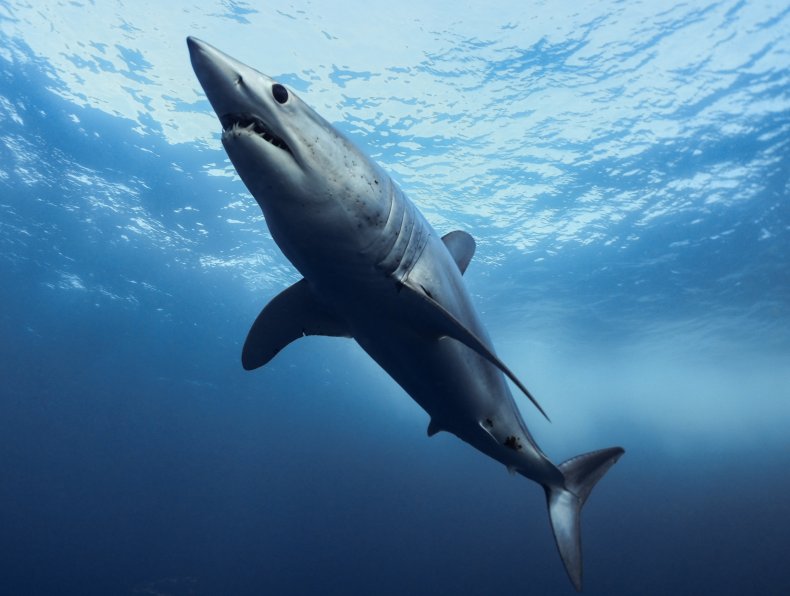 Shortfin mako sharks are among some of the fastest fish on Earth, swimming up to 45 mph. They also measure up to 12 feet and weigh up to 1,200 pounds, according to Oceana.
"This species' athleticism is not restricted to its swimming speeds," the organization said. "It is known for its incredible leaping ability and can be observed jumping to extreme heights (out of the water) when hunting."
These sharks have an extensive geographical range, though they are mainly found in tropical to temperate parts of all oceans.
In the viral video, a fisherman is seen attempting to reel in what he caught on his line, which was jumping out of the water at the start of the clip.
The men on the boat cheered him on before the mako shark popped out of the water and crashed onto the boat's deck by two fishermen.
"Holy f**k," one of them said.
The camera panned down and showed one fisherman darting away from the wriggling shark, while the second quickly climbed the ladder to the boat's top deck.
The camera then focused on the shark that continued to thrash on the floor before the video concluded.
The fishermen were not the only ones shocked by the shark leaping into the boat, as viewers took to the comments section to share their thoughts.
"The fish up for the kill," wrote a TikTok viewer.
"I'm going to settle for trout fishing," commented another.
"So you wanna catch a big fish today, yah?!" one viewer wrote.
"When the fish catches itself," a viewer joked.
Newsweek reached out to @careychenart for further comment.
Other videos showing sharks have made their rounds on the internet.
One video showed a great white shark eating a porpoise off the coast of Maine. The clip was shared on a Facebook page where it was viewed 65,000 times.
Another video went viral after a diver explained what swimmers should and should not do if they come into contact with a shark. To illustrate the point, the diver used a large shark in the clip.
A video showed a large shark swimming close to beachgoers at Daytona Beach, Florida, who appeared to not notice its presence.