Shark Filmed Stalking Swimmers Off Daytona Beach
A large shark has been filmed swimming close to several beachgoers at Daytona Beach, Florida.
The footage was captured by Blake Russ using a drone, which he flew over the beach. Russ was visiting the city, located on Florida's Atlantic coast, for a family reunion.
Russ told Storyful that he spotted the shark, which he estimated to be about seven feet in length, near the Daytona Beach Pier within minutes of taking the drone out.
In the video clip, the shark can be seen underwater as it appears to approach several people swimming in the shallow waters close to the shore.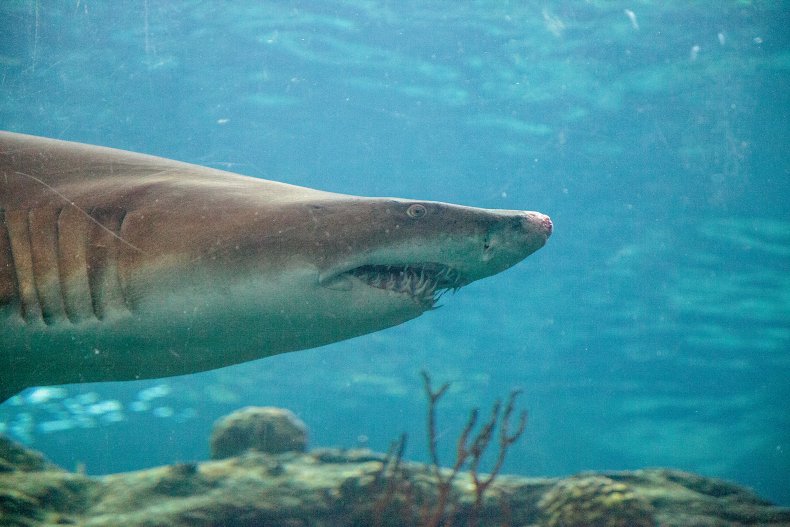 "It was swimming right along the wave break," Russ told Storyful.
Russ continued to follow the shark with the drone for about 15 minutes as it encountered at least a dozen different groups of people, all of whom were seemingly completely unaware of its presence.
"Every time it swam right towards them, then while only a few feet away changed directions and went around them," Russ said. "The people never noticed the shark was there. They often looked at the drone and waved, unknowing that the shark was swimming right by them."
According to the filmmaker's brother, Robert Russ, the shark—which may have been a blacktip—swam about a mile-and-half north from the local boardwalk.
"It was unnerving at moments to watch this since there are quite a few people bitten here," the brother told Fox 35.
At one point in the video, two swimmers spot the drone and wave at the flying vehicle as the shark moves past them only a few feet away.
"I would say if you're swimming in the ocean and a drone comes down near you, look at the water around you and not up at the drone, you aren't that special, the drone is probably filming something else," Blake Russ told Storyful.
Daytona Beach is located in Volusia County, which has been dubbed the "Shark Attack Capital of the World."
Compared to other locations, the county has recorded a relatively high number of unprovoked shark attacks—337 have been confirmed since 1882, according to the International Shark Attack File (ISAF) operated by the Florida Museum of Natural History.
From 2012-2021, the county recorded 94 shark bites on humans—an average of over nine per year—all of which were non-fatal. And last month, six shark attacks were reported in the county.
Despite the fearsome reputation of some sharks, attacks on humans are very rare—and fatal incidents are even rarer.
Your odds of being killed by a shark are about one in 3.7 million, according to ISAF. In fact, you are more likely to die as a result of being struck by lightning.