Boy Attacked By Three Sharks in Bahamas 'Was Like a Scene Out of Jaws'
An 8-year-old British boy on vacation with his family in the Bahamas was attacked by several nurse sharks while swimming in the lagoon last week, and his father said the incident "was like a scene out of Jaws."
At a time when shark sightings are becoming increasingly common, Finley Downer, along with his siblings Lily, 9, and Emily, 12, were on a five-island tour with their father, Michael Downer, that included guided swimming with iguanas, pigs and nurse sharks.
The family told The Sun that on a day last week, they joined a large group of people swimming with the sharks in a lagoon.
Michael told the paper, "Suddenly, I heard a terrified scream and saw dozens [of sharks] circling Finley. There was so much blood. Bits of his leg were hanging off. He kept saying, 'Dad I don't want to die. Dad I don't want to go to heaven.'"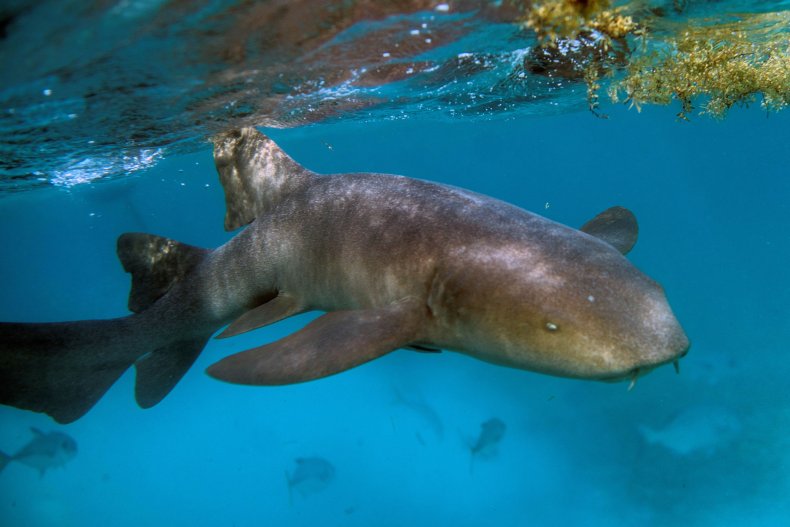 The Sun reported that he was attacked by at least three of the nurse sharks in the water, and suffered flesh wounds on both legs. Finley was reportedly dragged out of the water by his sister Lily and was taken to a clinic in Nassau, the capital. He underwent a three-hour operation, and the family is now recovering at home in Kettering, Northamptonshire.
"My son could have been killed. It was like a scene out of Jaws," Michael told The Sun, referencing Steven Spielberg's 1975 film about a killer shark.
He added that he was upset at the tour guides who had told them the sharks were safe to swim with, but The Sun reported that an operator with Exuma Escapes— the company that the Downer family went with—went without a guide and swam in a lagoon that they did not use on their tour.
Recent Shark Sightings
An abnormal amount of sharks have been showing up all along the East Coast this summer, and six great white sharks were spotted off the coast of Massachusetts' Cape Cod region on Saturday, July 30 alone, according to data collected by the Atlantic White Shark Conservancy's Sharktivity app.
Scientists have been tracking one great white shark named Breton, measuring over 13 feet long and weighing 1,500lbs, who was last tracked just off the South Carolina coast last week.
The shark reportedly spent his June and July off the coast of Florida, and experts have stated that Breton is "somewhat of an anomaly.
"While the rest of our actively pinging white sharks are off the Northeast U.S. or Atlantic Canada, Breton remains in the warm waters off the Southeast U.S. This is the latest we've seen one of our white sharks stay this far south in the Western North Atlantic," Ocearch, an ocean research organization, said on Facebook.
Beach-goers were also concerned earlier in July when two separate shark attacks occurred at beaches in Long Island just hours apart from each other.
Newsweek reached out to Exuma Escapes for further comment.
Correction 08/11/22, 10:15 a.m ET: Removes reference to Compass Cay