Great White Shark Breton Lurking in Waters Around Florida
An enormous great white shark known as Breton is lurking in the waters just off the Florida coast.
On July 12, the shark tracker hosted by ocean research organization OCEARCH pinged with Breton's location at 11:07 p.m., not far from Palm Bay, a city of 119,760 people.
Breton is a huge shark, measuring over 13 feet and weighing almost 1,500 pounds.
OCEARCH tags great white sharks to learn more about the species and their behavior—the tagged sharks "ping" on the tracker when their dorsal fins come close to the surface of the water.
Before this, Breton was further north of the state, off the coast of Jacksonville.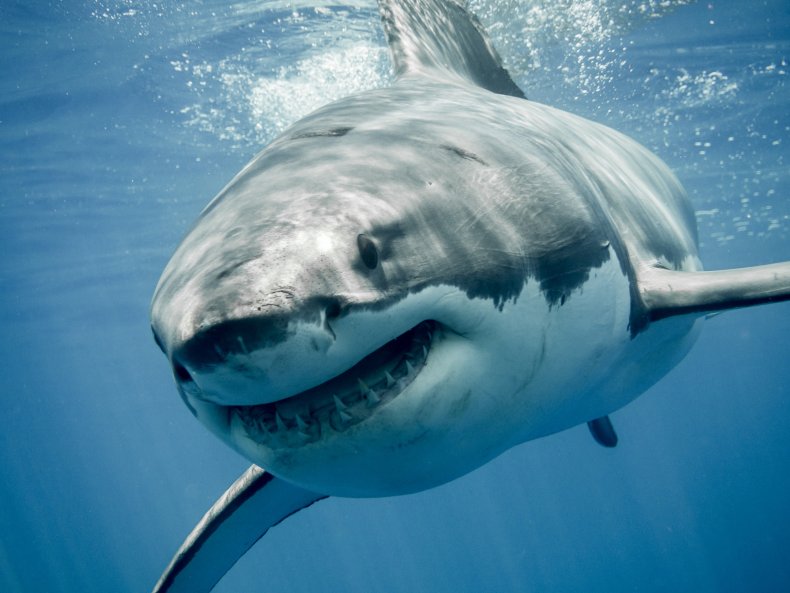 Florida's waters are best known for its bull sharks. North Atlantic great white sharks are usually further north of the East Coast at this time of year.
Great white sharks are usually attracted to Florida if there is a lot of prey in the area. They usually migrate along the route, spending the summers in the north and winters in the south.
Gavin Naylor, Director of the Florida Program for Shark Research, told Newsweek that it is "not unusual" for great white sharks to be in the area, however they "don't see a lot of them."
"Nut we usually see a few, often around Jacksonville, but also further down the coast, too," Naylor said.
Before heading to Florida, OCEARCH tracked Breton incredibly close to the North Carolina shore. Scientists believe this is where great white sharks go to mate and raise their young. Finding out more about where they mate is one of OCEARCH's main aims.
Breton wasn't the only huge shark in North Carolina at the time—another huge great white shark known as Ironbound, measuring 12 feet long and weighing about 1,000 pounds, was also tracked to the area.
Great white sharks are solitary, and tend to travel alone.
However, these two massive great white sharks have been observed swimming in similar directions recently.
In October 2021, Breton was tracked as far north as the Gulf of St. Lawrence in Canada. That's normal for this population of sharks. As the weather became colder in the winter, the shark was then tracked to the east coast of Florida by December—a distance of roughly 1,500 miles.
Despite Breton's proximity to the shore, the shark poses very little danger to humans.
But, there have been a spate of shark attacks in Florida recently, although the species responsible isn't known.
One attack occurred across the state in northern Florida, while another occurred in the Florida Keys. A separate attack occurred at New Smyrna Beach, while lies 79 miles from Palm Bay city.
However, the surfer that was bitten reported that the shark was much smaller than Breton, at about six feet long.
Update 07/15/22 ET 7.29 a.m: This article has been updated to include quotes from Gavin Naylor.