Ironbound, a 1,000-Pound Great White Shark, Spotted Off U.S. Coastline
Ironbound, a massive great white shark that weighs nearly 1,000 pounds, has recently been spotted prowling in the Atlantic Ocean near the U.S. coastline.
The enormous creature measures 12 feet, 4 inches long and weighs about 998 pounds, according to the marine research group Ocearch. He was recorded by the group on Monday and Tuesday near the Outer Banks in North Carolina. A week earlier, the great white was spotted off the New Jersey coast.
Ironbound's latest journey comes just days after researchers recorded two other great whites coming extremely close to the North Carolina coastline. Researchers have noted that some great white sharks have just finished their mating season in the area, which might explain their proximity to the U.S. coastline.
Ironbound, whose name comes from the West Ironbound Island, was originally tagged by researchers in October of 2019 near Nova Scotia, Canada. The great white was given a tracking device that pings when he comes to the water's surface, according to Ocearch.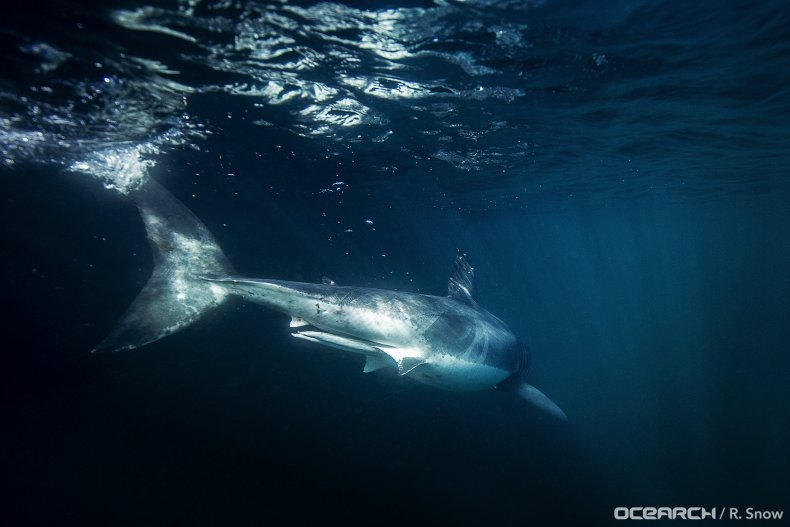 When he was first tagged, researchers referred to Ironbound as one of the "toughest sharks" they've ever come across.
"Our Fishing Master Captain Brett McBride said that [this] was one of the toughest sharks he has seen, especially considering [its] size," Ocearch expedition leader Chris Fischer told Newsweek in 2019. "At 12 foot, 4 inches and right about 1,000 pounds, [it] fought like some of the much bigger sharks we've encountered in places like Guadalupe Island, Mexico and South Africa that were 15 feet long or more."
In the past several years, Ironbound has been tracked from Canada all the way to the Florida Keys and Gulf of Mexico. He's even been known to deviate from other sharks in his species by traveling in opposite directions or visiting the same waters twice in one season. In total, researchers estimate that he's traveled some 13,000 miles.
"Mating season is over, we think, and Ironbound is on his way north to get into some good feeding ground and bulk up again for the next year," Bob Hueter, chief scientist at Ocearch, told The Independent this week. "They're moving north to the very rich feeding grounds off of Canada and the northeastern U.S.," he added.
Researchers still don't know the full extent of the great white's mating habits. However, a recent study by Ocearch showed that young great white sharks may live along the Carolina coasts, in the Northwest Atlantic Ocean, during the winters.
The other two great white sharks recently spotted near North Carolina, named Ulysses and Tancook, will likely follow Ironbound's lead and head back North.
Newsweek reached out to Ocearch for comment.