Two Shark Bites Occur in Same Day Off Long Island
Two separate shark attacks have occurred at beaches in Long Island just hours apart from each other.
Long Island has seen a spate of shark attacks in recent weeks. The two latest bring the number of incidents to five in the last two weeks.
Shawn Donnely, 41, was bitten by a sand tiger shark while surfing at Smith Point Country Park on July 13, according to officials, NBC New York reported.
The shark knocked Donnely off his board before it bit him. The surfer punched the shark to get it away, however it kept circling him, the news outlet reported. A wave eventually helped Donnely move away from the shark and swim to safety.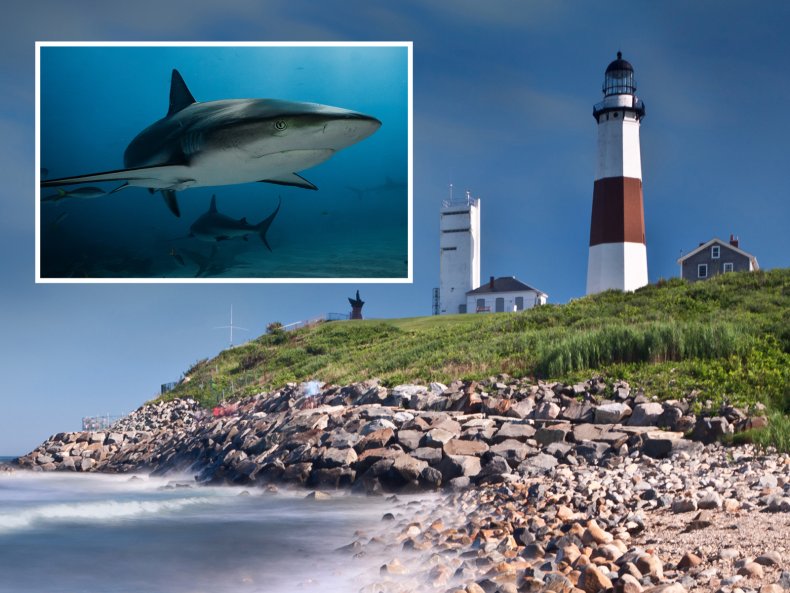 Donnely was found to have a four inch gash in his leg after the incident.
"It got my left calf and knocked me off my board…when I was falling off my board, I saw the fin and its back," Donnely told NBC. "I just had to take a second. I looked—my arms were there, my legs were there, I was like 'I'm okay'…I put my board between me and it, it went underneath me, I slapped it and it was gone. I went straight for the beach and rode a wave straight in."
A lifeguard told NBC New York that Donnely was "a little shaken up, as you can imagine."
The beach was immediately closed off to swimmers. Authorities began searching for the shark, however, it was not found.
Just hours later, however, at around 6.pm another attack took place at a different Long Island beach. An Arizona man had been standing in shallow water at Seaview Beach that same evening when a shark approached from behind and bit him on the wrist and buttocks, NBC New York reported.
The man was rushed to hospital by helicopter and is expected to make a full recovery.
Smith Point has been closed in recent weeks because of shark activity in the area. The beach reopened for July 4 however.
The first attack to occur in Long Island this year came on June 30 when a 37-year-old was bitten on the foot while swimming near Jones Beach, ABC reported.
A few days later, a lifeguard was bitten during a training exercise, prompting Smith Point beach and Cupsogue beach to close.
Less than a week later, another lifeguard was bitten while treading water at Ocean Beach on Fire Island.
While none of the attacks were fatal, it is rare for shark bites to happen in such close succession.
It is not clear why attacks in the area seem to be happening, however, Long Island shark sightings have increased in recent years probably because of an abundance of fish in the area.
There has been no confirmation whether it is a specific species of shark that is causing the attacks, however, multiple can be found in the area. Sand tiger sharks can be found in the area year round, however, other species such as the blue shark, mako shark, hammerhead shark and thresher shark swim in and out of the waters throughout the year.