Clip of Trey Gowdy Condemning Obama's Refusal to Turn Over Documents Resurfaces Amid Trump White House Defense News
A clip of former Representative Trey Gowdy (R-S.C.), the most recent addition as outside counsel to President Donald Trump for the House Impeachment Inquiry, has surfaced from 2012 in which he urges the executive branch of the government to comply with congressional oversight.
"The notion that you can withhold information and documents from Congress no matter whether you are the party in power or not in power is wrong," Gowdy said. "Respect for the rule of law must mean something, irrespective of the vicissitudes of political cycles."
As part of the president's legal team, Gowdy will be working to defend a client who refuses to comply with all congressional requests for information, testimony and documents relating to the House's impeachment inquiry.
Footage of Gowdy blasting the Obama administration during a 2012 Congressional hearing matters because it seems to be the very thing that the Trump administration is currently doing.
The White House told House Democrats on Tuesday that it will not comply with demands for documents and testimony in the impeachment inquiry, setting up a legal showdown between the two branches of government.
Gowdy, who served as the U.S. Representative for South Carolina's 4th congressional district from 2011 to 2019, is no stranger to congressional investigations.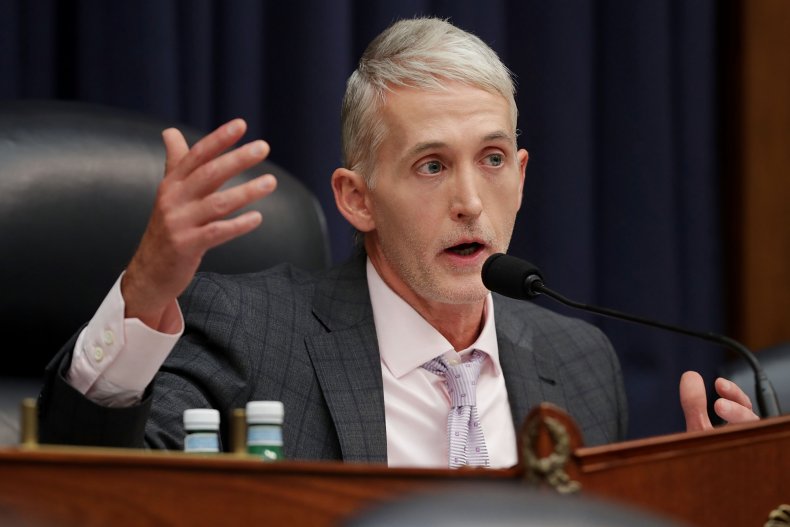 He was chosen to chair the House Select Committee on Benghazi from 2014 to 2016, probing the 2012 terrorist attack on an American diplomatic compound in Libya that left a U.S. ambassador and three other Americans dead.
Gowdy was also a key figure in the Russia investigation that followed President Trump's election, launching a parallel joint investigation with then-House Intelligence Committee Chairman Devin Nunes.
He then broke from his colleague to back Special Counsel Robert Mueller to undercut claims that the Obama Administration was spying on Trump.
This detour from Republican talking points angered Trump allies. Fox News host Sean Hannity declared "shame on Trey Gowdy" for defending the FBI's investigation, while his colleague Lou Dobbs dubbed Gowdy a "RINO," or "Republican in name only."
On January 31, 2018, Gowdy said he would not seek re-election, then joined the South Carolina law firm Nelson Mullins Riley & Scarborough and became a Fox News contributor.
"I like jobs where facts matter. I like jobs where fairness matters. I like jobs where, frankly, where the process matters. It's not just about winning and it's not just about reaching a result," Gowdy said last year upon announcing his retirement.
A spokesperson for Fox News confirmed to Newsweek on Wednesday that Gowdy had been terminated just one day after it was widely reported that he had joined the President Trump's legal team.