Fox News Terminates Trey Gowdy as the Former GOP Congressman Joins Trump's Legal Defense
Fox News has terminated former Republican Representative Trey Gowdy, who since January had been a paid contributor for the network, a spokesperson for the media outlet confirmed to Newsweek on Wednesday.
No reason was provided, but the announcement of Gowdy's ousting came a day after it was widely reported that the White House tapped the former South Carolina lawmaker to join its legal defense team to help President Donald Trump combat the House Democrats' impeachment inquiry.
The White House did not respond for comment about tapping Gowdy and Newsweek did not receive a response from the former congressman.
The former House Oversight Committee chairman chose not to run for re-election in 2018, much to the surprise of Washington politicos, and instead joined the South Carolina–based law firm Nelson, Mullins, Riley & Scarborough.
Gowdy, a Republican, has been a frequent target of Trump's ire over his comments about Russia's meddling in the 2016 election, and his handling of a congressional investigation into former Secretary of State Hillary Clinton and the attack on Americans in Benghazi, Libya, in 2012. However, Gowdy will work with the president and his allies—who once frequently bashed him—to help fend off impeachment proceedings.
Gowdy also once held a different view about cooperating with requests for information from Congress, saying during a 2012 congressional hearing under the Obama administration that it was "wrong" to "withhold information and documents from Congress"—exactly what the White House has said its new strategy is to stonewall Democrats' impeachment inquiry.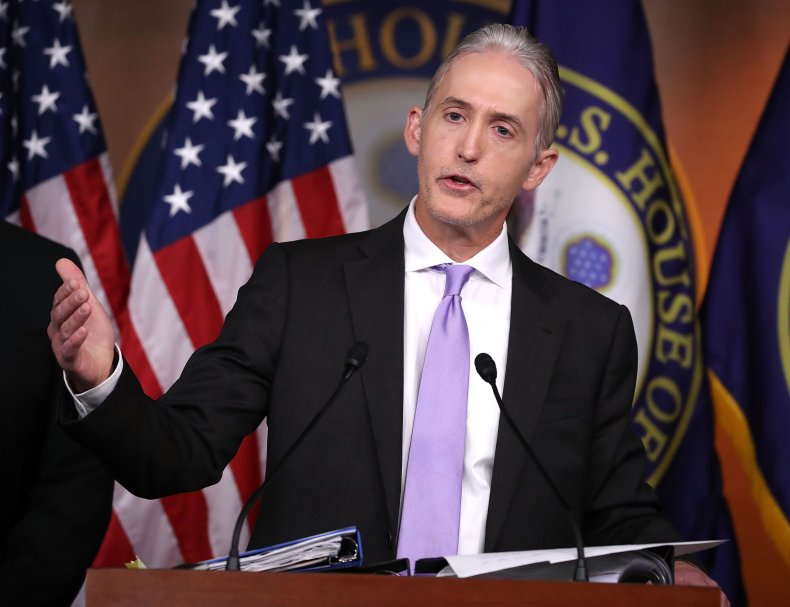 Gowdy was a dogged investigator into the attack on the U.S. mission in Benghazi, which left four Americans dead. Gowdy's handling of the select panel that investigated the matter was criticized by Democrats for being controversial and highly partisan. Still, Trump repeatedly took aim at him on Twitter as a presidential candidate.
"I hope @TGowdySC does better for Rubio than he did at the #Benghazi hearings, which were a total disaster for Republicans & America!" Trump tweeted in December 2015 after Gowdy endorsed one of his primary rivals, Sen. Marco Rubio (R-FL), for president. He also lobbed other insults on Twitter.
Gowdy, for his part, deployed his fair share of insults toward Trump and the administration.
In March 2018, the outgoing lawmaker told Fox News in response to Trump-attorney John Dowd calling on the Justice Department to end former special counsel Robert Mueller's probe: "If you have an innocent client, Mr. Dowd, act like it."
As House Oversight chairman, Gowdy was lambasted by Trump and his allies for disagreeing with the president's "spygate" theory, a notion that the FBI and Obama administration tried to upend his chances of being elected president and were politically motivated when the agency placed an informant within the Trump campaign to investigate Russian efforts to subvert a U.S. election.
"I am even more convinced that the FBI did exactly what my fellow citizens would want them to do when they got the information they got—and that it has nothing to do with Donald Trump," Gowdy told Fox News in May 2018. That was a position that Democrats took as well.
Rudy Giuliani, Trump's personal lawyer, told BuzzFeed News that Gowdy was "completely uninformed," while Politico reported at the time that another attorney associated with Trump, Victoria Toensing, claimed Gowdy "doesn't know diddly-squat." Giuliani, in a separate interview with CNN, accused Gowdy of "drinking the Kool-Aid" and having "screwed up" on the Benghazi investigation.
In between ridiculing Gowdy throughout the years, Trump has, however, also praised him, a representation of the conditional support the president often offers for Republicans that's based on whether he agrees with them. Gowdy's eventual endorsement of Trump over Clinton for president in mid-2016 was met with praise, as was the news in mid-2014 that Gowdy would lead the Benghazi committee. In July 2015, Trump even shared a tweet that suggested Gowdy should be his attorney general, assuming he were to win the election.