When President Joe Biden took over the White House in January, he was met with a daunting task list. The coronavirus pandemic was ravaging America's people and economy, federal agents were investigating the recent January 6 insurrection at the U.S. Capitol, and racial justice advocates were calling for systemic change following a spate of police violence incidents that caught the national media's attention.
Biden began his term with a 50-50 party split in the Senate and a nail-biting 10-seat Democratic majority in the House. With midterm elections now just 19 months away, Democrats are feeling pressure to push through priority legislation before they are at risk of losing congressional control.
Having just lost 13 seats in the House last fall—a relatively small number when compared with the 64 Democratic seats lost in 2010 during former President Barack Obama's administration or the 42 seats Republicans lost when they controlled the House in 2018—there is a real possibility that House Speaker Nancy Pelosi will soon surrender her gavel to House Minority Leader Kevin McCarthy.
Democrats have already pushed through a COVID-19 relief package and are in pursuit of a number of other legislative items, including a wide-spanning infrastructure bill. Also on the legislative agenda is H.R. 40, a bill that proposes creating a commission on reparation for Black Americans.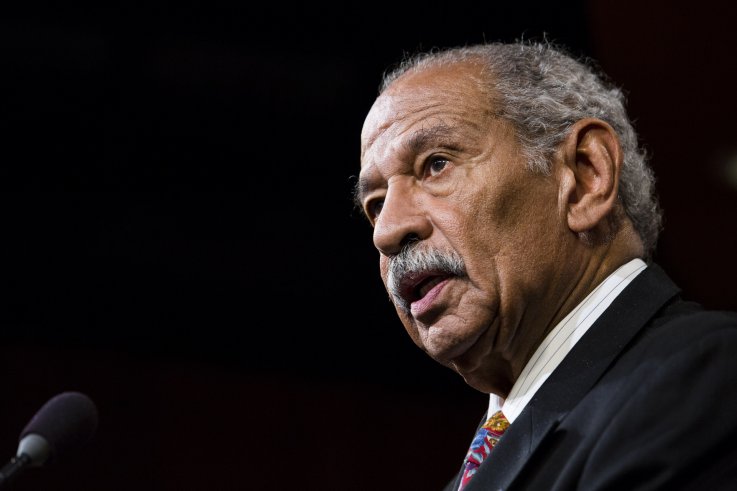 U.S. Rep. John Conyers (D-MI) speaks a news conference on Capitol Hill on January 16, 2014 in Washington, D.C. Conyers was first to introduce H.R. 40 in the House in 1989 and continued to push for the legislation until his death in 2019.
Drew Angerer/Getty Images
The legislation has languished for more than three decades after its initial introduction by the late Representative John Conyers of Michigan and was most recently reintroduced earlier this year by Rep. Sheila Jackson Lee of Texas.
The proposed commission would make suggestions for reparations after first reviewing the impact of slavery and discrimination from 1619 to the modern day. The bill says the commission will identify three things: "(1) the role of the federal and state governments in supporting the institution of slavery, (2) forms of discrimination in the public and private sectors against freed slaves and their descendants, and (3) lingering negative effects of slavery on living African Americans and society."
Discussion on reparation has a long history in the U.S., but the journey to redress for Black Americans has been difficult and without many success stories.
One of those rare successes occurred in the Spring of 1999, when a district court judge approved the country's largest civil rights discrimination settlement, which ultimately distributed $1.25 billion to thousands of Black farmers who claimed the U.S. Department of Agriculture racially discriminated against them. Commonly known as the Pigford cases or the Black Farmers case, the class action lawsuit stemmed from farmers' allegations of discrimination during the 1980s and 1990s.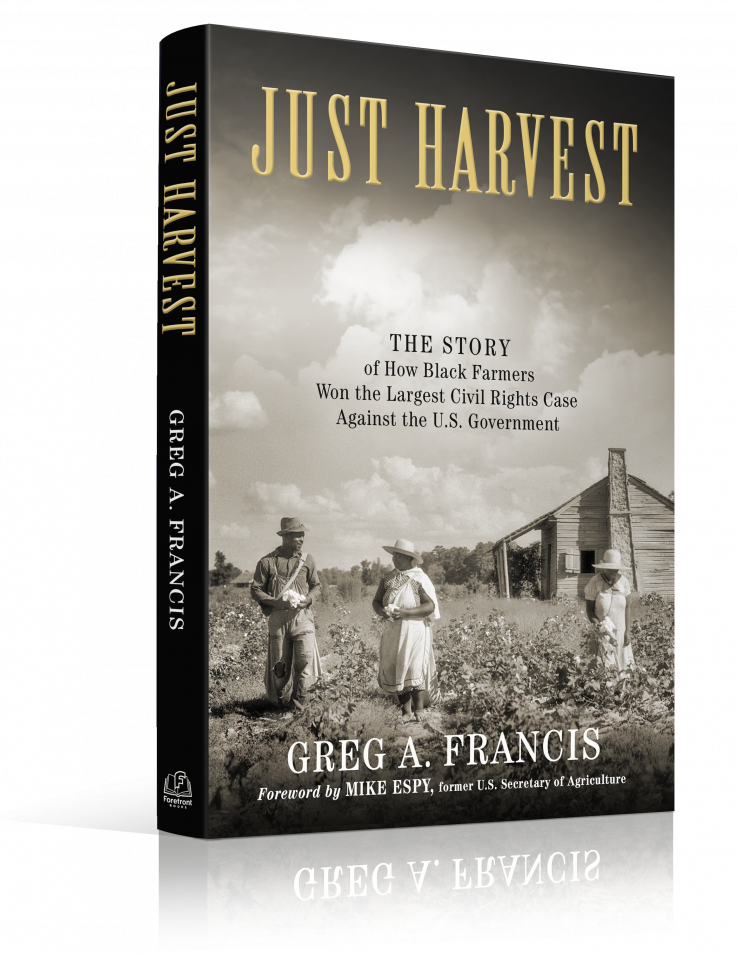 Greg Francis told Newsweek revisiting his memories litigating the Black Farmers case made him "angry"—and he hopes those who read his new book Just Harvest will be able to relate.
Photo provided
To attorney Greg Francis, the case is an example of how systemic racism continues to impact Black Americans.
Francis served as legal counsel for the Black Farmers case, and recently decided to pull together memories from his experience litigating the lawsuit for a new book, titled Just Harvest, which is due out next month.
"I was the voice for these farmers in the courtroom," Francis told Newsweek. "I wanted to continue to be a voice for them and let America know what they've been through and their plight as Black farmers."
Reflecting on the plaintiffs' allegations brought what Francis referred to as "America's dirty little secret" back to the present.
Francis said reliving the memories of the Black farmers' cases made him become "angry."
"I hope that, in reading the book, that many Americans become angry as well that this type of systemic discrimination was allowed to occur," he told Newsweek.
Though present-day conversations about reparation are largely hinged upon the idea of making amends for the kinds of institutional racism that many believe are in America's rearview mirror, racial justice advocates like Francis say the impacts of slavery and Jim Crow laws are ongoing.
But advocates have reason to believe the conversation is shifting. George Floyd's death last spring and the disparate impact of COVID-19 on Black communities compelled Black Lives Matter protesters to march in cities across the U.S. in demand of an end to systemic racism. More recently, the House Judiciary Committee decided for the first time earlier this month to push forward with H.R. 40.
Though the bill has more than 180 co-sponsors—all Democrats—a full House vote would require it to receive 218 votes to advance to the Senate.
Dreisen Heath, a researcher and advocate focusing on racial justice issues, including reparations, for Human Rights Watch, told Newsweek it is important to keep historical contexts in mind when discussing reparation—especially given how the topic became a hot-button as the Judiciary Committee weighed moving H.R. 40 forward. Ahead of the committee's vote, Heath submitted written testimony that advocated for the bill and pointed out that the U.S. has created such commissions before to consider victims' needs for redress.
A recent reparation example is the September 11th Victim Compensation Fund, which compensates individuals diagnosed with an illness resulting from the 9/11 attacks. The Civil Liberties Act of 1988, which approved reparations for Japanese Americans held in internment camps during World War II, is another example of federally-approved reparation.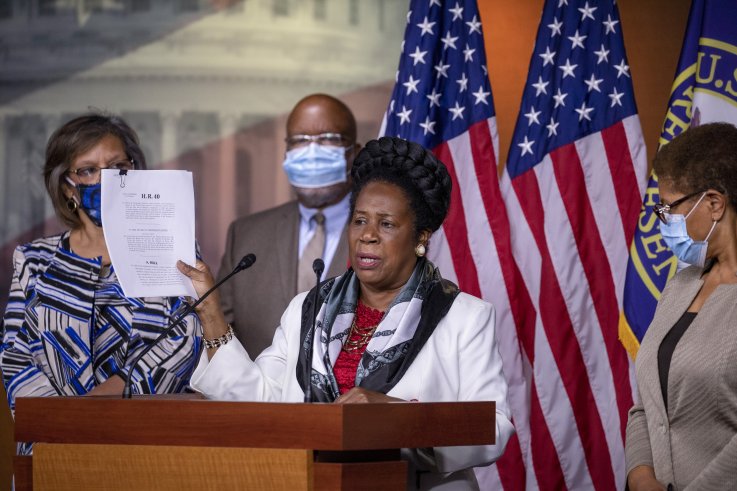 U.S. Rep. Sheila Jackson Lee (D-TX) speaks about H.R. 40 at a Congressional Black Caucus press conference on Capitol Hill on July 1, 2020 in Washington, D.C. The House Judiciary Committee voted to advance H.R. 40 after the Texas Democrat reintroduced the legislation in the House earlier this year.
Tasos Katopodis/Getty Images
Attempts to secure reparations for Black Americans have faced a much more difficult process. That may partly be due to how polarizing the topic is.
"Nothing is more divisive in this country than white supremacy and racism," Heath said.
But it also may be attributable to a lack of public understanding about what reparation seeks to achieve. Heath said she thinks there is a "general miseducation" about what reparation is, and believes the kind of commission H.R. 40 proposes can help address those misunderstandings.
"I think we have to broaden the public's knowledge about what reparation, what remedy, actually is and all the many forms it can come in," she told Newsweek.
Heath said that one of the big misconceptions is that reparation and the pursuit of new social justice policy are the same.
"There is this conflation, consistently, about reparation and public policy," she said.
Heath referenced the infrastructure proposal Biden recently introduced as an example, which includes investments for marginalized communities.
"It's good that we're in this mindset that we're acknowledging the impacts and equities and disparities of today, but that is a totally different process from the fact that the government is accountable and responsible for the harm that it's committed on people," she said. "There has to be repair for those harms or else you're going to continue to complicate and compound injury that's going to be long-lasting."
Another argument Heath said she hears frequently is that slavery is a problem of past eras that has nothing to do with living Americans.
"There's always a misconception that the legacy of slavery doesn't exist today," Heath said.
The coronavirus pandemic serves as an example of the present-day impacts of systemic racism on Black Americans, she said. According to a race and ethnicity assessment published by the Centers for Disease Control and Prevention last year, non-Hispanic Black Americans are dying of COVID-19 at a disproportionately high rate, comprising more than a third (34%) of all reported COVID-19 deaths. Yet they make up only about 12% of the country's population.
"The impacts of racism have impacts on all of us," Heath said. "To say, 'Oh, I'm not a part of that—that doesn't affect me,' is denying the white supremacist world that we actually live in."
K. Wyking Garrett, the president and CEO of Africatown Community Land Trust in Seattle, which advocates for land accrual in Black communities, said he also believes there is a lack of understanding about continuing harms on the Black community.
"The normalizing of Black oppression and social engineering of the Black population into a second-class citizenship status has caused some people to believe that this is some type of immutable natural condition," Garrett told Newsweek, "and that everyone has 'earned' their place in society through effort or lack thereof, when this is not the case."
Greg Francis argues that racism doesn't only come in symbols widely recognized by the American public, such as KKK sheets, "separate but equal" drinking fountains, Confederate flags. As the Black Farmers case he details in his book demonstrated, racism is also present in the very government institutions in place to protect American ideals, and rooting out that systemic racism is a vital part of the reparation debate.
Heath agrees the task is difficult.
"It's not going to be an easy fix, and we have to be okay with that," she said, "because no one was trying to calculate what reparation would look like when they were committing the harms."
While efforts to move reparation forward continue at the federal level, one city in Illinois recently made history through its passage of a reparation program for qualifying Black residents, though its classification as reparation is under some debate.
Heath said the Evanston program, which seeks to provide housing grants to amend for discriminatory housing policies, is "absolutely" an example of reparation. But Alderwoman Cicely Fleming, who cast the lone vote against the plan, told Newsweek she thinks it is the "antithesis" of a reparation program and doesn't want it used as a model moving forward.
Despite the lack of consensus about the Evanston program, both Heath and Fleming agree reparation should come at the local and federal levels.
"The harms are so wide-ranging that it's going to be impossible for the federal government alone to rectify the wrongs of past and ongoing harms," Heath said.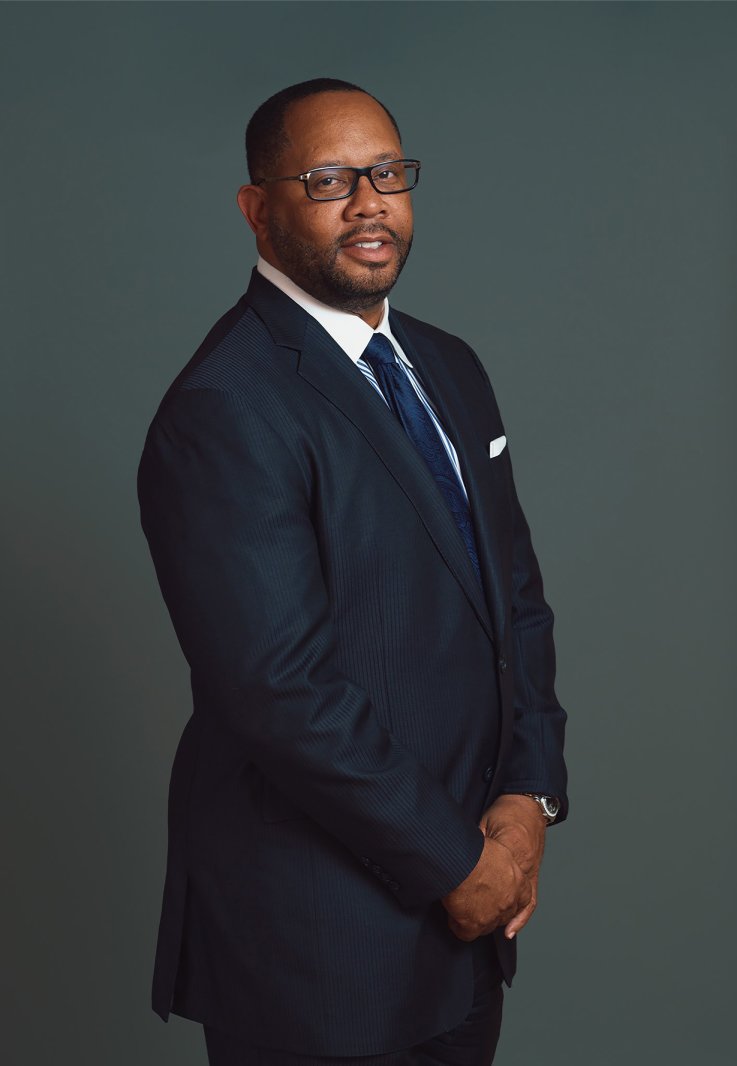 Attorney Greg Francis, author of Just Harvest: The Story of How Black Farmers Won the Largest Civil Rights Cases Against the U.S. Government, due out in May 2021.
Photo provided
Francis also believes the pursuit of reparation—which he said needs to include a formal acknowledgment of the harms that continue to impact Black Americans—isn't likely to have a simple answer.
"This is not a one-and-done-type fix," Francis told Newsweek. "This is, I think, going to require a constant evaluation, reevaluation and consideration of the systems that are in place and how they in fact are implemented, and what impact it has on any racial group."
While Fleming told Newsweek cash payments should be offered to reparation recipients, as was the case with the Pigford settlements, Francis said he thinks reparation programs should be more expansive and aspire to "chart a different course for the future."
"The connotations that are associated anytime the subject of reparations, or the word 'reparations,' is brought up," Francis said, "is that this is going to be some type of money giveaway for past atrocities that people who are currently in America will say that they had no part of. That is not really the reparations that I think I'm interested in."
Garrett said he too thinks the forward-looking aspects of the reparation discussion should focus on "dismantling systems that perpetuate marginalization and Jim Crow Apartheid" and replace those with systems dedicated to ensuring equity.
"Success in regards to descendants of the Africans who were enslaved and subjugated looks like us having the resources, right to self-determination and the freedom to thrive that have been violently and systematically denied for over 400 years," Garrett told Newsweek.
According to Heath, reparation "success" is "difficult to quantify" due to racism's perpetuating and far-reaching harms. But she and Fleming said impacted communities must have a voice in deciding how the conversation moves forward.
"It's going to look different in every place, dependent on the composition of the community and what specific harms were committed," Heath said.
The root of the reparation debate is simple: Advocates say Black Americans should be compensated for the opportunities lost as a result of historic and institutionalized racism, which can apply to wealth accumulation, land ownership, education and more. But figuring out how to achieve those goals is complicated by the amount of time these harms have existed and the depths of continuing racism in modern-day systems.
Fleming told Newsweek the conversation about reparation is changing, albeit slowly.
"More Americans understand that these racist systems are not just a thing of the past; they have never been rooted out, and are the cause of ongoing harm still being perpetrated today," she said.
Finding answers will be a significant task, especially without a public consensus among advocates on what exactly an ideal reparation solution looks like. The misunderstandings that exist about reparation among the American public and the country's top lawmakers are part of why Heath said establishing a commission through H.R. 40 is important.
As H.R. 40 starts moving forward and the wider reparation debate attracts widespread attention, Francis said he believes the country is ready to make real progress.
"Dr. King once said that it is not a lack of compassion but a lack of will to make a change," Francis said. "And I see in America now that Americans are demanding change and they want change, and I think that these reparation bills certainly begin to address that."