Club Q Suspect Anderson Aldrich Shown Battered in Booking Photos, Court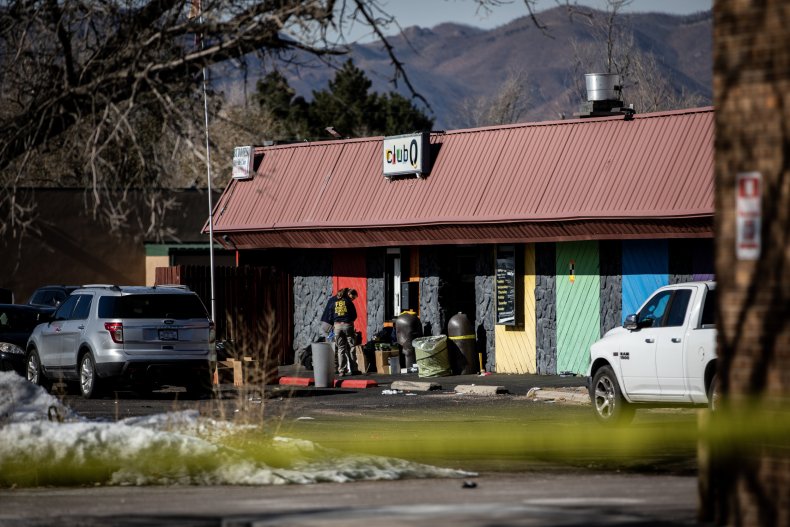 The suspect in a mass shooting at an LGBTQ nightclub in Colorado appears to be heavily battered and bruised in photos taken during booking and a court hearing.
Police say that Anderson Lee Aldrich, 22, killed five people and injured many others after opening fire at Club Q in Colorado Springs on Saturday night. Photos of Aldrich, who was treated at a hospital after the shooting, were released on Wednesday, featuring multiple facial injuries that could have been caused by bar patrons who fought back and subdued the suspect.
The Colorado Springs Police Department shared two booking photos of Aldrich to Twitter on Wednesday, with bruises and scratches being visible over large portions of the suspect's face and neck. Additional photos published by Reuters on Wednesday, taken from jail on the same day during a remote court hearing, show a still-bruised Aldrich slumped to the side while seated in a wheelchair next to lawyers.
Aldrich is being held on five counts of first-degree murder. Those killed in the shooting include 22-year-old Raymond Green Vance, 28-year-old Daniel Aston, 34-year-old Ashley Paugh, 38-year-old Derrick Rump and Kelly Loving, who was 40. At least 17 others were injured.
El Paso County District Attorney Michael Allen reportedly said after Wednesday's hearing that formal charges are expected to be filed at a hearing tentatively scheduled for December 6. Aldrich will remain in custody after El Paso County Judge Charlotte Ankeny ordered him held without bail.
Police identified Club Q patrons Richard Fierro and Thomas James as two of the "heroes" who police said stopped Aldrich from continuing to fire and potentially inflicting further damage.
Fierro, an Army veteran who was at the club with his family to see a drag performance by his daughter's friend, grabbed Aldrich's gun during the shooting and used it to repeatedly beat the suspect, police said. Fierro added that a third person identified as a trans woman also repeatedly kicked Aldrich in the head.
In a Tuesday night court filing, Aldrich's attorneys said the suspect identifies as "non-binary" and uses they/them pronouns. However, some have expressed doubts, arguing that the non-binary declaration may be a disingenuous attempt to "troll" the LGBTQ community.
Although a clear motive for the shooting has not been established, many have speculated that anti-LGBTQ rhetoric could be to blame. Club Q was planning to host an all-ages drag show on Sunday, which far-right activists have repeatedly and baselessly claimed are used for "grooming" children.
Meanwhile, Aldrich's father Aaron Brink, an MMA fighter and porn actor also known as "Dick Delaware," reportedly reacted to the shooting by first expressing concern that his son might be gay after learning that the deadly incident took place at a gay bar.
Brink told CBS affiliate KFMB that he was "scared" Aldrich might be gay after hearing that the shooting occurred at Club Q. He expressed relief when learning that Aldrich was not gay, explaining that homosexuality would clash with his values as a Mormon and "conservative Republican."
"They started telling me about the incident, a shooting ... Then I go on to find out it's a gay bar," Brink said. "I was like, 'Oh my God, is he gay?' I got scared, 'S***, is he gay?' And he's not gay, so I was like, 'phew!'"
"I'm a Mormon and I'm a conservative Republican," he continued. "And we don't do gay, we don't do gay ... I'm glad he's not gay."
Newsweek has reached out to the Colorado Springs Police Department for comment.