Clue in Idaho Murder Case Leaves Question About Bryan Kohberger Evidence
One aspect of the Idaho murders case has left questions surrounding the evidence recovered from suspect Bryan Kohberger's apartment near Washington State University (WSU).
In the probable cause affidavit used in the arrest of Kohberger, who is currently charged with four counts of first-degree murder and one count of felony burglary, investigators stated that "during the processing of the crime scene, investigators found a latent shoe print."
According to the affidavit, the shoe print found had a "diamond-shape pattern," similar to a Vans-style shoe. The print was detected by using a "presumptive blood test and then Amino Black, a protein stain that detects the presence of cellular material," the affidavit said. Despite the discovery of a shoe print at the crime scene, the unsealed search warrant of Kohberger's apartment did not say that investigators recovered a shoe that matched the description of the print.
In the early morning hours of November 13, four University of Idaho students: Kaylee Goncalves, 21, Madison Mogen, 21, Ethan Chapin, 20 and Xana Kernodle, 20, were stabbed to death in an off-campus residence in Moscow, Idaho. Kohberger, 28, was arrested on December 30 at his parents' residence in Albrightsville, Pennsylvania, in connection to the brutal slayings. Kohberger was a Ph.D. student at WSU studying criminology, with his former attorney in Pennsylvania saying that his client was "eager to be exonerated."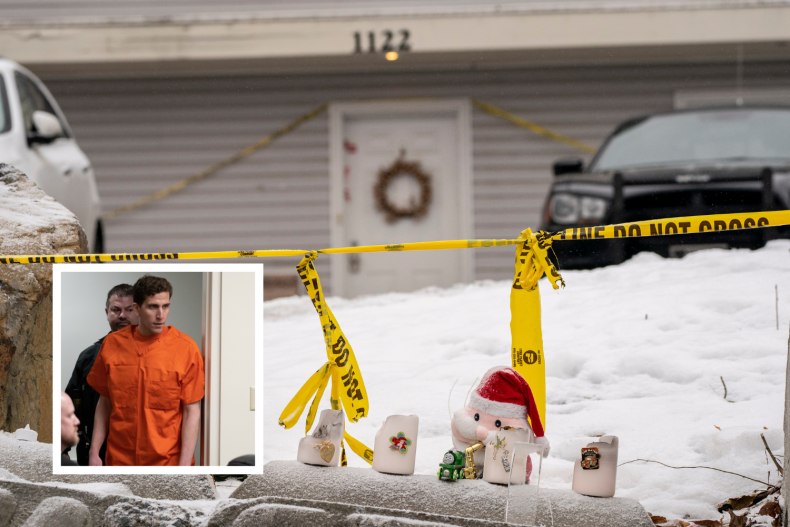 Shortly after the probable cause affidavit was released, Michael Ruiz, a reporter for Fox News Digital, wrote on Twitter that some social media users have pointed out that the Vans-type shoe in question is popular and was previously seen in the home where the murders were committed on police body-cam footage of past noise complaints.
"Vans are a common sneaker — and as readers have pointed out, they've been worn inside the #IdahoStudents house before. That said, we don't know yet what size print police found or what they recovered after #Kohberger's arrest," Ruiz tweeted early last month.
While speaking with Newsweek on Friday, former FBI agent Jennifer Coffindaffer, who is not involved in the case, said that the return from the search warrant of Kohberger's apartment was "weak."
"I think that's why we don't see it on the search warrant return," Coffindaffer told Newsweek. "Because he likely had it with him...[the shoes] could have been terribly stained with blood...in other words, he might have, very possibly gotten rid of it with the rest of the clothing he wore, the knife, the mask. That's what a prudent criminal would do."
Meanwhile, investigators have also been unable to recover the knife that was believed to be used in the crime from Kohberger's apartment.
Despite the lack of a shoe that matches the description in the probable cause affidavit, Coffindaffer added that prosecutors will still be able to build a case against Kohberger using other evidence, such as DNA, digital forensics, and cellular information.
"I think they're fine without it. Would they love to have it? Absolutely, but it's not going to break their case," she said.