CNN Anchor Calls Out Biden for Using Marines in Fiery Anti-MAGA Speech
CNN anchor Brianna Keilar criticized President Joe Biden after he delivered a speech with Marines positioned behind him Thursday evening. During his speech, the president issued a warning about Make America Great Again (MAGA) Republicans.
"Whatever you think of this speech, the military is supposed to be apolitical. Positioning Marines in uniform behind President Biden for a political speech flies in the face of that. It's wrong when Democrats do it. It's wrong when Republicans do it," Keilar said in a tweet on Thursday evening.
Others called out Biden for using Marines during the primetime address.
"We need to make sure that our military is as removed from politics as possible and it's not right if a Democrat uses the military as a political pawn and it's not right if the Republican Party does it as well. None of our politicians or elected leaders should do that," Allison Jaslow, a former official with the Democratic Congressional Campaign Committee, told CNN.
During his speech, which was delivered in Philadelphia, Biden said that although not all members of the GOP embrace the "extreme ideology" of MAGA Republicans, "there is no question that the Republican Party today is dominated, driven and intimidated by Donald Trump and the MAGA Republicans, and that is a threat to this country."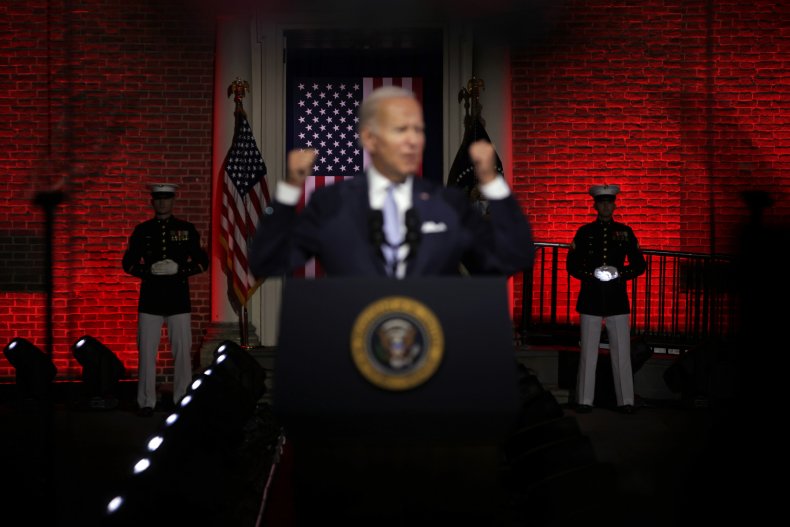 "MAGA Republicans do not respect the Constitution. They do not believe in the rule of law. They do not recognize the will of the people," Biden said.
"They refuse to accept the results of a free election. And they're working right now, as I speak, in state after state to give power to decide elections in America to partisans and cronies, empowering election deniers to undermine democracy itself."
Those on the right took aim at Biden following the speech, including former President Trump, who said that if the president "doesn't want to Make America Great Again, which through words, action and thought, he doesn't, then he certainly should not be representing the United States of America."
"If you look at the words and meaning of the awkward and angry Biden speech tonight, he threatened America, including with the possible use of military force," Trump wrote on his social media platform, Truth Social.
Fox News host Tucker Carlson also slammed the speech, saying that the president "crossed into a very dangerous, very dangerous place.
"Tonight he declared in a speech in Philadelphia that anyone who disagrees with him is a threat to the country," Carlson said.
Newsweek reached out to the White House for comment.