Donald Trump Slams 'Awkward and Angry' Joe Biden Speech: 'Must Be Insane'
Donald Trump said Joe Biden "must be insane" or suffering from dementia, in response to the president's speech attacking Make America Great Again [MAGA] Republicans.
Trump questioned Biden's health in a post on Truth Social after the president gave a fiery speech in Pennsylvania accusing his predecessor and the MAGA agenda of being an "extremism that threatens the very foundations of our republic."
During his primetime address at the Independence National Historical Park in Philadelphia, Biden said that while a majority of republicans don't embrace the "extreme ideology," it is clear that the GOP is "dominated, driven, and intimidated by Donald Trump and the MAGA Republicans, and that is a threat to this country."
In response, Trump defended his MAGA movement while repeating a common Republican line of attack suggesting the 79-year-old president may be suffering from cognitive decline.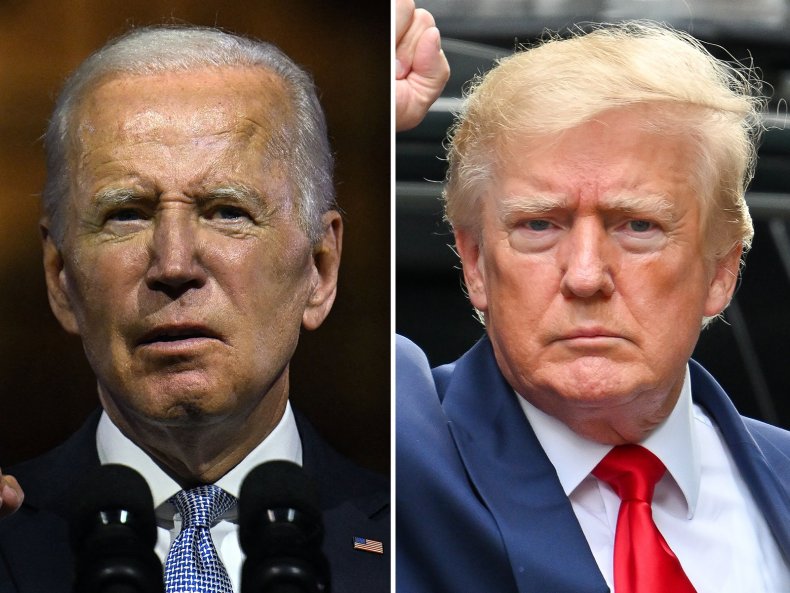 "Someone should explain to Joe Biden, slowly but passionately, that MAGA means, as powerfully as mere words can get, MAKE AMERICA GREAT AGAIN! If he doesn't want to Make America Great Again, which through words, action, and thought, he doesn't, then he certainly should not be representing the United States of America," Trump wrote.
"If you look at the words and meaning of the awkward and angry Biden speech tonight, he threatened America, including with the possible use of military force. He must be insane, or suffering from late stage dementia!"
Biden, who vowed to unite the country as president following the divisive four years of the previous administration, has recently increased his attacks on Trump and his political movement, including referring to the MAGA agenda as "semi-fascism."
Elsewhere during his speech in Philadelphia, Biden attacked MAGA Republicans for their attempts to overturn the 2020 Election results, as well as their support for those who stormed the Capitol during the insurrection on January 6 last year.
"MAGA Republicans do not respect the Constitution. They do not believe in the rule of law. They do not recognize the will of the people," Biden said.
"They promote authoritarian leaders, and they fan the flames of political violence that are a threat to our personal rights, to the pursuit of justice, to the rule of law, to the very soul of this country.
"They look at the mob that stormed the United States Capitol on January 6 — brutally attacking law enforcement — not as insurrectionists who placed a dagger to the throat of our democracy, but they look at them as patriots," Biden added.
In his address two months before the midterm elections, Biden accused Trump-supporting Republicans of being "determined to take this country backwards," by stripping abortion rights in the wake of the Supreme Court overturning Roe v. Wade, as well as removing access to contraception and gay marriages.
Biden did call for some sort of unity in the country, saying Democrats, independents and "mainstream Republicans" need to come together and be "stronger, more determined, and more committed" to stop MAGA Republicans from "destroying American democracy."
Republican Response
A number of other MAGA and GOP figures also criticized Biden's rhetoric following his address.
"Instead of trying to bring our country together to solve the MANY problems he has created, President Biden has chosen to divide, demean, and disparage his fellow Americans—simply because they disagree with his policies," tweeted GOP House majority leader Kevin McCarthy. "Mr. President: you owe millions of Americans an apology."
Georgia congresswoman and major MAGA loyalist Marjorie Taylor Greene likened Biden to Adolf Hitler, sharing a video on Twitter of the the president with a mustache standing in front of Swastikas while delivering a speech made by the Nazi leader.
"What we all saw tonight from Biden," Greene tweeted. "I guess when President Butterbeans is frail, weak, and dementia ridden, the Hitler imagery was their attempt to make him look 'tough' while he declares war on half of America as enemies of the state."
The White House has been contacted for comment.