Joe Biden's Approval Soars Ahead of Prime Time Speech on Midterms
President Joe Biden's approval rating has surged in the last six weeks as the primary season ends and the November midterm elections loom.
The Quinnipiac University poll published on Wednesday shows that Biden now enjoys 40 percent approval among Americans and that his disapproval rating now stands at 52 percent. While that's still a net negative, the figures represent a significant improvement over the past six weeks. On July 20, the same poll found that Biden's approval rating was just 31 percent, while 60 percent disapproved of the job he was doing.
Among registered voters, Biden's approval stands at 41 percent compared to 53 percent who disapprove. That's an improvement on July's figures which found 59 percent disapproval among registered voters and just 33 percent approval.
Wednesday's findings come ahead of a prime-time speech that the president is set to deliver on Thursday night where he will discuss efforts to protect freedom and democracy ahead of the midterm elections.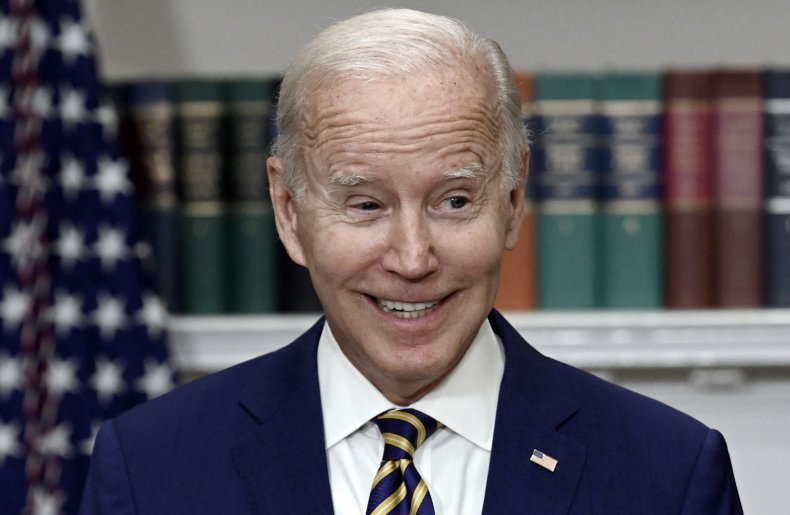 Biden will speak at Independence National Historical Park in Philadelphia and his remarks will focus on "the continued battle for the soul of the nation," according to a White House official cited by NBC News.
"He will make clear who is fighting for those rights, fighting for those freedoms, and fighting for our democracy," the official said
Biden may once again take aim at what he's described as "MAGA Republicans"—a group he criticized during a recent speech at a Democratic National Committee (DNC) rally in Maryland.
The president warned that there was a lot at stake on the ballot this year, including the right to an abortion and Social Security. He may repeat those warnings in his speech on Thursday.
The speech comes at a relatively good time for Democrats as polls indicate their chances in the midterm elections may be improving and they are favored to keep control of the Senate.
Democrat Mary Peltola also scored an upset victory in the special election for Alaska's at-large congressional district this week, defeating former Governor and 2008 Republican vice presidential candidate Sarah Palin.
Palin's defeat has cast doubts on the GOP's ability to retake the House, but the special election was conducted using Alaska's new ranked-choice voting system, which will not be employed elsewhere in the nation.
Poll tracker FiveThirtyEight's analysis of Biden's approval rating also appears to be good news for the president, standing at 42.4 percent as of Wednesday. Disapproval of Biden was 53.1 percent, down from a high of 57.2 percent on July 21.
The Quinnipiac poll was conducted from August 24 to 29 among 1,584 U.S. adults and has a margin of error of +/-2.5 percent.