What Democrats' Staggering Alaska Win Means for The Midterms
Democrats scored a significant victory in the special election to fill Alaska's at-large congressional district on Wednesday, as Mary Peltola defeated former Governor Sarah Palin.
Peltola triumphed in an election conducted using Alaska's new ranked choice voting system that allows voters to rank their preferred candidates.
Republican candidate Nick Begich III came in third of the three candidates and after his voters' second preferences were counted, Peltola emerged victorious.
Though Alaska's system is unusual and was approved by voters only in 2020, the result will be seen as a good sign for Democrats heading into crucial midterm elections in November.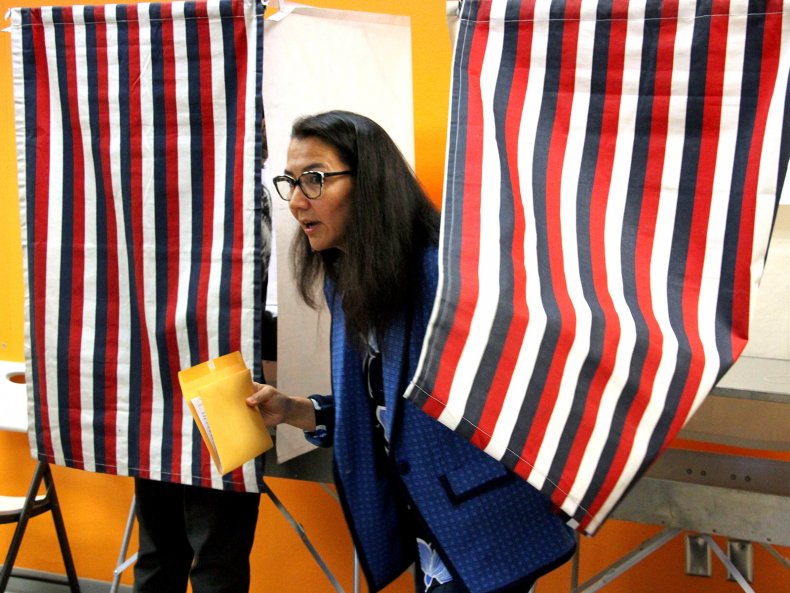 A deep red state, Alaska appears to be an unusual place for Democrats to score a victory as President Joe Biden's approval rating remains in negative territory.
Peltola's success could indicate broader political trends, with the Democrat tweeting that she believed "the broad coalition we're building has the real chance of building the momentum we need to win in November."
As poll tracker FiveThirtyEight pointed out in an article on August 24, Democrats have performed well in special elections and may even have exceeded expectations, possibly pointing to a "better-than-expected" midterm for the party.
Democrat Pat Ryan defeated Republican Marc Molinaro in a special election in New York's 19th district on August 23 in a surprise victory for Democrats. Ryan had made abortion a central issue of his campaign.
FiveThirtyEight pointed to the U.S. Supreme Court's decision in Dobbs v. Jackson Women's Health Organization that overturned the landmark decision in Roe v. Wade and found that abortion is not constitutionally protected.
"There have been four first-past-the-post special House elections since that decision, and Democrats have outperformed their expected margins in those elections by an average of nine points," the poll tracker said.
It remains to be seen how abortion will impact the midterm elections and whether it will be decisive in deciding control of the House, however.
The outcome of Alaska's special House election can now be added to those recent Democratic successes, though it remains to be seen if this trend will carry into the November midterms.
Peltola is seeking a full term in Congress on November 8 and will compete against Palin, Begich and Libertarian candidate Chris Bye in another ranked choice election.
Though Palin's recent defeat has raised questions about Republicans' ability to take back the House, the GOP is still favored to retake the chamber, according to FiveThirtyEight and the University of Virginia (UVA) Center for Politics' Crystal Ball forecast.
The outlook is better for Democrats in the Senate, with FiveThirtyEight rating them as slightly favored to win. That's an improvement, as Republicans were previously favored to take the Senate in FiveThirtyEight's analysis as recently as July 25.
UVA's Crystal Ball forecast shifted two key Senate races (Arizona and Pennsylvania) from toss-up to leans Democratic on Wednesday in another positive sign for President Biden's party.
However, the sitting president's party normally performs poorly in midterm elections and Democrats were expected to face a tough fight this November.
The final results will determine whether Alaska's special election was a sign of positive change for Biden's party.