CNN Anchor Chris Cuomo Blasts 'State TV' Fox News: 'Pawns of This President'
CNN anchor Chris Cuomo blasted rival network Fox News as "pawns of this president" and "state TV" while interviewing President Donald Trump's former campaign manager Corey Lewandowski on Monday.
During the segment, Lewandowski attempted to argue that the president is "more accessible to the media than any president in modern history," a sentiment that Cuomo strongly disagreed with.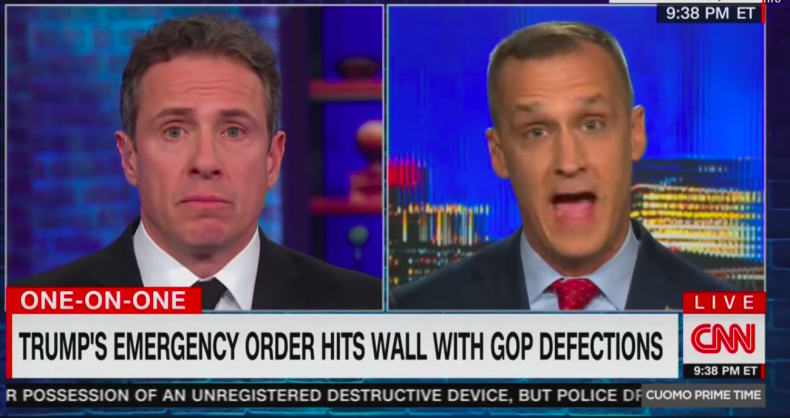 "That's poppycock," Cuomo said. "He won't even come on CNN. He only goes where he gets a pat on the back."
"This TV outlet, 'state TV' as I call them, Fox," the anchor continued.
"In prime-time TV, and from a management perspective, they are pawns of this president," he said later in the segment.
Cuomo's comments come a day after The New Yorker published a report which found that Fox News had the story of a hush-money payment made to adult film star Stormy Daniels (whose real name is Stephanie Clifford) prior to the 2016 presidential election, but chose to kill it.
The reporter, who worked for months gathering facts and evidence for the story, claimed the head of FoxNews.com refused to run it as the company's CEO, Rupert Murdoch, wanted Trump to defeat his Democratic opponent Hillary Clinton.
Eventually, in January 2018, The Wall Street Journal published the story, and it has dogged Trump throughout his presidency. According to the report, the president's former attorney and "personal fixer" Michael Cohen paid Daniels $130,000 to stop her from going public about an alleged extramarital affair she had with Trump in 2006, while he was married to first lady Melania Trump.
Last August, Cohen pleaded guilty to violating campaign finance laws and other crimes. He also admitted he paid off two women who claimed to have had affairs with Trump in the lead-up to the 2016 election: Daniels and former Playboy model Karen McDougal. Cohen said he made the payments under the direction of Trump, and was sentenced to three years in prison in December.
Following the release of the New Yorker report, the magazine's writer Jane Mayer told CNN on Tuesday morning that Fox News seems to be operating as a "propaganda organization" for the president.
Fox News did not immediately respond to Newsweek's request for comment.