CNN Anchor Blocks Attempt by Former Mike Pence Chief of Staff to Re-Litigate Joe Biden Win
CNN anchor Pamela Brown repeatedly shut down attempts by Marc Short—former vice president Mike Pence's chief of staff—to re-litigate the 2020 election.
In an appearance on the network on Saturday night, Short told Brown that he believes Americans "were deprived of the right to actually hear a debate about the improprieties that happened in the November election."
"What do you mean by that?" asked Brown. "How were they not able to take part?"
She noted that former president Donald Trump's legal team had lost some 60 legal challenges in relation to the election.
"It was playing out in court, it was being talked about openly. And what do you mean?" Brown said.
Short brought up how in Pennsylvania, the courts had extended the deadline for mail-in ballots beyond Election Day. But Brown dismissed his argument, noting that the ballots that arrived after Election Day had not been counted in the final tally.
"A Trump-appointed judge slammed down the case, said there was nothing here, there was no fraud," Brown added.
She also noted that the mail ballot law had been passed by a state legislature with a Republican majority in 2019.
"They were totally on board with mail-in ballots, so go ahead," said Brown.
Short then mentioned concerns about Wisconsin's mail ballot applications.
"But that was litigated," Brown said. "That was litigated. This was litigated by nearly 100 judges, including Trump judges."
"Yes," Short conceded, but maintained that "there is a difference between being litigated and actually having a debate. And the Electoral Count Act allows for Congress to have that debate. And I think that because of the events and the tragedy that happened, earlier in the day a lot of Americans were denied the opportunity to hear that debate."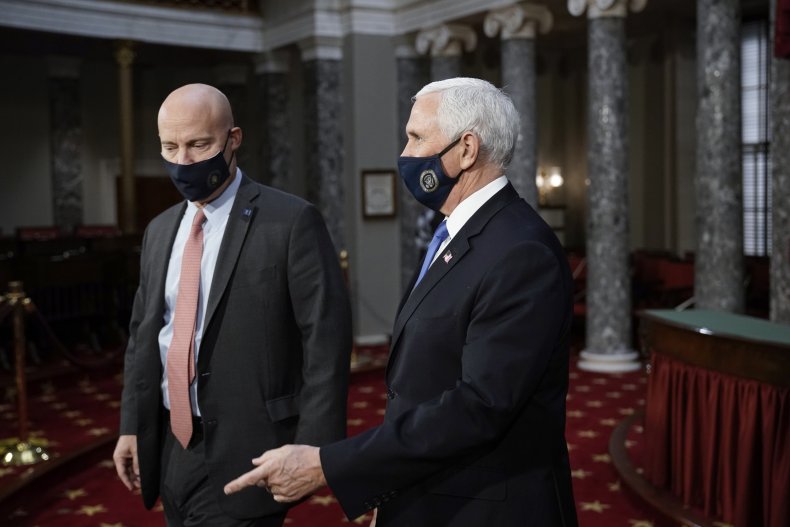 Later in the interview, Brown played a clip of remarks given by Pence in December, in which he said he would "fight until every illegal vote is thrown out."
Again noting that Trump had lost his legal challenges, Brown asked Short if Pence accepts Joe Biden is the legitimate president.
Short answered that there were still concerns about voting in states like Pennsylvania and Wisconsin, "but we accept that Joe Biden is the duly elected President of the United States."
He also claimed that Trump had urged Pence to not certify Biden's victory that day because of "bad advice."
Elsewhere in the interview, Short made clear he did not blame Trump for the deadly riot at the U.S. on January 6. "I said he got bad advice. I did not say he bears responsibility for the riots," Short said.