CNN Host Speaks Directly to Donald Trump Supporters: 'He Is Playing You for a Sucker'
CNN anchor Chris Cuomo appealed directly to supporters of President Donald Trump on Monday, warning them that the president's promise to build a wall along the U.S.-Mexico border is nothing more than a farce.
Speaking on Cuomo Prime Time, the anchor suggested Trump does not, and never has, intended to build a real wall along the border.
Read More: Donald Trump is "like a stoner working at a pizza place," "virtually incapable of coherent thought," says Seth Meyers
Cuomo described the proposed wall as a campaign gimmick and a "farce." Noting the president's shifting plan for the barrier—from a concrete wall to a fence made of steel slats—Cuomo told Trump supporters the president is "playing you for a sucker."
"The president is more tied to a political perception of a promise that matters not so much to voters like you, or even to the base, if you're out there watching, but to the farthest right most anti-immigrant people in the game," Cuomo said.
He suggested the president is "selling you on a consensus that doesn't exist," disputing Trump's arguments that most Americans support his plan. "'Most Americans want the wall.' Show me," Cuomo said. "I haven't seen it. There is no poll that says most of you want his wall."
Trump said Sunday he would be willing to revise the plans for a concrete wall and replace it with a barrier made of steel slats. Though the president argued this would be just as effective—and good for the national steel industry—Cuomo suggested, "He's adjusting his ruse to the reality."
The anchor also suggested that a border barrier was not a new idea, and certainly not one thought up by Trump. "They have been doing this since the last administration," he said. "It's not this president's idea. It's not his idea. It's not his design. It's not new. He's hoping you'll see it as that, but he's playing you for a sucker."
Trump is currently in a standoff with the Democratic Party over funding for his wall, a dispute that has precipitated one of the longest government shutdowns in U.S. history. The president is demanding $5.7 billion towards his proposed barrier, but Democratic leaders have refused to release the money.
Last week, House Speaker Nancy Pelosi said the Democrats would not budge on the issue. "We're talking about border security," she told NBC when asked if her party would allow some of the requested money. "We can go through this back-and-forth. No. How many more times can we say no? No—nothing for the wall."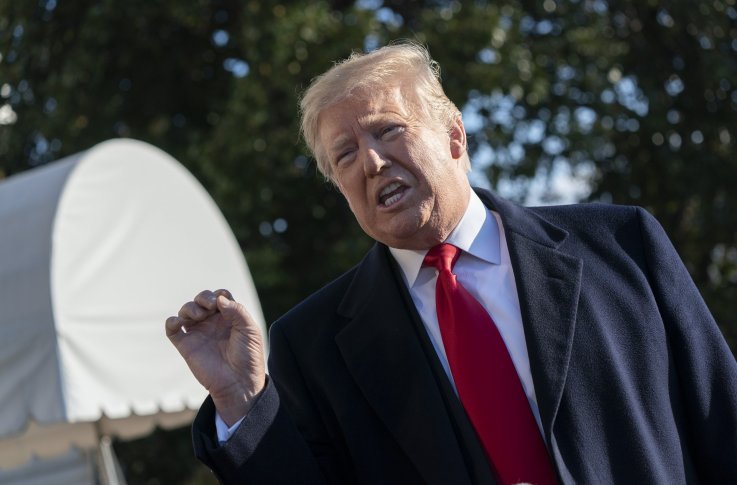 CNN Host Speaks Directly to Donald Trump Supporters: 'He Is Playing You for a Sucker' | U.S.