CNN Host Confronts Antony Blinken Over U.S. Waiting to Impose Sanctions on Russia
CNN host Dana Bash questioned Secretary of State Antony Blinken Sunday over why the U.S. has waited to impose sanctions on Russia as the country has amassed more than 100,000 troops near the Ukrainian border and raised concerns about a possible invasion.
During an interview on State of the Union, Bash mentioned comments made by Ukrainian President Volodymyr Zelensky on Thursday. In an interview with the Washington Post, Zelensky questioned why Ukraine's allies were waiting to impose sanctions.
"Today our partners are saying that war may start tomorrow if there is a powerful escalation on the Russian side, and then there will be powerful sanctions applied," Zelensky said. "But if we are talking about the sanctions policy and the probability of escalation, then the question is, why are you not introducing sanctions now rather than wait until after the escalation?"
After reading these comments to Blinken, Bash asked: "What's your answer to that?"
"First of all, Dana, as I said, we are not waiting. We are doing a lot right now," Blinken responded.
He noted that the U.S. is "taking the lead and bringing countries throughout Europe, and even beyond, together in putting together massive consequences for Russia if it takes renewed aggressive action in Ukraine." He also noted that in 2021 alone, the U.S. provided more military assistance to Ukraine than it has in any other year, and that it has been "going against those inside Ukraine trying to destabilize the government."
"So we're taking concrete action," Blinken said.
"But you're not imposing the sanctions?" Bash interjected.
"So when it comes to sanctions, the purpose of those sanctions is to deter Russian aggression. And so if they're triggered now, you lose the deterrent effect," Blinken stated.
"All of the things that we're doing now, including building up in a united way with Europe massive consequences for Russia, is designed to factor into President Putin's calculus and is designed to deter and dissuade them from taking aggressive action, even as we pursue diplomacy at the same time," the secretary of state added.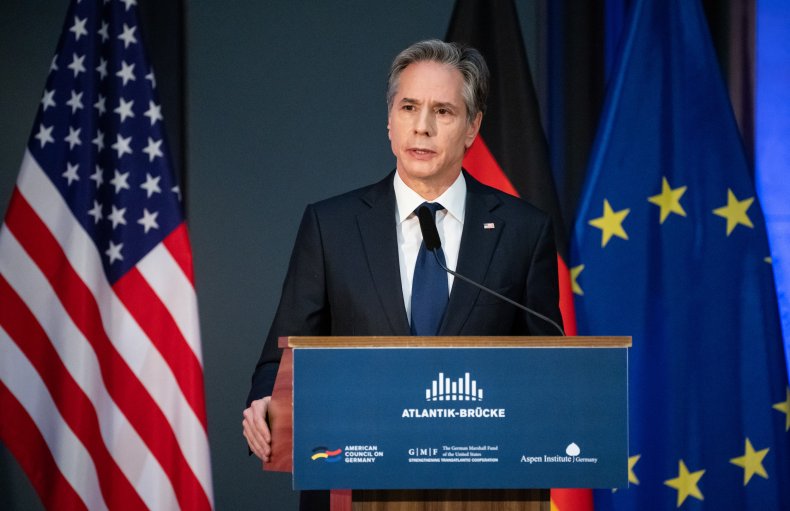 Earlier in the interview, Blinken also mentioned that he had authorized American-made weapons in Estonia, Latvia and Lithuania to be sent to Ukraine amid the crisis with Russia.
"I expedited and authorized and we fully endorse transfers of defensive equipment @NATO allies are providing to Ukraine to strengthen its ability to defend itself against Russia's unprovoked and irresponsible aggression," Blinken tweeted on Friday.
Also on Sunday, Senator Joni Ernst, who sits on the Senate Armed Forces Committee, called for hitting Russia with strong sanctions immediately.
"Let's make sure that we are pushing back right now with stiff sanctions, making sure that we are showing Putin we do mean business," she said on ABC's This Week. The Iowa Republican accused the Biden admin of having a "doctrine of appeasement" that "is not going to deter President [Vladimir] Putin from invading Ukraine."